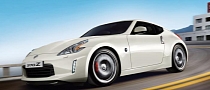 Nissan 370z facelift: This is it
Just a while earlier to Paris Auto Show where Nissan has planned the debut of its new 370z due for Europe, Nissan has released pictures onto the web.
There are not a lot of changes made in terms of styling or design as you can see, but two new colors have been added to 370Z: Midnight Blue and Magma Red, alongside, we have new 18- and 19-inch wheels. But if you're wondering how to tell apart the pre-facelift from the post-facelist version than the best way to do so is that the post-facelist version (2013) comes with red brake calipers as standard.
Although details aren't revealed in full until Paris Auto Show but the 3.7-liter V6 carries over the same power output, and as such, performance remains unchanged.