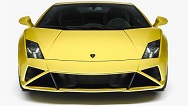 This is the new ugly Lamborghini Gallardo LP560-4
The Paris Auto Show is on, and we're getting a whole lot of new cars being unveiled despite the economic turmoil and more importantly, the rough time faced by the automotive industry in Europe.
VW have recently said that things are about to get worse, and that's not all, France's local brand, Peugeot has been shoved aside by French Stock Exchange sending a scare through investors.
Times like these we often wonder how is there room available to supercars, hypercars and one-off exotics which sometimes, even money can't buy, you have to be chosen you know. Yet, Lamborghini has unveiled a facelift of its Gallardo.
We've been always fan of Lamborghinis, given their outrageous designs but this one is just ugly!
But they've been good sellers, because they are mid-range sports cars, a market opened up by the more affordable Ferrari 360.
The engine is the same 5.2 liter V10 powering all four wheels which still makes it everyone's wonder.