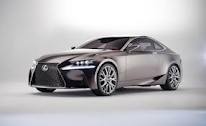 The next Lexus IS will be based on this concept
Well Paris Auto Show has been in full flow and there has been remarkable reveals which we'll be covering shortly. Now though, Lexus has taken covers of its LF-CC concept which it revealed online a couple of weeks ago. Photographers, presenters and automotive journalist were quite sure that it will lend its characteristics to future IS sedans and coupes, not they're sure.
As Lexus sells more hybrids than normal cars, so it is no surprise the LF-CC concept is powered by a 2.5-liter four-cylinder engine that runs on the Atkinson Cycle for increased efficiency as well as a hybrid system.
But revealing online only gathers a good crowd around the stands so they can reveal their precious technology, so did Lexus.
There are no buttons, they're just replaced by screens. Many many screens as you can see in the picture so controls will be managed by a centralized computer and it will be a feast for smartphone users if I may say.
Although it took Lexus quite a long while to bring the LF-A from concept into production, we're not entirely sure but than the conditions of automotive world aren't to bright, so it is better they measure each step before taking, this is what they're doing at Paris Auto Show.