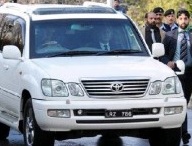 150,000 vehicles in the country are running with fake diplomatic documents
Corruption and malpractices are at an all time high and while hearing a case on Balochistan's situation, it came into the court's notice that many cars in the country are non-custom paid and were imported under diplomatic cover.
Although FBR had data of these illegal vehicles, which amount to 150,000, but it has decided to act against them when Supreme Court ordered a crack down on all such vehicles.
In some instances, vehicles were using one chassis and registration number on different vehicles, FBR identified a person having registration of 618 vehicles on his name including 590 motorcycles and jeeps but he does not possess a National Tax Number (NTN).
There are many more people like him who have 100-150 vehicles on their name, and data is being compiled to take action against them. After compilation of data, the final number of such illegal vehicles may rise above 250,000. As of yet, amongst the thousands of vehicles, 550 are Land Cruisers, 300 Mercedes, 1500 VIGO and 2500 Corollas.
FBR also has its hopes high to gain revenue of 40-50 billion rupee taxes out of this campaign against NCP vehicles.
They might as well have to take action against our former Prime Minister.