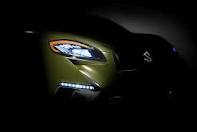 Suzuki reveals the S-Cross concept
Suzuki hasn't released many details about this crossover SUV so it leaves more questions than answers, few of those answers suggests that this maybe the replacement for the SX4 crossover SUV.
Futuristic styling, modern dynamics and good looks has everyone on their feet all the time to know more. Although it looks big, but Suzuki says it will be one of the lowest CO2-emitting vehicles in the segment.
Even in the developed markets, Suzuki hasn't had much new products to offer and according to Suzuki's global sales top executive, the S-Cross will mark a new beginning with a wave of launches that will proceed at a rate of one per year in Europe for the next few years.
Apparently, this than seems to be the first of many new cars that Suzuki is about to reveal over the course of some time.