Nissan has been manufacturing Kei cars for a couple of years now. Beginning in 2013, Nissan and Mitsubishi shared the development of Nissan DAYZ / Mitsubishi eK Wagon series. Nissan has also shared the model development of Japanese domestic cars with other manufacturers, particularly Mazda, Subaru, Suzuki and Isuzu. Nissan Dayz is a replacement of Nissan Otti. Since June 8, 2005, Nissan Motors has received 36,000 eK Wagons annually from Mitsubishi, to be sold within the domestic market as the Nissan Otti. The Otti was replaced by the Nissan Dayz and Nissan Dayz Highway Star on June 6, 2013, although the Otti was still sold alongside Dayz until being discontinued on June 28, 2013. The Nissan Dayz Highway Star also known as Nissan Dayz Rider, is top of the line model in this series by Nissan. In Pakistan, 2013 to 2014 model of this car costs between 1,200,000 and 1,250,000 PKR.
To view the list of Nissan Dayz Highway Star available in Pakistan, follow this link: Nissan Dayz Highway Star Prices
Exterior:
Nissan Dayz Highway Star comes with a head-turning exterior. The front grille and the bumper have chrome plates that give it a pronounced look. The 15 inch rims also add to the appearance of the car. The outer shape and overall dimensions of the vehicle convey that there is a plenty of space for the passengers inside, which is quite true. Nissan Dayz Highway Star is 3395mm in length, 1475mm in width and 1620mm in height. The overall weight of the car is 880Kg.
Interior:
The interior of this car gives a wow impression. The cockpit looks beautiful with the mixed blue, green and white lights that turn up when the car is switched on. The interior is quite spacious with enough legroom for passengers seated at front as well as at the back. The rear floor bed is flat, which makes it comfortable even for three passengers sitting on car's backseats.
The automatic gear shifter is placed up front on the dashboard area close to the push-start button. Climate control system is operated by touchpad. There are SRS air bags. The Seats of the Nissan Dayz Highway Star  are a blend of fabric and leather.
Engine:
What makes the Nissan Dayz Highway Star unique is its turbo engine, which is 3B20. It has a displacement of 659cc and produces 59N m. of torque at 5000 RPM. The car comes with a CVT transmission. It gives a fuel mileage of between 18-20km/L with eco idling.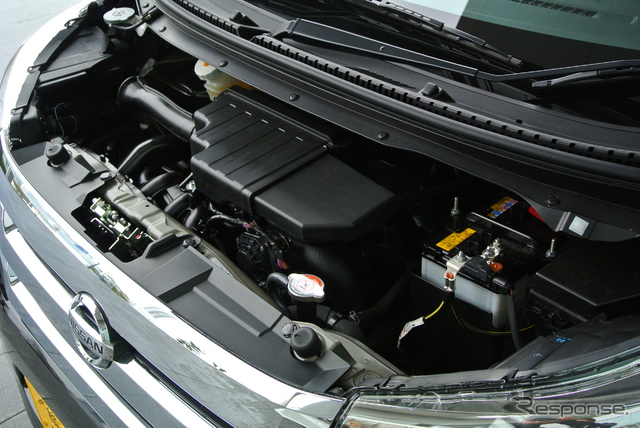 Verdict:
This car is a perfect choice for a middle-class family. It is small but comes equipped with the latest technology. Many features of Nissan Dayz Highway Star can't even be found in top-of-the-line locally assembled vehicles in Pakistan, which makes it stand out. Its stylish design and out of the ordinary features are the reason Nissan Dayz Highway Star is selling like hotcakes in Pakistan these days.
You can also discuss about Nissan Dayz Highway Star at PakWheels Forums