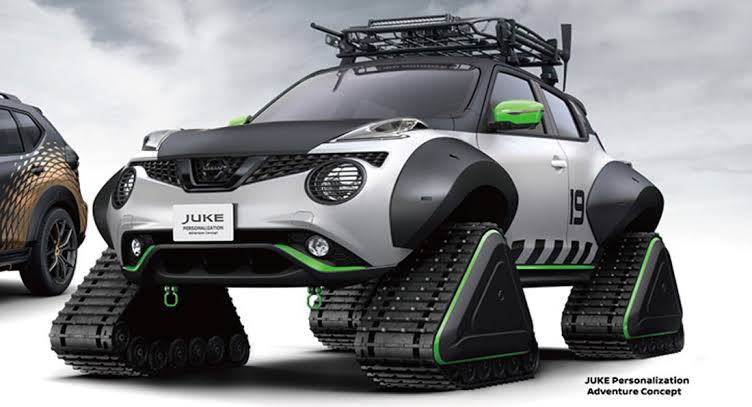 Nissan Juke Snowmobile is headed to Tokyo Auto Salon and is more stylish than ever
Nissan has yet again decided to attend the Tokyo Auto Salon in style with its second converted Juke snowmobile. Yes, this isn't the first time the funky Juke has been customized to perform in snowy outlands but this one definitely is different than the previous one. Taking one look on the new Juke snowmobile can make you realize that this one is a much more hardcore version of a Juke snowmobile. The previous Juke snowmobile was built in 2015 and was titled Nismo RSnow. That Juke snowmobile had everything stock except the tracks. This one, however, in an entirely different story.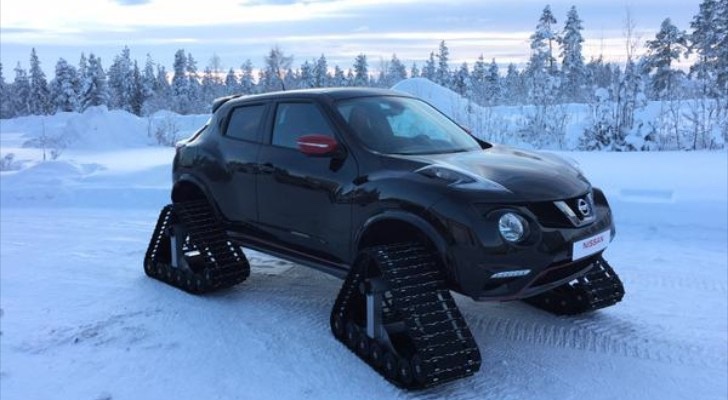 In this one, Nissan has added giant fender flares and a massive roof rack that complements on the bulky and heavy look of the car. The bright green accents featured for the first time in this Juke snowmobile play a key role in making the car stand out among other automobiles and snowmobiles you might have come across before. The huge roof rack on the top houses an LED light bar so that you never find yourself in utter darkness no matter when you feel the urge to take you Juke snowmobile out for a ride in the snow. This special roof rack is called the Juke Personalization Adventure Concept.
Powertrain details are still not revealed by the automaker but based on the previous concept's configuration, we can sketch an educated guess. The previous Juke snowmobile was based on the Juke Nismo RS and used the same 215hp engine used in the regular car instead of the Juke's base version's 188hp engine. Many are speculating that an engine producing 215 horsepower for a snowmobile might be enough for Nissan and the company will probably not go out of its way to use an even more powerful beast for the new Nissan Juke.
It's still not confirmed if the new Juke snowmobile will be sold in the U.S. but it most probably won't be as the Juke is officially cancelled for the U.S. However, Nissan may have decided to reopen the Juke in the U.S. just for the sake of selling the new snowmobile conversion. Also, the Juke snowmobile won't be the only automobile Nissan will be showing off at the event. Nissan will also show off a custom X-Trail at the Tokyo Auto Salon, in America, the same car goes by the name Nissan Rogue.