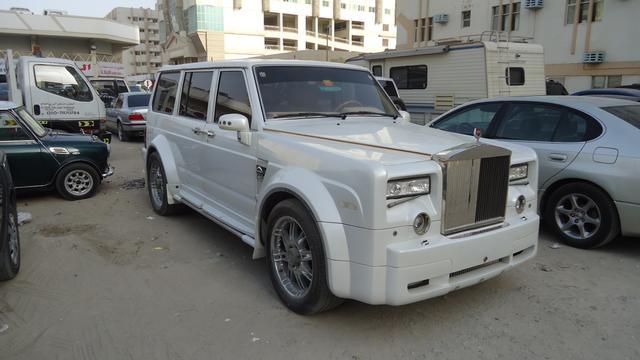 Nissan Patrol attempted to be converted into a Rolls Royce Phantom
Nissan Patrol is quite a fantastic off road vehicle, it is as big as the Rolls Royce but with a go-anywhere attitude however, when a person from Dubai saw this as a drawback in Rolls Royce Phantom, since hooning in the desert is quite popular amongst Dubai residents, he decided to make a Rolls Royce Patrol or maybe a Nissan Phantom, we're not so sure as to what to call it so take your pick.
This 1993 Nissan Patrol, currently up for sale in Al Nahda, Dubai doesn't look like a Patrol as you'd have noticed by now. It has been given a facelift with Rolls-Royce Phantom fascia. It features the complete Rolls-Royce Phantom front bumper, complete with grille, headlights and fog lights. It also features a bespoke interior and to give it a sporty touch as well, the rear lights are from the Range Rover Sport.
Further modifications include a bodykit, a quad exhaust kit and panoramic roof, parking sensors and a set of new wheels. It's definitely a car for those who want something strange. As we've always said, you can count on Dubai for something unique and unexpected.
Having clocked 167,000km and despite the V8 badges, it has a V6 engine and all this can be yours for a humble amount of 58,000 DHS.