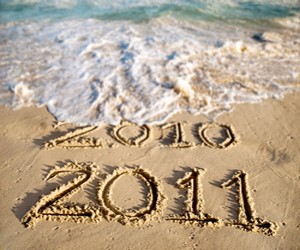 On This Bomb-shell, We Say Good-bye To 2010
Last day of 2010 was actually a strike by some party paranoid over something I don't care. Curse the government all that you want, but take a look in your own collar as well. It has evolved into a disturbing trend in Pakistan by welcoming New Years Eve through aerial-firing. Everyone gets a chance to fire (show) off their weapons. Some of us curse the government for banning Basant, since the competition amongst kite-runners is so deadly that the thread used is a potential threat to motorcyclists. But here in Karachi, media reported that more then 70 persons were injured in the celebrative firing which continued for more then 2 hours. Rangers and Police are useless so I won't even comment on them.
But the thing is though; we were in control of all this firing. Last night, I was walking on empty shells disposed from guns of all sort. When Pakistan won the T20 World Cup we celebrated in the same manner, the aerial firing that amassed on that night claimed two lives and injured many. Fortunately nobody died last night. I blame everyone who took his weapon and fired off in the air, whether or not your disposed bullet hit anyone or anything or not – you were part of that show. Here on Animal Planet, instead of praying for a peace-full and successful year, we injured 70 people, how can God be happy with us?
All the routes going to sea-view were blocked on New Years Eve, the government held the public captive in their homes. There's nothing to cheer about already and out of the few days when people actually go out with their families to witness fire-works and enjoy quality-time, they banned one of the best party spot in the city. The routes are easy to block/control through containers and armed guards on technicals compared to controlling the ban of Silencer-less bikes and use or display of weapons which they failed to do so.
And then came the price/petrol-bomb, government wished the nation in its own unique style through increasing prices of petroleum products. As soon as the petrol-pump owners heard about the news, they shut down their stations in support of the strike after roughly 10-11 PM – soon after it was over.
Anyways, overall increase ranges between 5.4 to 9.2 percent. The government has raised price of petrol by Rs 6.71 per liter, HOBC by Rs 7.69 per liter, kerosene oil by Rs 4.04 per liter, High Speed Diesel (HSD) by Rs 4.25 per liter and LDO by Rs 4.36 per liter.
The new prices of petroleum products will be: petrol Rs 79.67 per liter, HOBC Rs 94.36 per liter, kerosene oil Rs 74.99 per liter, HSD Rs 82.58 per liter and LDO Rs 70.97 per liter effective from January 1, 2011.
Pakistan cricket is on the verge of total collapse. We were crowned as the undisputed champions of T20 World Cup, we were leading the wins table undisputed but have you ever thought about the current predicament situation of our cricket in contrast of the causalities that our celebrations resulted in and how we have celebrated the New Year is no different.