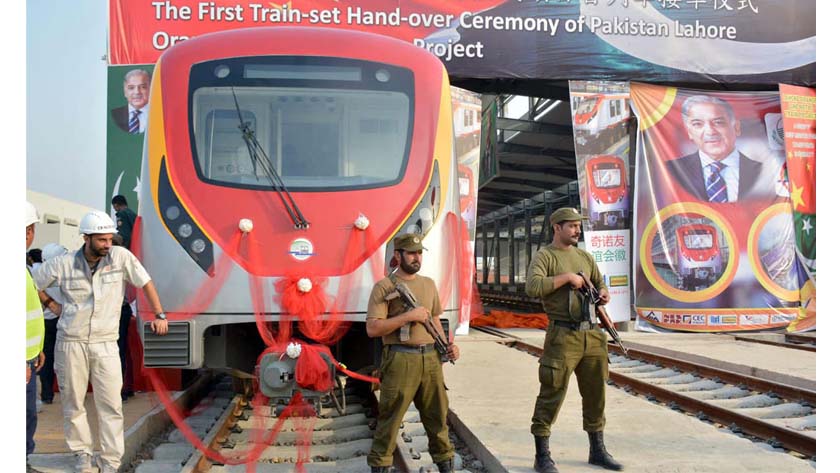 LAHORE: According to the Government of Pakistan, the OLMT or the Orange Line Metro Train service would be available for the public by March 23rd, 2020.
Lt-Gen (retired) Asim Saleem Bajwa, the Chairman of the China Pakistan Economic Corridor (CPEC), has directed the authorities and contractors to speed up the work of the project so that the public would use this service within two months.
On the other hand, last Friday, the chairman of the CPEC project met with the Chief Minister of Punjab, Sardar Buzdar Usman to discuss various matters which also included the progress and update regarding the projects related to CPEC and both decided and agreed mutually to speed up the pace of all CPEC related projects. 
Sardar Usman Buzdar, Chief Minister, has mentioned that establishing authority for the CPEC project was indeed a crucial step that Prime Minister Imran Khan has made. He further added that this decision would surely increase the pace of CPEC projects.
The Orange Line Metro Train would surely provide a better and comfortable mode of transport for the commuters, said the Chief Minister, and thus instructed to start this service as soon as possible. He also added that the cooperation between China and Pakistan for the country's economy is undoubtedly praiseworthy, and a project like this would further strengthen the friendship between both neighboring countries.
The CM highlighted that this project will generate a large number of job opportunities for the youth and would boost up the economic activities within the region. It will be a game-changer project and will take the country on the road of prosperity, he added.
It is the combined duty of all of us regarding the completion of this CPEC-Project, he asserted. Moreover, he further stated that this project has sped up and is moving forward in a better way in the tenure of the current government and will be completed soon.
In order to promote the industrialization and investment, special economic zones along with a special project over thousands of acres of land in Faisalabad has been started, Chief Minister stated. 
That's it from our side, drop your thoughts in the comments section below.