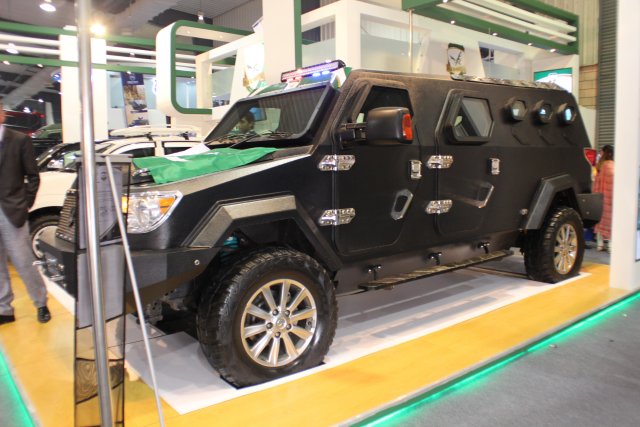 PAK Armoring introduces its UQAAB at IDEAS 2014
PAK Armoring displayed its new UQAAB multi-purpose tactical armored vehicle at IDEAS 2014. The vehicle is specially designed for security personnel and VIP transports. The UQAAB is built on a strong and heavy duty chassis, with a powerful engine to move the whole thick metal vehicle and AWD system.
The impressive vehicle is protected with certified CEN B7/NIK IV armor which is equivalent to a 7.62 x 51 mm weapon shooting at 30 meters. Armor includes front, sides, rear, roof, and floor. The monster vehicle is designed to resist any incoming threats from any angle protecting the driver and passenger.
The UQAAB has the capacity to carry 8 soldiers with full equipment, plus the driver and co-driver making a total of 10 people. The seats of the vehicle are equipped with 4-point seat hitches, has doors at both sides and also one at the back. Seating system is designed to protect occupants from IED. The large ballistic windows provide visibility of the external environment.
Blast reduction and easing technology are used for designing the UQAAB which minimizes the shockwave and downward forces. Different custom-seating is available according to specific mission requirements. The vehicle is also equipped with several armored enhancements such as blast mitigation floor mat and offers many solutions for offensive actions. The vehicle is provided with roof turret which can be mounted with remote weapon station standard .30 or .50 cal machine guns or customer specific weapon system. Several spring loaded gun ports are unified at each seat in order to allow defensive actions.
PAK Armoring crew also ensured crew comfort by installing rear and front heating, air conditioning and ventilation system. The UQAAB is also equipped with an automatic system of the fire engine suppression.
Add-on armor kit is also available to provide additional protection resisting 14.5x114AP/B32 weapon shooting at 200 meters.