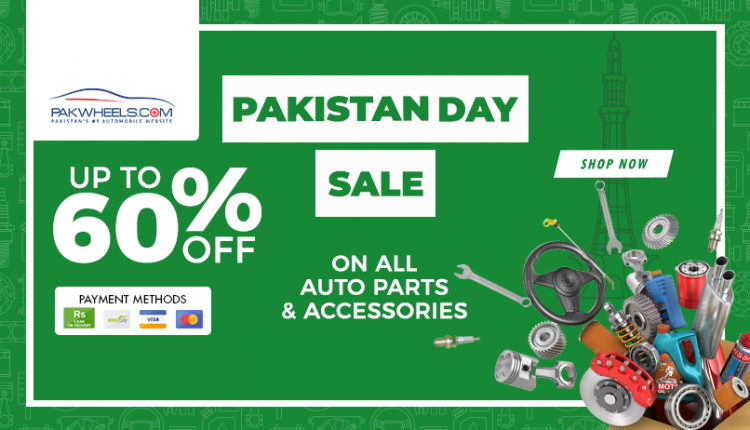 Pakistan Day Sale – Up To 60% Off On Auto Parts, Accessories
We are here with another round of amazing discounts on auto parts and accessories. PakWheels Pakistan Day Sale brings your favourite car and bike items at up to 60% discount plus free delivery across the country.
Here are the best sale items available on PakWheels Auto Store. 
SOGO Car Electric Fans
Summer is just around the corner and it's about to get real hot in your cars. Turning the AC on for too long will underpower your car. We have just the right thing for you to beat that heat. A pair of SOGO 360 Degree Dual Rotatable Car Electric Fans. 
It's our number one Pakistan Day Sale item that helps cool the car on hot days and remove the moisture on cold rainy days. You can get this car accessory for yourself or as a gift for your family and friends. 
This summer lifesaver item is now available for 49% off at Rs. 1,320, down from the original price of Rs. 2,600.
Car Ashtray with Air Freshener
Do your family and friends hate it when you smoke in the car, or is it the other way around? Try our Universal 2 In 1 Car Ashtray With Air Freshener Perfume Gel. The product is amazing. It not only works as an ashtray that you can use to take out the cigarettes, but also get rids of the smell. 
This stylish ashtray comes with a perfume gel and keeps your car minty fresh. The gel will last you for at least a month. You can also refill the gel cup with any fragrance you like. 
After a 43% discount, you can purchase it for only Rs. 850, against its old price of Rs. 1,499.

Portable Travel Picnic Table & Chairs
Wishing that you could bring a table chair kind of set up with you on a trip? We have this interesting picnic table that folds into a briefcase that you can keep in the trunk and take anywhere with you. This folding table offers comfortable seating for 4 people to have meals, play games, or just sit around and chat (because that's what picnics and trips are for). 
Guess what? Order this now in our Pakistan Day Sale and, after a 40% discount on the original price of Rs.15,000, it's yours at a discounted price of Rs. 8,999. 
Tyre & Bumper Trim Gel
Our next Pakistan Day Sale product is a treat for your car tyres and bumper. Presenting the Turtle Tyre & Bumper Trim Gel. Its super viscous gel formula ensures maximum tyre cling and protects the surfaces from UV-fading and cracking. No messy spray marks or anything, you can easily use it at home to give the tyres a glossy finish. 
On a 39% discount, the price has come down to Rs. 799 from the original Rs.1,300.

Vinyl, Leather, Tyre, Rubber & Plastic Conditioner
Something to keep the tyres shiny and new is always a big yes. But what if one product can do that for everything and not just the tyres. The Car Geek Conditioner gives your car rubbers, vinyl, leathe, tyres, and plastic surfaces a natural-looking shine. 
Just shake the bottle well and apply the misty spray on an applicator pad. Spread the conditioner evenly on the surface and let it haze. Your car surfaces will be all black and shiny, just like new.
After a 20% discount on its original price of Rs. 1,500, this product is up for grab for Rs. 1,199.

Tyre Sealer And Inflator
Flat and busted tyre emergencies can be brutal at times. What to do when you have a flat tyre and can't find a service station nearby? Use the Comma Tyre Sealer And Inflator to save the day. This product will help repair the tyre with its gas filling within seconds. It's also suitable for all vacuum and non-vacuum tyres. 
The old price of this tyre inflator was Rs. 800, but after 19% off, you can buy it for only Rs. 650.

Car Detailing And Cleaning Brushes
More on car cleaning, we have a very useful set of Five Detailing And Cleaning Brushes. You can use these high-quality brushes for cleaning the interior and exterior of your car. The bigger brushes will help you during car washes and the smaller ones will help you clean the narrow and tight spaces in the car cabin. 
The set of brushes is up for sale at a 38% discount. So, you can get it for just Rs. 999 instead of 1,600.
7-in-1 Complete Car Care Bundle
Our next product, the Tonyin Gold 7 In 1 Complete Car Care Bundle is made for the ones who like to wash, clean, and detail their cars at home. It's a complete package of seven handy car care items.
Tonyin Ceramic Crystal Coating Wax with Polishing Sponge 

Tonyin Bath And Body Extreme Snow Foam Shampoo 

Tonyin Pro Shield Interior Diverse Dressing 

Tonyin Eliminate All Purpose Cleaner 

Tonyin Protective Tire Gel

Tonyin Steak Free Premium Glass Cleaner 

Double Sided Premium Microfiber Towel
We are offering a 32% discount on this auto product, so now it costs only Rs. 3,750 as compared to its original price of Rs. 5,500.
8-in-1 Ultimate Car Care Kit
What's better than a 7-in-1 car care bundle? An 8-in-1 Sidex Black Box Ultimate Car Care Kit that has:
Sidex Shines And Protects Car Wax

Sidex Tyre Shine

Sidex Dashboard Cleaner

Sidex Extra Foaming Car Shine Shampoo

Sidex Perfume Card

Valcro Tape

Microfiber Cloths

Furmek Wood Furniture Polish
With a 31% discount on the original price of Rs. 2,600, you can now get it for Rs. 1,799 only.
Car Air Purifier
Keep yourself and your family safe during travel times with a SHARP Plasmacluster Car Air Purifier. Its air decontamination technology removes airborne Coronavirus or COVID-19 germs effectively by 91.3% in only 30 seconds. It also reduces bad smells in your car and keeps the air fresh and clean.
The car air purifier originally costs Rs. 20,000, but with an 11% discount, you can now get it for Rs. 17,900.
Happy Pakistan Day, PakWheelers!