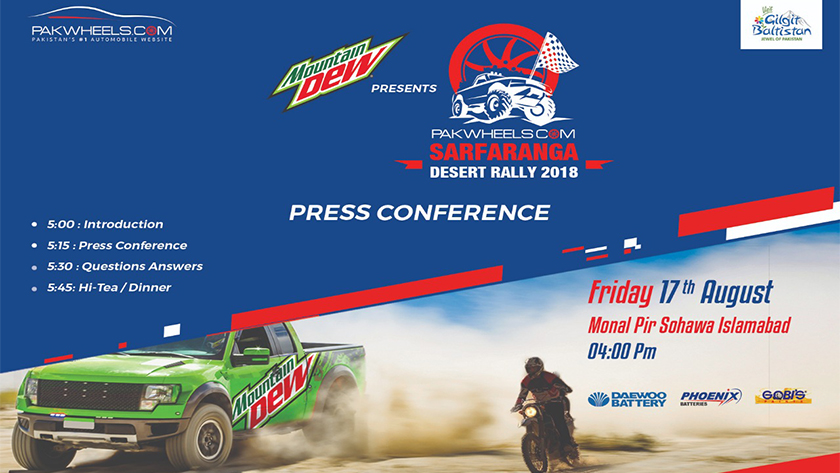 PakWheels organizes 2nd Sarfaranga Desert Rally in Skardu, Gilgit-Baltistan
August 17, 2018 – Islamabad: With reference to PakWheels.com 2nd Sarfaranga Desert Rally 2018, the officials of Tourism Development Gilgit-Baltistan and PakWheels are conducting a press conference at Monal Restaurant – Pir Sohawa, Islamabad on Friday 17th August 2018.
The guests are requested to gather at 4:00 PM at the venue, which will be followed by a brief introduction at 5:00 PM and the Press Conference at 5:15 PM with the Question/Answer session that will be led by Secretary Tourism – Mr. Waqar Ali Khan and Deputy Commissioner Skardu – Nadeem Nasir as the speakers on behalf of Tourism and Development Gilgit-Baltistan. Moreover, Suneel Munj – Chairman PakWheels.com will also be present at the Press Conference.
From all the renowned rally drivers, the guest list includes participants from Team ZOR, Frontier 4×4, Islamabad Jeep Club, PMRC, Biker and Hikers and officials of Tourism Development Gilgit Baltistan.
Starting from the 31st of August 2018, it will be a three-day event that will end with a closing ceremony and celebration on 2nd September 2018.
Presented by Mountain Dew, this upcoming Sarfaranga Desert Rally will be a second highest cold desert rally in Skardu, organized by PakWheels.com in collaboration with Tourism and Development Gilgit-Baltistan.
This time around, there will be nine categories in total; 4 for the Prepared category, 4 for the Stock category and 1 Women Category.
Sarfaranga Event Schedule
THU 30th August 2018
5:00 PM – Arrival at Sarfaranga Desert
FRI 31st August 2018
10:30 AM TO 01:30 PM – Technical Inspection of Rally and Safety Vehicles
07:00 PM – Rally Drivers Meeting
SAT 1st September 2018
10:00 AM – Qualifying Round
07:00 PM – Rally Driver's Meeting
SUN 2nd September 2018
07:00 AM – Staging of Rally Vehicles as per their Qualified time
08:00 AM – Flag Off
07:00 PM – Prize Distribution / Dinner
About Sarfaranga Desert
Covered with serene beauty and picturesque mountains, Sarfaranga is a high-altitude desert located in between Skardu and Shigar, in Pakistan's Northern Gilgit-Baltistan region. These towering mountains attract thousands of visitors from all over the world. This desert holds a unique place in the hearts of travelers due to its high altitude and cold region.
About PakWheels.com
Since its founding in 2003, PakWheels.com has changed the way Pakistan buys and sells vehicles. From growing into an active forum of car and bike enthusiasts to organizing industry-first auto shows and rallies all over Pakistan, its passion for wheels is never-ending.