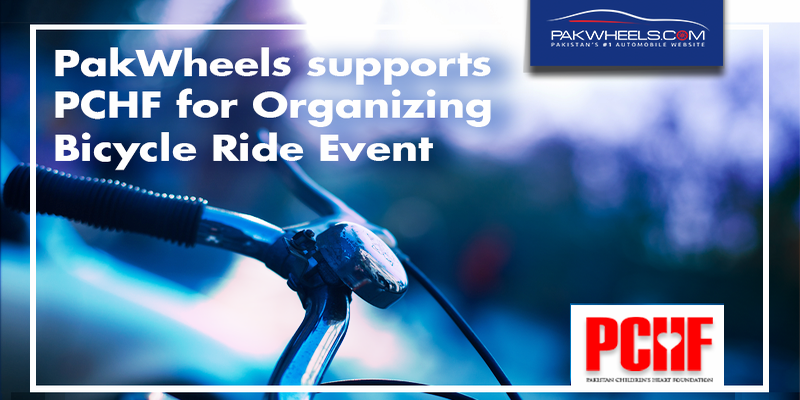 PakWheels Goes Hand in Hand with PCHF for Hole in a Heart Bicycle Ride Event 2017
PakWheels.com, the largest automobile website of Pakistan has joined hands with PCHF (Pakistan Children's Heart Foundation) to support Hole in a Heart Bicycle Ride Event 2017, which is going to be held on 29th January 2017 and 12th February 2017 in Islamabad and Lahore respectively. This bicycle ride event is organized in Pakistan as a part of International Congenital Heart Disease Awareness Week, which is held each year from 7th February to 14th February, to raise the awareness about CHD (Congenital Heart Disease).
The participants of this bicycle ride event would include general public, media persons and many notable personalities. In order to join in this event, which is truly for a cause, you are required to fill out and submit an online registration form, after which PCHF (Pakistan Children's Heart Foundation) will contact you and confirm your participation.
Congenital heart disease (CHD), also known as a congenital heart anomaly or congenital heart defect, is a problem in the structure of the heart that is present at birth. Signs and symptoms depend on the specific type of problem. Symptoms can vary from none to life-threatening. It has been found that more than 1.5 million children are born around the world every year with this disease. Far too many – the vast majority – do not yet have access to the heart care that would save their lives.
PCHF (Pakistan Children's Heart Foundation) is the only organization in Pakistan that's working hand in hand with the global congenital heart disease awareness week and has been organizing awareness campaigns since 2015. This non-conventional NGO does not use public donations to pay admin expenses including advertisements. So far, the organization have financially supported heart surgeries of more than 562 deserving children from across Pakistan; each surgery is said to have cost more than PKR 400,000.
PCHF aims on building a non-profit Children's Heart Hospital in Pakistan that would be dedicated to the treatment of congenital heart disease (CHD).
Through this bicycle ride event, PCHF will be sharing awareness among general public about the cause and its future goals.
Below is the ride plan for the event in Islamabad. Ride plan for Lahore would be updated soon:
Reporting Venue: Faisal Mosque
Date/Time: Jan 29, 2017 – 0900hrs, Registration 30 mins to 1 hour (T-Shirts Distribution), Ride Start sharp at 10:00 AM, Ceremony at 11:10 AM, Ceremony Finish at 12:00 PM
Route Detail: Faisal Masjid > Margalla Road > 7th Avenue > Arts & Craft Village CDA
Distance: 8 Kilometers
For Queries: Contact: 0300-8409107