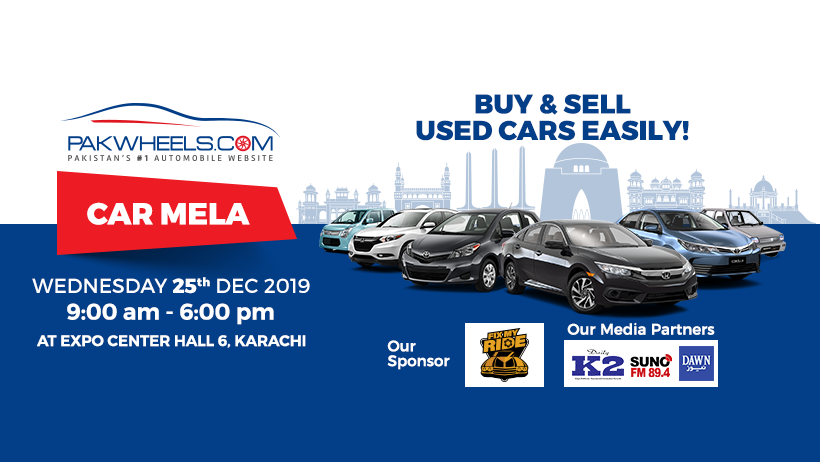 After conducting a successful car mela in Lahore, once again PakWheels.com Car Mela will soon be in Karachi. So, mark your calendars for Wednesday, 25th December 2019, for PakWheels Car Mela Karachi to be held at Hall # 6, Expo Centre from 09:00 am to 6:00 pm.
Already talk of the town, this one of a kind mela transforms the experience of buying and selling of cars by making it hassle-free for ordinary Pakistanis.
Pakistan has a huge used car market but people in large numbers still find it hard to buy and sell a genuine used car. So, to cater to the needs of consumers, PakWheels.com brings the sellers and buyers under one roof for an exceptional buying and selling experience. PakWheels Car Mela is one such platform.
Buyers will have hundreds of cars to choose from. Sellers will have a hassle-free experience in finding the right buyer for their car. 
Benefits of PakWheels Car Mela:
Hundreds of Managed by PakWheels Cars for Sale

PakWheels team can verify the auction sheet of cars

PakWheels team can inspect the cars at the venue

Buy Cars from Private Sellers

Great opportunity to sell your car

Presence of thousands of Genuine Buyers
Our sponsor for this event is Fix My Ride and our esteemed media partners for this event are Daily K2, Suno FM 89.4 and Dawn News. So, be there on 25th December 2019. 
Register to sell your car: http://ow.ly/iwwG30py7C3