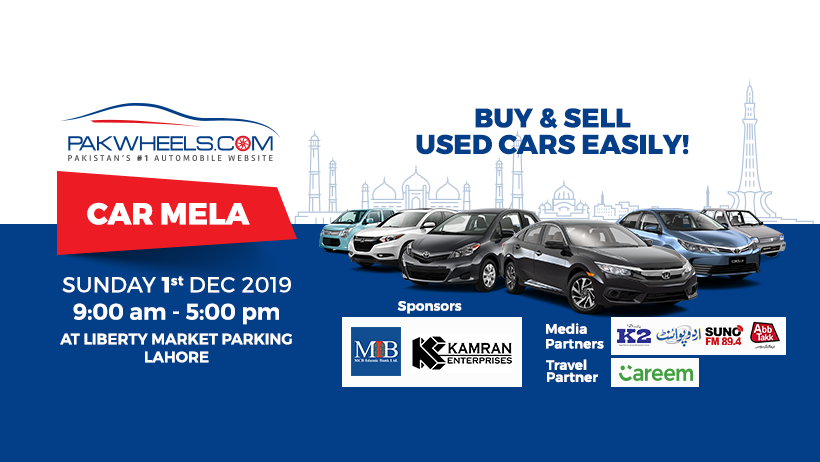 PakWheels.com Car Mela is again coming to Lahore. So, mark your calendars for Sunday, 1st December 2019. The venue, once again, will be Liberty Market Parking. This event will be held from 9:00 am to 5:00 pm.
This will be the fourth car mela in Lahore. Already the talk of the town, this one of a kind mela transforms the experience of buying and selling of cars by making it hassle-free for ordinary Pakistanis.
Pakistan has a bulging used car market but many still find it hard to buy and sell a genuine used car. So, to cater to the needs of consumers, PakWheels.com brings the car mela where people from all walks of life can come and buy their desired car or sell their vehicle to a potential buyer with ease.
Register to sell your car: http://ow.ly/iwwG30py7C3
At this car mela, hundreds of cars of all categories, including sedan, hatchback, hybrid, Kei, SUV, local/imported will be displayed. Buyers will have hundreds of cars to choose from. Sellers will have a hassle-free experience in finding the right buyer for their car.
Benefits of PakWheels Car Mela:
For Buyers:
Hundreds of Certified and Inspected Cars for Sale

30 day/1000 km warranty of PakWheels Certified Cars

Only good conditioned cars are certified

Verified Documents of PakWheels Certified Cars

Buy Cars from Private Sellers
For Sellers:
Great opportunity to sell your car

Presence of thousands of Genuine Buyers

PakWheels team can verify the auction sheet of cars

PakWheels team can inspect the cars at the venue
Why PakWheels Certified Cars?
The Certified Program offers cars that have been thoroughly inspected with the help of the latest equipment and expert technicians. If it is an imported vehicle PakWheels verifies the auction sheet as well. We only provide certification to those cars that fulfill strict merits.
Our esteemed sponsors for this event are MIB and Kamran Enterprises. Moreover, our travel partner is Careem and media partners are Daily K2, Urdu Point, Suno FM 89.4 and Abb Takk.
We got some exciting prizes for you! There are no fees to entry for buyers. So, be there on 1st December 2019.