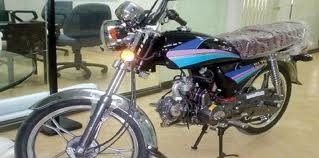 PAMA seeks to block Yamaha's investment in Pakistan
Pakistan Automotive Manufacturers' Association (PAMA) is believed to have launched a notion to block Yamaha's motorcycle project in Pakistan citing that the government is giving fringe benefits to Yamaha for their investment which is unfair for the rest of the existing automotive manufacturers.
Abdul Waheed Khan, Director General, PAMA has approached Finance Minister Dr. Abdul Hafeez Shaikh, who is also the chairman of the Economic Coordination Committee (ECC) requesting him not to allow any new investment by putting at risk the investment already there which is far greater as local investors have already expanded their capacities to manufacture 2.5 million motorcycles.
"We are not opposing any new investment but we would certainly oppose it if it disrupts the equation by unfair grant of relief in duty and taxes to any new entrant," he said in a letter to the Finance Minister.
Despite the fact the 2.5 million motorcycles produced are approximately four decades old motorcycle designs with no chance of new design or technology in line of sight. Perhaps our existing local assemblers lack the skills and abilities to improvise on technology and design by investing in R&D which is crucial for every country, which is ambitious to move forward. Rather, local automotive manufacturers are seeking to block Yamaha's project which is quite important for Pakistan and the automotive industry as it will bring new designed and technological advanced motorcycles, bringing Pakistan to par with the world.
Local automotive assemblers are trying to block Yamaha's investment in Pakistan so they can continue selling atleast four decades old design motorcycles built with obsolete technology to Pakistanis for the foreseeable future effortlessly. As Yamaha aims to introduce bikes built with today's technology and design.
The only thing that has improved with the local motorcycle assemblers is the sales revenue which has been pocketed and not a single dime spent to enhance the technical expertise of labor, no designers are available, technology is obsolete, and so on so forth.