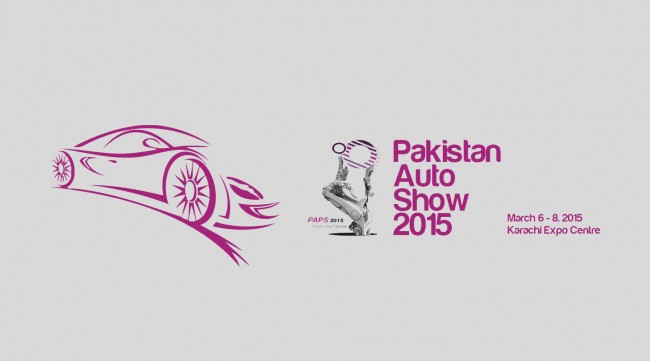 PAPS 2015 Will Take Place In March This Year
The Pakistan Auto Show 2015 (PAPS 2015) is around the corner with most of the national automobile companies and their vendors taking part in the exhibition. The three days long exhibition will take place from March 6 – 8, 2015 where the eminent automakers like Honda, Suzuki, Toyota, FAW, Hinopak, several parts makers, service suppliers, machinery producers and tool manufacturers from across the country will be displaying their products.
The inauguration and closing ceremony of the exhibition will be attended by key politicians, trade associates and ministry officials who will be highlighted on media through various TV channels and daily newspapers. Moreover, the event will be preceded by outdoor advertising campaign which includes hoardings, streamers, towers and banners.
Monthly AutoMark magazine is the exclusive official automotive magazine for the event. Pakistan Association of Automotive Parts & Accessories Manufacturers (PAAPAM) was formed in 1988 to signify the industry and to provide technical & management support to its members. Since more than two decades, this association has attained standardized maturity by becoming a vital and extremely effective link between the policy-makers in the government and the auto parts manufacturing industry.
The Association achieved recognition from the Government of Pakistan in 1999 and today it is represented on many Government and semi-government NGOs and committees as well as Private Institutions by its members. PAAPAM is also a member of the Federal of Pakistan Chamber of Commerce & Industry (FPCCI).
With a registered membership base of over 278 "tier one" parts manufacturers out of over 1200 industries, PAAPAM oversees part makers of Cars, Motorcycles, Tractors, Trucks and Buses, who represent multinational companies of repute, including Toyota, Honda, Suzuki, Hino, Nissan, etc. Investments in the industry now exceed US$ 1.5 billion. With estimated Rs 150 billion investment, the industry provides direct employment to over 252,000 (2013 PAAPAM estimates) and indirectly supports over 2.4 million people across the world. Exports of four-wheeler, two-wheeler and agricultural related components are on the increase with last estimates at US$ 128 million.
Seminars by foreign experts from Netherlands as well as from our local academia shall make an effort to further educate visitors and exhibitors in the automotive management and skill development area. The association's focused objective is to move the automotive industry into an OUTWARD looking mode so that our members and the industry as whole look towards new and bigger frontiers to enable further business growth of their companies.
The mob of four-wheel vehicles growing briskly has crossed a figure of 10 million. However, two-wheeler with an annual production of more than 2 million has increased to 25 million and now boasting a collective robust US$ 3.5 billion aftermarket.
Heavy vehicle population in Pakistan is mixed with European and Japanese alternatives available in secondhand and new categories. The rapid import of Japanese secondhand cars has had a progressive impact in the automotive industry as well as on the economy of Pakistan. Additionally Chinese trucks and buses are now also entering rapidly with local production and creating competition for already established brands like Hino.
Various automotive companies from Japan and China have promised their presence at the exhibition, while delegations are due from different countries around the world. PAPS2015 is a platform where you can accomplish several marketing goals with interpersonal disciplines including sales, marketing, customer relationship management, market research, public relations and sales channel building.
Supporting organization including EDB, CBI, AOTS, SMEDA, PJBF and all supporting media partners are working hard to make this event successful.