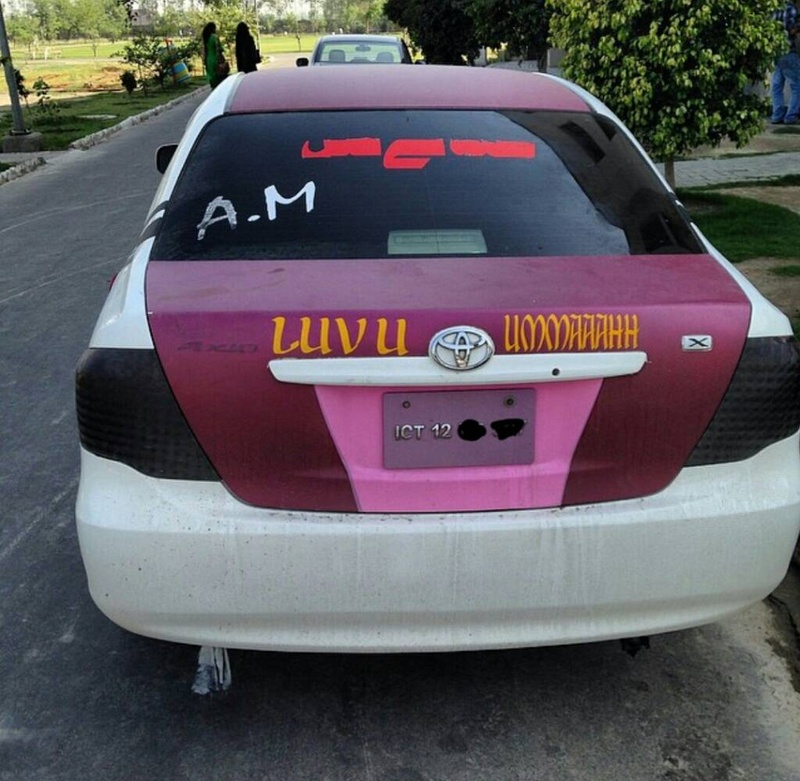 This Is Why Pindi Boys Rice Up Their Cars
I remember the first time I went to shop for clothes after I started wearing this farangi libaas – jeans and shirts. I chose a pair of blue jeans with a light yellow t-shirt. Then I spotted a yellow and green button down checkered shirt which would go great with that yellow t-shirt. So I got that too, and to go with it, a green and yellow fabric belt. But then the blue in the jeans felt left out so a blue scarf/handkerchief caught my eye and I thought 'well I've spent so much, why not a little more to complete my attire?' My next stop was a shoe shop in Kachehri Bazar, and the only pair I liked were those dark maroon cowboy boots. I got those and balanced them out with a maroon Chicago Bulls cap from a stall across that shoe shop.
I wore them the next day, and I was a mess. A clown. A fashion roadkill. I was the conglomerate of the brightness of Lady Gaga mated with the tastelessness of Govinda. Of course, I didn't realize it back then; in fact I walked around the whole day, and a few after that with all the confidence of George Clooney in "Up In The Air".  Yes, I am not proud of my past… not all of it.
When I look back and analyze it now, the problem I had was a common phenomenon amongst us – our tendency to "Plus One". The light yellow t-shirt with a blue pair of jeans would've been perfect. But I was tempted to "Plus One" into it, and then plus one again, and again. "Plus One", my friends, is a never ending spree.
That is exactly what happens when many visit Montgomery Road or F-10 Markaz, or the respective cars accessories market of their cities.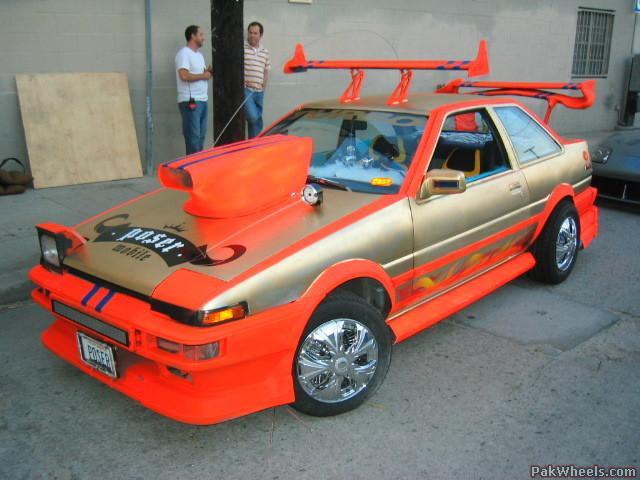 They go with the idea of getting 50% tints, and there they start thinking "Plus One" and decide 'well both of them cost the same; why not get a jet black one?' They set out to get a chrome grill and somewhere along the line the "Plus One" kicks in and they end up adding chrome garnishes and chrome headlight trims and chrome tail light trims and a chrome spoiler with two chrome rocket lights and a chrome tipped faux antenna (despite the actual antenna being imprinted on their rear window). They plan to get a burnt headlight bulb replaced, and return home with HIDs installed in every single hole in their cars. They intend to have their dirty air-filter changed, and the next thing we see is a Suzuki Mehran with a CAI peeping from the headlight opening and fake vents snapped on all over the body, including the roof. They want to get a fallen off stock Civic emblem, and return with Twin White Stripes running from the bonnet to the boot. Has anyone else noticed how the shade of orange in front indicator lamps mostly seen in Altos and Cultuses and older Hondas has gone steadily from mild orange to a shocking shade of red? I have seen how that happens – the shopkeeper puts a bunch of shades in front of the customer, and the customer likes the medium orange shade but thinks "Oh, I am going to do it once, let's do the brightest of them and if I don't like it, it'll fade away with time". The same phenomenon goes when dropping the car, or at times lifting the car for CNG purposes – "ab aik dafa khulwayee hai tau 2-2 spacer daal day".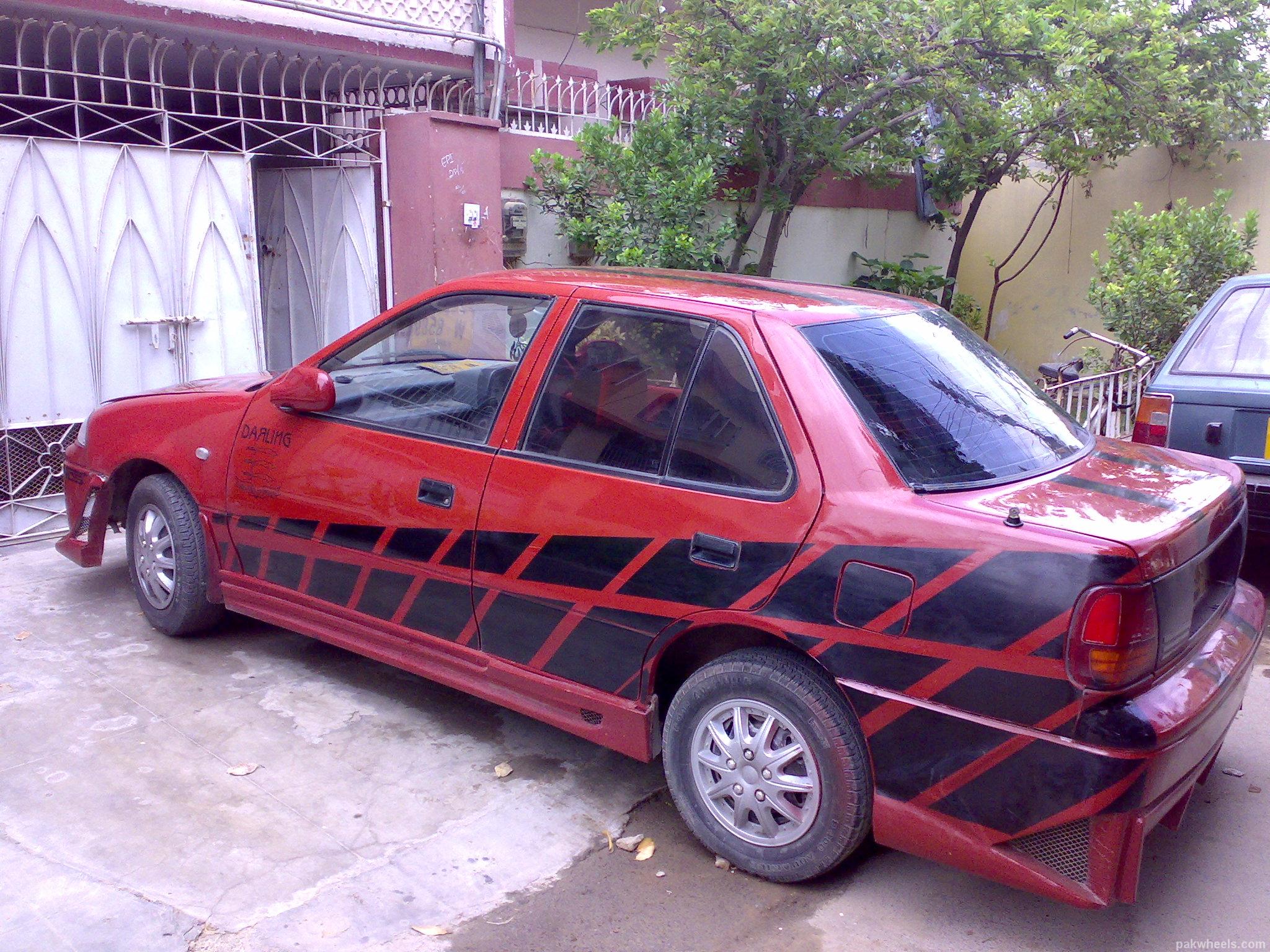 Then there are the guys with strong sticker fetish – the more the merrier. From 7 Ralliart stickers pasted on a Margalla to VTEC + Type R + TRD + GTR- all on the tiny trunk of a Daihatsu Cuore. Even the most modest ones from this lot, while having their custom made name stickers pasted on the rear window call their best buddy and ask "Apna naam likhwa raha hoon, lagay haath tera bhi likhwa loon?"
The point being, that there is a thin line between tasteful modifications, and overdoing it altogether. Many of us cross that line when we set out to beautify our cars. The key here is that in most cases of car's visual modification, as in the rest of our lives, less is more. One should know when to stop, when it is enough.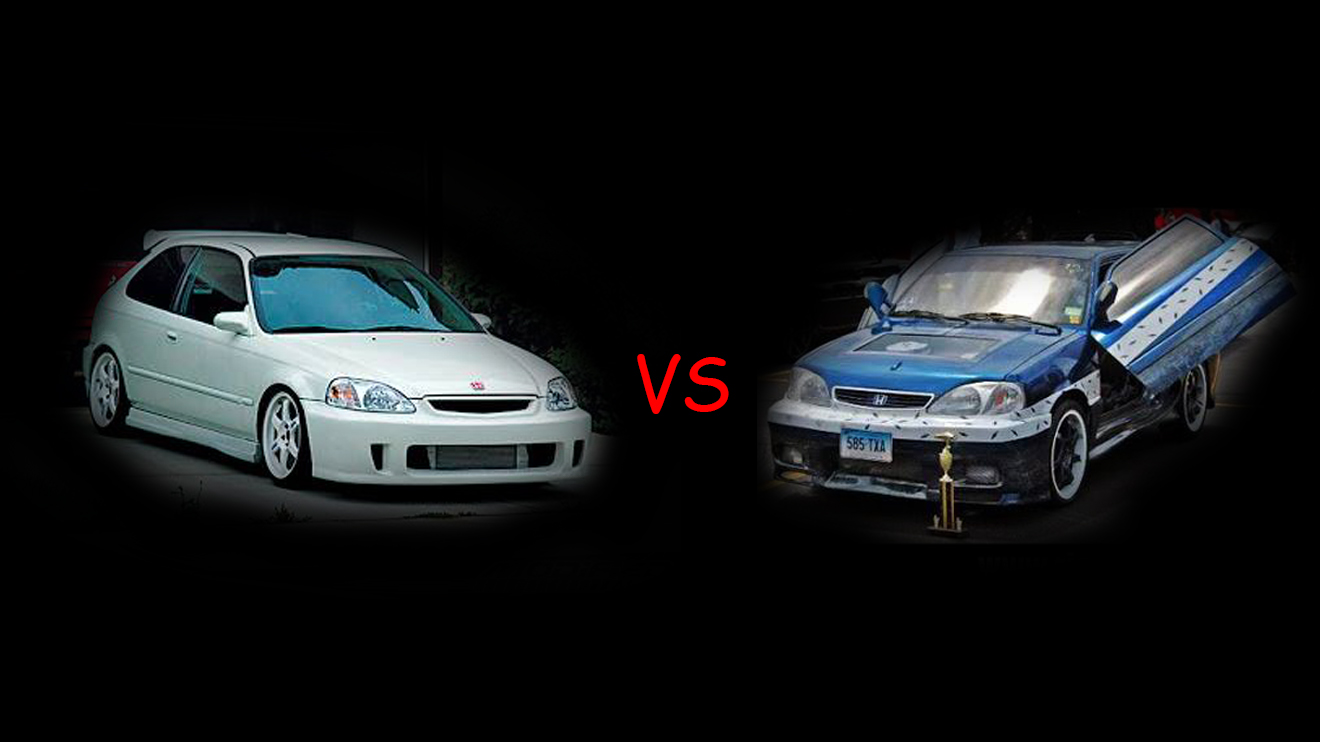 We live in a country where cars are considered an asset, an appreciating one if you own a Toyota or a Suzuki. We tend to spend on car's modifications more than we spend in a lot of other dimensions. Imagine those resources spent wisely and elegantly, without being drifted into the "Plus One" zone, and we will start seeing beautifully crafted masterpieces instead of jacked up circus horses on the roads.
Until then let's savor the bitter aftertaste of yellow and green checkered shirts with maroon cowboy boots, and rockets on wheels with sticker overdose emitting rainbows through their exhaust tips.
So which is the ugliest over-modified car you have come across? Don't hesitate posting below the photos of badly riced cars you've personally spotted.
Disclaimer: Pindi Boy is a Kafiyat which can come over anyone, even someone living in Japan, designing the engine for the next GTR. It is no way related to a boy living in Pindi.