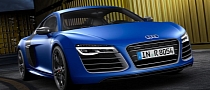 Pictures: 2013 Audi R8 revealed
It is kind of hard to spot the differences but changes are made, and they are everywhere on the new flagship supercar of Audi, the R8.
It is one of the most beautiful supercars on sale today so it was hard for Audi designers to improve on an already pretty car and for those who aren't fans, won't be able to spot the difference but the geeks and Audi enthusiasts have put together a wall of text, telling the changes made.
The most prominent, which even I spotted is the new design of the LED head lights. Audi designers have always been quite thankful to LED technology because it let them pull all sorts of their imagination into reality.
Audi has also revised the front bumper and grille, and out back, there's a larger diffuser and new circular tailpipes.Round the back, the biggest change in our opinion would be the exhaust system.
Previously, there was a difference between exhaust tips of the V8 and the V10 version, now though, you can no longer tell them apart, as both the oval tips of the R8 V10 and the quad tips of the R8 V8 have been dropped in favor of a simple but very cool circular design.
The engines are still the same with the power figures remain untouched however, the biggest change to the 2013 R8 is the addition of the new seven-speed S-tronic transmission that utilizes two multi-plate clutches. Each clutch engages with two independent sub-transmissions and alternately select gears, resulting in smoother shifts that take mere hundredths of as second. Thankfully, a six-speed manual is still offered, although Audi claims that the car equipped with the S-tronic is actually faster to 60 miles per hour by three-tenths of a second in all models.
In a nutshell, Audi revises the already beautiful R8, but it doesn't make a difference.