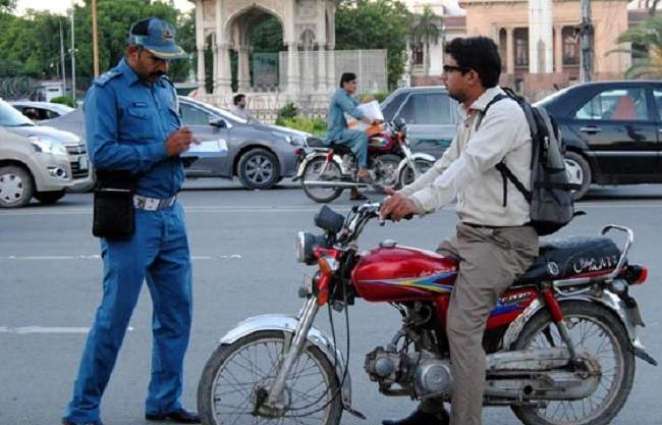 The Rawalpindi City Traffic Police (CTP) has issued 7000 tickets to motorcyclists for not wearing helmets, in just one week time.
In compliance with the strict orders of Lahore High Court (LHC), Rawalpindi Police is keen to issue tickets to all the violators travelling on motorcycles without a helmet. The authority has accelerated their law enforcement drive by issuing 7000 tickets to motorcycle riders in the past one week only. It also shows how many people travelling on motorcycles are reluctant in prioritizing their safety on the roads.
The Chief Traffic Officer (CTO) had launched a special campaign recently to strictly implement the orders of Lahore High Court to full effect. In the ongoing campaign, the issuance of 7000 tickets to violators resulted in the collection of Rs.1.3 million in a matter of just 7 days. There were 223 motorbikes being impounded by the authorities at several police stations as well.
According to the CTO, the mission behind the implementation of this helmet wearing rule is to ensure the safety of the citizens while riding a motorcycle. The issuance of tickets against the violators is more of an awareness campaign to wear a helmet. In support of this campaign, the traffic police have been distributing pamphlets amongst the motorcycle riders at different spots around the city to let them know the importance of wearing a helmet. To yield better results, the traffic wardens and officers have also been briefed with special instructions on educating the citizens about road safety. The basic aim of CTP is to spread awareness amongst the motorbike riders. Moreover, the Mobile Education Unit (MEU) of City Traffic Police is regularly arranging various briefing sessions on the importance of wearing a helmet and ensuring road safety. These sessions are being held at different educational institutions to specifically target the youth.
Related: Quetta traffic police orders people to wear a helmet while riding a bike
According to the traffic police, the number of tickets will increase in the coming days, unless the citizens realize the importance of wearing a helmet in routine. This campaign promises to bring awareness about road safety among the motorbike riders to a great extent. Therefore, it is advised to all the motorcyclists to buy and wear a helmet to ensure road safety as well as not getting penalized by the authorities. The traffic police are also looking forward to a good response by the motorbike riders by wearing a helmet. In the current scenario of strict compliance of orders, the citizens should also show some responsibility and take this meaningful campaign forward by following the rules and spreading the word.
If you have any suggestions on this story, mention them in the comments section below. Stay tuned to Pakwheels for more updates.