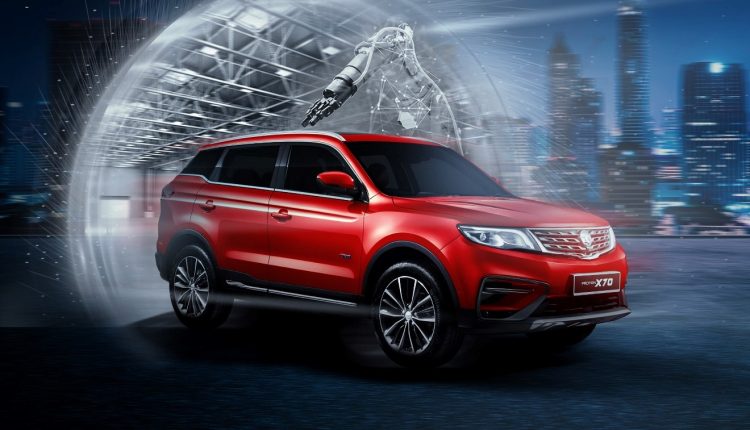 Proton Rolls Out First Locally Assembled Unit of X70 SUV
Proton Pakistan is kicking off one milestone after the other. The company inaugurated its first vehicle assembly plant in October and rolled out the first locally assembled unit of its famous sedan Proton Saga. In just three months, Al-Haj Proton has produced the first CKD (Completely Knocked-Down) unit of the star SUV Proton X70.
Proton shared the big news on social media today, saying the company is "setting new industry standards in Pakistan." 
Here's a look at the first locally assembled CKD unit of Proton X70.
Proton promised to start the local assembly of its vehicles in 2020. But the company could not keep that promise because of the COVID-19 pandemic. Due to the pandemic restriction in Malaysia, Proton had a hard time with the shipment of CKD kits and the delivery of CBU units. 
Things started to get better in Malaysia after more than a year. The restrictions were eased around September 2021. As soon as the industrial activities resumed in Malaysia, Proton made the earliest possible shipments to Pakistan to resume its operations. Only a month later, the first CKD unit of Saga came out in October 2021, and three months after that so did X70's. Way to go, Proton!
Will the CKD unit be as good as the CBU?
Once everybody lays their eyes on the first CKD unit of Proton X70, the following questions will be, is it as good as the imported CBU units? How's the build quality? Are there any features compromised in the local unit? The answer is: we don't know yet. 
Proton surprised us by adding five new features in the CKD Saga but at a higher price than the CBUs. Let's see if the company does something similar with the locally assembled units of X70. Stay tuned to find out.