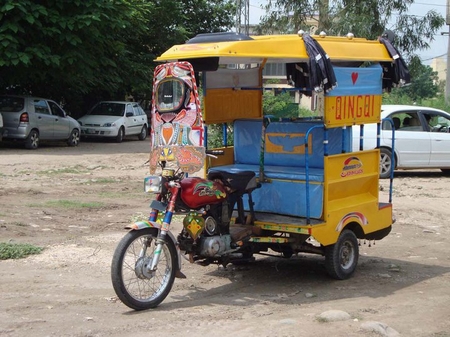 Qingqis banned by Traffic police in Karachi
Ever since Qingqi came on to the roads of Karachi, the potential death traps had no training whatsoever about behaving on the roads and eventually, as the numbers started increasing, the flow of traffic became a terrible mass and Karachi Traffic Police has finally taken the decision to ban the Qingqis.
The ban was limited in its scope to only a part of Karachi and Police was fining those who riding it instead of the owner or driver (doesn't makes sense at all) earlier but now, police has extended the ban to the entire city and they say they will now impound the driver or the owner and even register an FIR.
While talking with Express News, AIGP Ghulam Qadir Thebo made some revelations regarding the legality of these Qingqis as public transport vehicles, which are illegal as they register them as only motorcycles and then go on to transport as many as 6-8 people.
All Karachi Qingqi Rickshaw Welfare Association while condemning the ban and protesting against it at NIPA Chowrangi in Karachi, said that there are 40,000 Qingqi drivers in Karachi and taking away their income just before eid was cruel.
Although they agreed Qingqi was illegal, but they said they have asked Traffic Police repeatedly to work with them to legalize it by making changes to the design.
A mayor of a city usually decides how a transport would look in their city because transport adds into the beauty and culture of the city. Since we have no mayor but also no one interested in them, perhaps some design students can improve upon the Qingqi design? (Leave us an email if you know someone who can improve upon Qingqi design to standards of the world)
Anyway, as expected, the bus drivers are rejoicing the decision as Transport Ittehad who says that Qingqis took away their short route passengers and left them with those only willing to travel to far distances.
People although said that Qingqis were indeed quite dangerous but when buses were charging fares of diesel when running on CNG, and when they don't operate on full strength during CNG holidays, Qingqis proved to be a relief for them.
AIGP Thebo had said that Qingqis have developed into a mafia clogging up bridges and major intersections, they drove recklessly with no sense of roads and upon accident, the victim mentality moved as a mob.