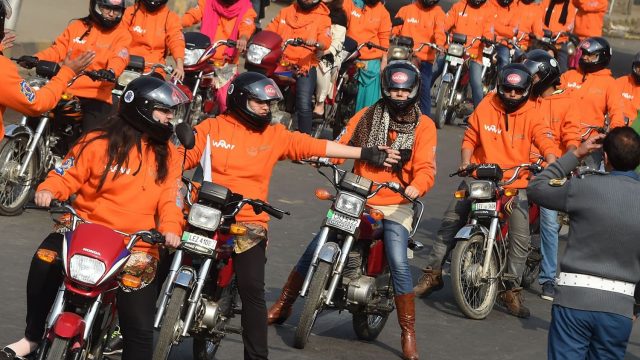 Since the new government took over, the project to train the women to ride motorbikes has lost its potential but, still, the Rawalpindi Traffic Police is eager in training all those women who want to learn.
In order for women to be more independent, a programme named "Women on Wheels" was launched by the previous CM of Punjab, Shahbaz Sharif. This programme was launched in five major cities which include Lahore, Rawalpindi, Multan, Faisalabad, and Sargodha.
This programme not only aimed at training the women to ride motorbikes but also providing approximately 3,000 women, motorbikes on loans or at subsidized rates once they clear their training course. This assistance had to be done from the Bank of Punjab.
Almost 300 women had learned to ride a motorbike under the supervision of Rawalpindi Traffic Police Special Wing which included Head Sub-Inspector Saira Baig, Sub-inspector Naveed Akram, and Trainer Khadija.
They had mentioned that all the trainees were taught on the most common bikes of Pakistan i.e. 70cc bike and also the powerful 125cc motorbikes. Both of these bikes provide the best fuel economy as well.
All these 300 participants were assisted in acquiring a driving license too. The participants were mostly students, there were also lawyers and some policewomen as well.
Muhammad Bin Ashraf, Chief Traffic Officer at Rawalpindi said that " Women were more eager in learning how to ride a motorbike and they were also fast learner as compare to men". He also added that no woman had been issued any traffic ticket last year and that women rarely commit any traffic violations.
CTO Ashraf further explained that instead of the men, women whom they had trained were not only more careful about traffic rules but they also ride the bike more carefully. This not only will keep them safe but also the pedestrians and motorists.
This "Women on Wheels" Project will not only help women in riding a motorbike but will also help them be independent and to avail this economical mode of transport as compared to cars.
However, the project is in doldrums as the anniversary of this project approached. The current govt. Of PTI (Pakistan Tehreek-e-Insaaf) has also shown less interest in this project. Even the sources say that govt. has put a halt on giving loans or providing motorbikes on subsidized rates.
This halt is creating problems for the women especially those who learned to ride a bike under this project and who were less-privileged to seek training from any other source. Thus, this step will only compel them to purchase motorbikes on market rates as compared to the subsidized rates.