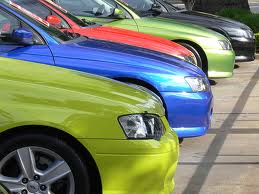 War on terrorism is not ours, but the numbers of fellow countrymen that have been slaughtered uptill now make it our war regardless of any other matter. That's a huge debate with almost everyone claiming to be a PHD in it so I will chose to arrive on a matter I know best.
Since quite sometime my family has been trying to swap our car for another car from the same segment of the market as the Suzuki Khyber but of a different make available in the same price range as our current 1998 Khyber which we are interested in selling, probably because we've got bored of it but there are few problems.
It is a Suzuki Khyber therefore it supports a very good resale, some even call it hard-cash and that's very pleasing to know but Khyber's good resale is rendered pointless if you can't find any car with the money obtained from its sale.
The options are only available to people with handsome budget for a car, or the folks who can add up a lot of money to make it cross PKR 1 million mark than you will be able to have options otherwise there's none.
1998 Suzuki Khyber is estimated to be worth 3 lac rupees today and a short search at Pakwheels' listings revealed that the cars available in the range of 2-3 lac rupees are atleast 4-5 years old Mehran or 10 or more years old Khyber and cars you haven't even heard about. Even the used 11 years old Honda Civic's and Honda City's cost ridiculous 7-8 lac rupees. Could you imagine buying an 11 years old car for your precious, hard earned money?
The suffocation of the options now available with the majority of consumers is due to monopoly of the only three auto assemblers and our obsession with resale. Nissan, Fiat and VW are all popular in the world for their cheap econoboxes made for people with our range such as, Fiat 500, VW Polo, Nissan Micra. All these small cars have been an instant hit wherever they are introduced worldwide.
Even though Toyota and Honda both have a huge portfolio catering the segment of market which is classified to the range I've mentioned, to name a few of cars from them is Honda Jazz and Toyota Etios, instant hit in our neighboring India. I wonder why these cars haven't been introduced in Pakistan.
The problem on our part was resale, we became so conscious about resale that we forgot our life's worth by buying worst quality cars built with 30-years-old technology which sent the new coming auto assemblers in Pakistan bust in a time when the economy was well.
Resale is an obsession for us, an obsession which took from us our freedom to choose. If we had shown some flexibility towards resale, we could have had a lot more options today which can be classified as value-for-money. So after the war on terror is over, there are plenty of other wars left to be fought to make sure there is a P added to BRIC countries.