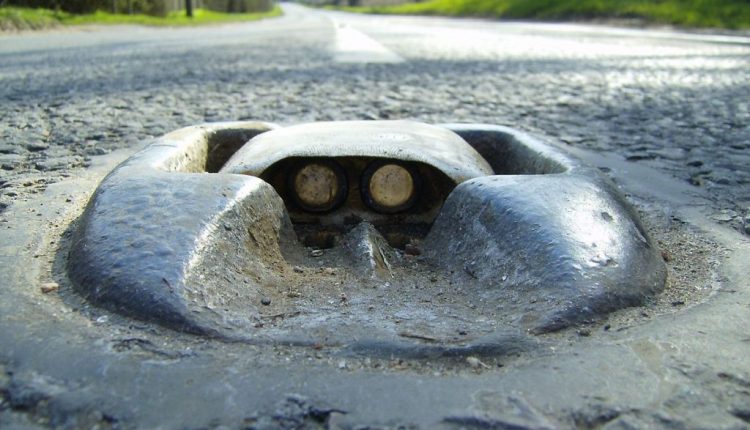 Road Studs – Protectors or Killers?
Road studs, more popularly known as cat's eyes, are no strangers to Pakistani commuters. A frequent sight on the country's vast road network, road studs are often used to control the flow of traffic; to direct it by marking lanes or use an array of them to slow it down. These brick-sized fellows may appear harmless to many, and some may justify their use by way of necessity, but the truth is that they present a hazard to both life and property.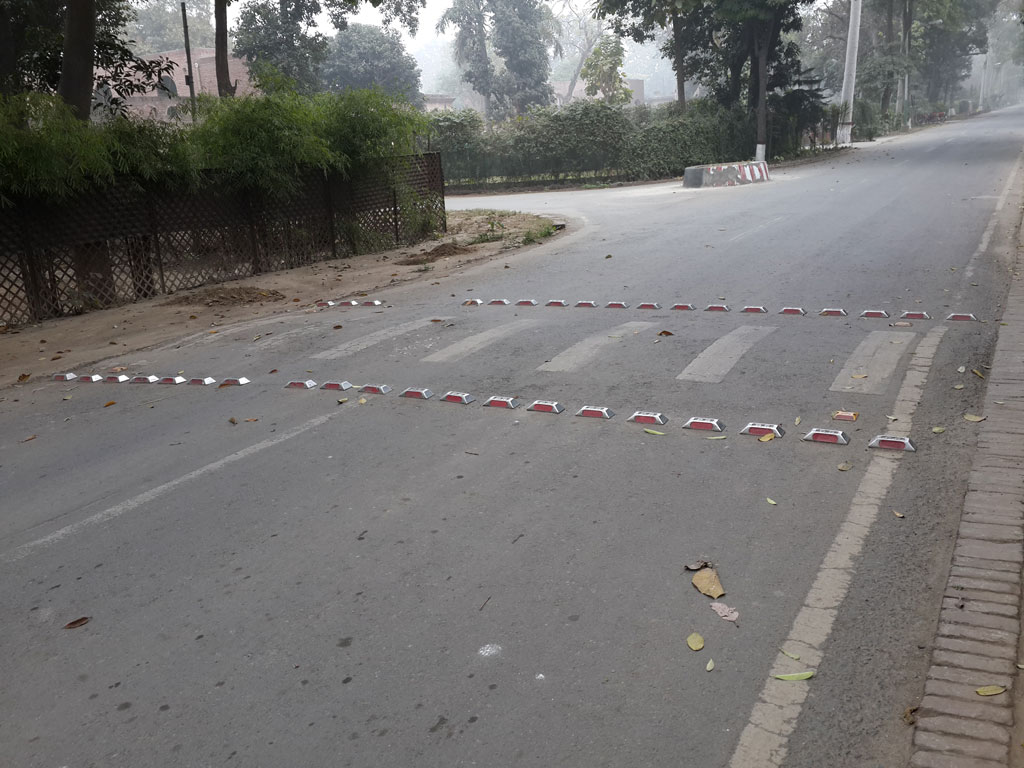 Road studs were conceived back in 1935 by Percy Shaw of England; the idea was to use strips of reflective polished steel as a way to mark lanes and direct the flow of traffic. They gained popularity amidst the blackouts of World War II, and by the end of the war, they were popularized enough to be used by the masses. Note that they were never intended or used en masse to slow traffic down by installing them in an array.
Not too long after their mass adoption, however, concerns about tire bursts, misaligned or bent wheels, and damaged suspension components began to pop up. As a result, the United States Government began research on "Botts' dots" in 1953, and in 1966, the State of California mandated their use in place of road studs. Though the primary reason for this was for compatibility with snow plows that could not function with traditional road studs, the aforementioned gripes also played a significant role in their removal.
Over the next few decades, similar stories unfolded across the globe; today, road studs are seldom used in the developed world.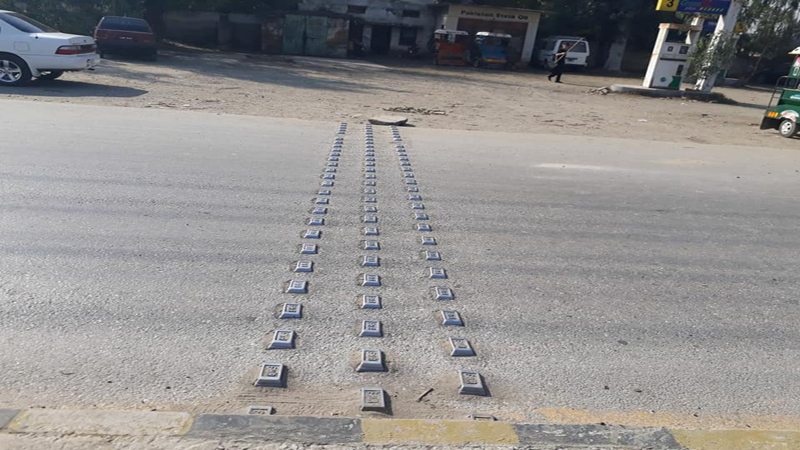 The only developed places where they are a frequent sight are the UK and Hong Kong, where a version (which is a tiny fraction of the original in size and much smaller than the obnoxious brick being used in Pakistan) which is quite different from the original road stud is used and is gradually being replaced by a Solar Road Stud (pictured below), which feature a maintenance-free housing (often made of plastic) that encases a solar cell and powerful flashing LEDs that serve the purpose of delineating between lane lines the same way traditional road studs do.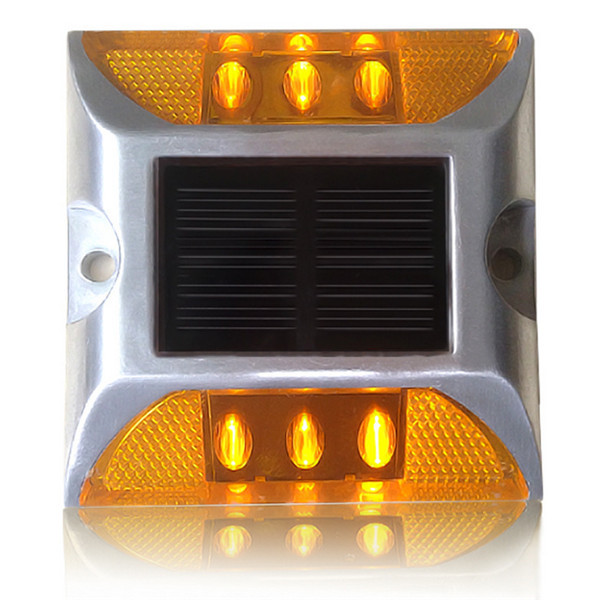 Aside from incidents involving burst tires, broken wheels, and damaged suspension, there was a tragic incident on 25 April 1999 on the M3 motorway in Hampshire, England: a minivan dislodged the steel body of a road stud, which flew through the windscreen of the following car and hit a passenger in the face, killing her instantly. Investigators acknowledged that the bodies of road studs occasionally came loose and can be a source of such incidents in the future, but added that such an accident was previously unheard of.
Unfortunately, road studs, despite previously mentioned concerns, still persist in Pakistan, where they present a very real threat to the denizens' life and property.
To add insult to injury, road studs here are oversized and deployed as speed breakers, which is something absolutely unforgivable since their adverse effects would only be amplified as a result. In fact, their use as a speed breaker was tested in a 2014 study titled "Vehicle dynamic behaviors crossing cat-eye reflectors" published in the International Journal of Vehicle Noise and Vibration, the author concluded that "Using cat-eye reflectors as a road hump (speed breaker) is not effective either in urban or city roads" and "When the vehicle crossed cat-eye hump at low speeds the ride comfort could not be achieved. And as the vehicle speed increased, the ride comfort could be improved. This is contrary to the function of the road hump." What the second statement means is that in the study, it was observed that a vehicle passing over the road studs at 40 km/h resulted in the tire experiencing a load around 3000-4000N, while at 60 km/h, it actually decreased to be as low as 2300N! This behavior is the exact opposite of what is to be expected of a speed breaker!
The worst part of this ordeal is that the authorities seem to be aware of the risks and concerns associated with road studs but are either not interested in taking action or are somehow justifying their use.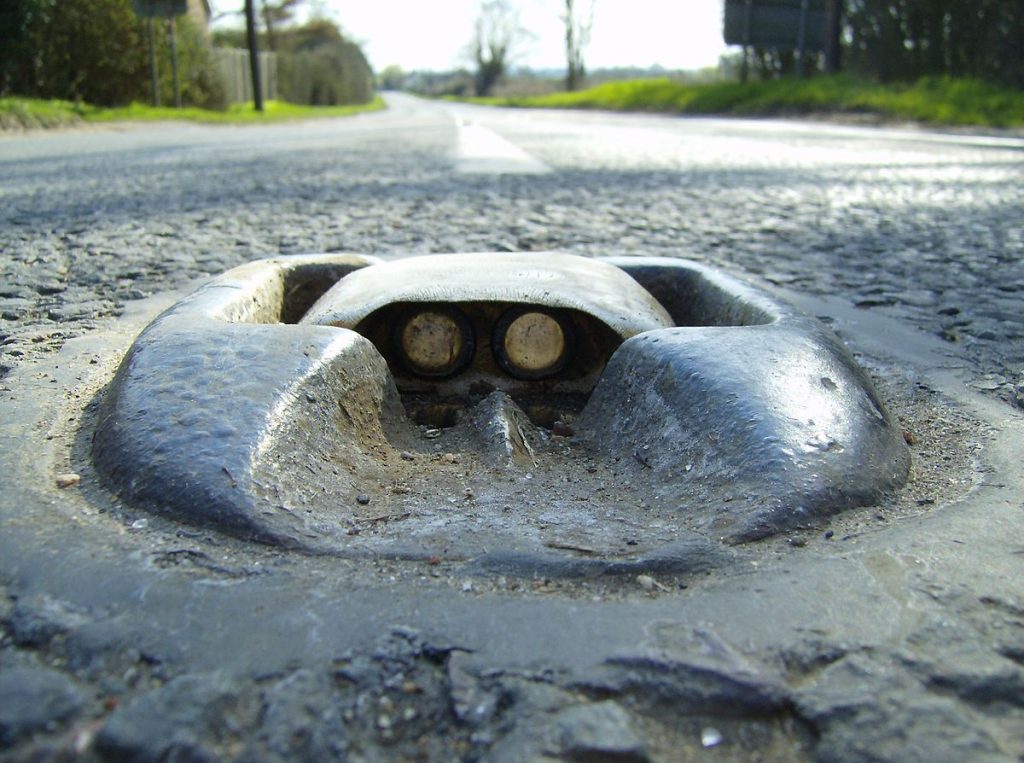 While talking to The News in 2018, Capital Development Authority (CDA) Director Roads and Maintenance Abdul Fateh said the authority was considering to remove heavy metals after a high official's accident that made us reply in Parliament's committees and departmental meetings to review the policy of installation of these obsolete road studs. He, however, regretted that due to indifference towards abiding by the traffic rules and adventurous driving, the authority was forced to use such gadgets. The Director also reported that varying sizes of road studs, ranging from 4 to 8 inches, were in use. Big ones were installed near schools, mosques, and hospitals as the CDA received complaints regarding hit and run cases. "The rash drivers receive jerk when they drive through these cat's eyes and are compelled to lessen the speed of their vehicles," The Director added.
The fact that officials continue to justify the use of ill-fitted gadgetry to slow down vehicles instead of educational measures or the installation of proper breakers is quite unfortunate. It seems that they are blissfully unaware of the fact that the use of road studs continues to be damaging to vehicles on the road, causing monetary losses in the form of bent wheels, damaged tires and suspension componentry, broken wheel joints and even more so, the loss of lives that may result from the aforementioned.
We brought the critically and publicly acclaimed decision of the Peshawar High Court earlier in January of 2018 that instructed the authorities in Peshawar to remove road studs immediately. The authorities, in compliance with the court's instruction, had even started removing them. A decision similar to that needs to be taken for the whole country in order to improve the situation and avert the threat to life and property.
That is it from our side for now. What's your opinion on the matter? As always, feel free to leave your thoughts in the comments below and stay subscribed to PakWheels.
This blog is brought to you by General Tyre, which deems it necessary to educate the public and highlight the related public issues. You can read more General Tyre Sponsered articles here.