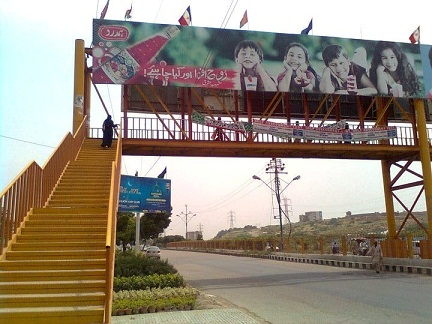 Rupees 260 million worth of pedestrian bridges are most likely to go to waste: Official
Any observant citizen of the city of Karachi would've said the same about these overhead pedestrian bridges, that they were going to fail. The government spent around 260 million rupees on 18 of such pedestrian bridges without any survey or research to make sure that people are going to use them. Grilles and obstructions were erected on the centre belt of the road so that the people are forced to use the overhead bridges yet they are mostly seen deserted.
With another 30 bridges planned this year, Express Tribune reports that the officials associated with the project said that money spent on these bridges will go to waste.
Some of these bridges even cost around 20 million to the Karachi Metropolitan Corporation who is going to erect a number of bridges at a number of other places in the city.
In Karachi, more than 400 people were killed on the roads in 2011, most of the accidents occurred on National Highway, Shara-e-Faisal and Korangi Industrial Area Road so the need for ways of safer crossing of road for pedestrian exists entirely says Ameer Hussain, the programme manager of Road Traffic Injury Research and Prevention Centre but he further adds that there could be more useful and inexpensive options available with the government but without proper research and survey, of understanding the people weren't conducted and the bridges went to waste.
They could've built underpasses for pedestrians and given it to a commercial contractors, such ideas are there in Saddar and in number of other areas where they are used.
Another threat which the people feel about these bridges is mugging and untidiness, CEO of traffic solutions firm Pak-German Engineers Zafar Naveed says that if you have beggars sitting and naked mad men sleeping [at the bridges], I don't think anyone will use them.