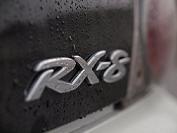 RX-8, rain, camera, action!
Tires out in rain is a recipe for disaster in Pakistan but for motoring photography, such weather is the ideal time to get some soul satisfying shots. Dab of oppo: Accelerate hard, wheel spins, turn in opposite direction, water flies all over and you shoot.
It was a rainy Sunday morning when I got a call from fellow Pakwheeler (Garcia) asking me if I can do a photoshoot of his car for him which he just prepared and tuned. Considering the ideal weather in Islamabad, it was time bring the noise. He arrived in his beautiful Mazda Rx-8 which for the first time I saw in-person, and frankly, it indeed was one great looking, performing and sounding car.
The car definitely deserved some good adrenaline filled shots. However, disaster arrived – the rain had started to pour harder and since I didn't have all weather equipment, it was hard for me to find a spot where I could save my camera from rain but this wasn't the time to look back. You won't find a better time and weather to give tribute to a great car.
I knew the rain and a RWD car was an amazing combination but it was mesmerizing to see how rain water helped cast reflections on the water.
I tried different recipes of shooting the car. A shot of the car moving followed by a popular dab of oppo move and few pics of the car stalled – you be the judge.
I am a car guy through out and photography is my new hobby, so what's better to do then use my hobby for my passion to produce soul startling pictures for fellow car enthusiasts, so your feedback is always needed for me to improve and you to embrace. Especially when all the car shows of Pakistan suck at filming the cars even with all the equipment, you be the judge yourself.
If you'd like me to photograph your car then feel free to drop me a PM through my Pakwheels' profile(spiderman).