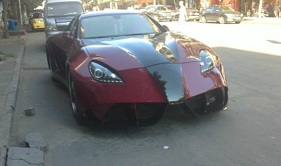 Supercar ambitions from China
China is an ambitious country, it were those ambitions to be the super power of the world that has gotten it so far as to become an economic prowess and a paradise for automakers from around the globe but so far, we haven't seen a supercar come out of China. Although there were some pretty good replicas of proven supercars produced but not one Chinese brand has been seen, that is until now.
This was spotted on the streets of the great city of Guangzhou and verily, it speaks of the ambitions of the Chinese man that they ought to get their own supercar. Thusly, this car has been build around a Geely Meirenbao which was China's first sports car which was small, had a top speed of 180 KM/H from just 1.3 liter engine producing 85 BHP but the best feature was that it had tail lights from Toyota Supra.
So what better car than the Meirenbao to base your one-off super car on. This is exactly what this Chinese guy with a dream did when he went into his shed to build his own supercar. More importantly, a super car he could call as purely Chinese made.