Pak Suzuki officially launched its pickup Mega Carry at an event in Islamabad on 04-12-2017. The vehicle has seating capacity of two in the front cabin and houses a 1493cc Euro II latest powerful petrol engine, which is a good choice for a carry pickup. It is pertinent to mention here that the newly launched Suzuki Mega Carry is imported in CBU (Completely Built Unit) condition from Indonesia. The vehicle will surely bring diversity to the local automobile industry.
Mr. Azam, Executive Officer Marketing and After Sales at Pak Suzuki, asserted that after receiving feedback from our customers and dealers we decided to launch Mega Carry to cater their needs. We were being demanded to make a vehicle which can load more goods than Ravi—company's smaller pickup.
RELATED: Carry Daba for Sale
The all-new Mega Carry has a payload capacity of 750 Kg, but according to the company, you can easily load far more weight than 750 Kg. It has a three-way loading deck. Mega Carry has seat-belts, two side mirrors and is equipped with 14-inch steel tires.
The ground clearance of Mega Carry is also good, and its petrol tank capacity is 46 liters. It has a robust suspension. The new Mega Carry is priced at around Rs.1, 499,000.
Suzuki's Mega Carry is a direct competitor of FAW Carrier. So we deemed it necessary to compare both pickups.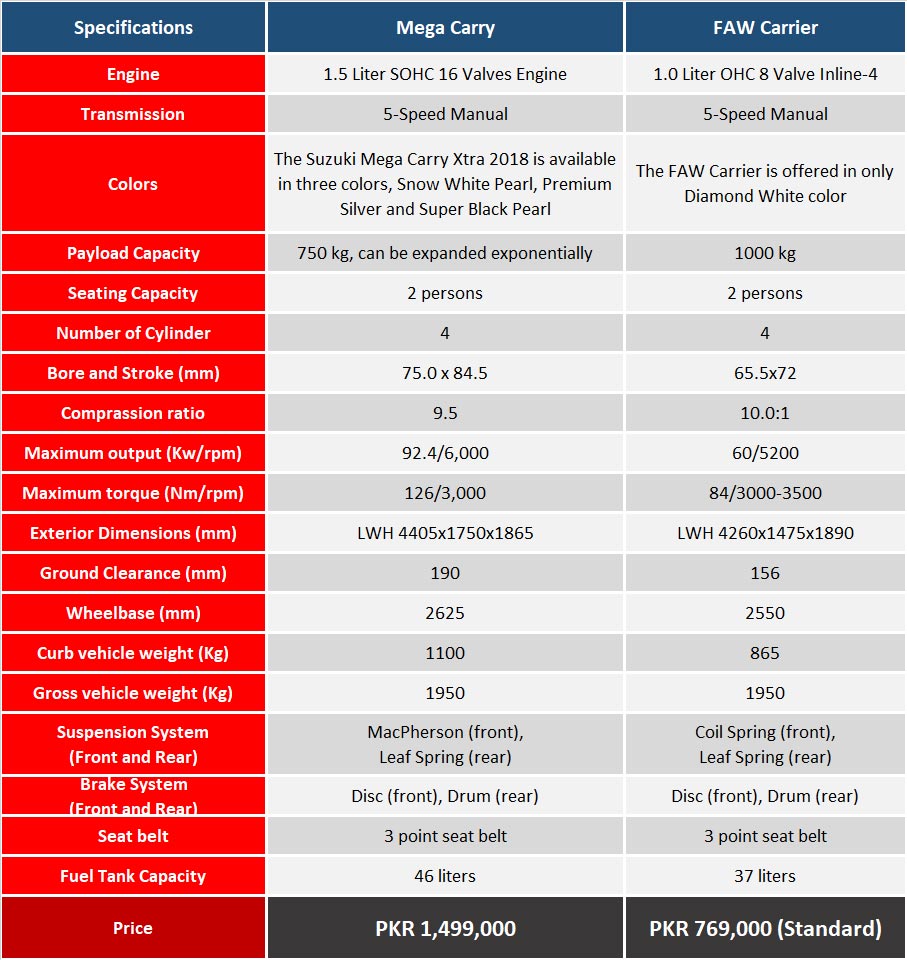 Disclaime: paid content