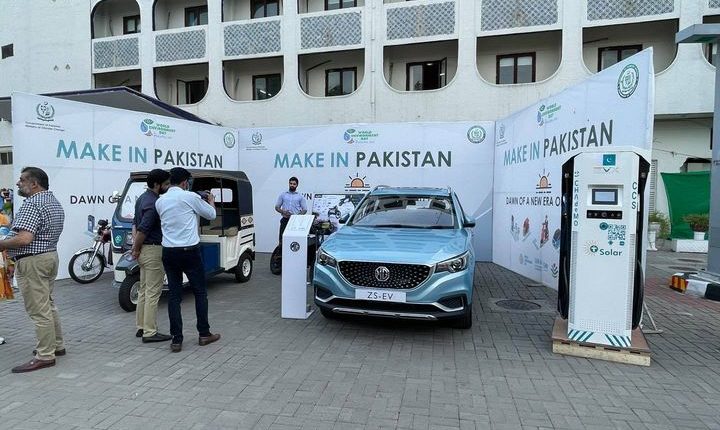 Tesla Introduced Ultra Fast EV Charger to FM Qureshi
Tesla Industries introduced a Pakistan-made Ultra-Fast Electric Vehicle Charger to Foreign Minister Shah Mehmood Qureshi yesterday. In a social media post, the company said: "State of the art EVX Ultra Fast Charger was introduced to Qureshi at Foreign Ministry building in Islamabad."
It is pertinent to mention that Tesla Industries is a Pakistani company, not the international one. As per its Facebook page, Tesla Industries is the largest manufacturer of Solar Panels, Inverters, CNG equipment's, control devices and regulation equipment in Pakistan. The company's introduction further read: "Critical situation in Pakistan's energy sector has become a primary constraint on the country's economic development. Hence, we introduced the solar system and solar panels to reduce the stress and inconvenience due to procrastination born energy crisis."
The company started assembling the Ultra-Fast EV chargers in April 2021. "These chargers can charge Electric Vehicles (EVs) within 25-30 minutes," the company claims.
China's Biggest EV Charger Manufacturer Coming to Pakistan: 
Last month, China's RNL Technologies signed a Memorandum of Understanding (MoU) with Pakistan's Dynamic Engineering and Automation (DEA) to start manufacturing EV chargers in Pakistan.
RNL Technologies is one of the largest EV charger manufacturers and suppliers in China. DEA is one of the valued energy solution providers in Pakistan and abroad. The two companies are partnering to build EV chargers for the Pakistani market.
DEA CEO Owais Mir said, "RNL is willing to help DEA in every way possible to establish and grow this sector in a sustainable manner in Pakistan. DEA has already had a vast experience in fulfilling the country's energy demand by its LPG air mix and LNG solutions, and now DEA wants to do the same for the EV sector based on our previous knowledge and experience." 
Mir further said that after the announcement of the new EV policy, the market demand for EVs had increased, and more new EV manufacturers are coming to Pakistan. At first, there was only one EV, the Audi E-Tron but now MG and Hyundai are also launching their EVs soon. With the increase in EVs, the demand for their charging stations has also increased.