Not too long ago we heard the news that the German car giant Volkswagen will be launching its Amarok pickup in Pakistan along with T6 camper van. Pakistani importer of Audi vehicles, Premier Systems Private Limited, is in talks with Volkswagen, the parent company of Audi AG, to bring vehicles with VW badge. Premier Systems is working towards to the goal of locally assembling both (Amarok & T6) German vehicles in Pakistan. And when that happens, there is a Japanese giant parked right in the middle of the road, most commonly known as Toyota Hilux. The newly launched Toyota Hilux Revo will be the biggest competitor to VW's Amarok. The Amarok is a fairly new vehicle and was launched in 2010. It does not have the history and pedigree the Toyota Hilux has or even other famous Japanese pickup trucks. Like the Hilux, the VW Amarok also falls in the compact pickup truck category. Other notable vehicles in this category are Nissan Navara/Frontier, Mitsubishi L200, and Chevy Colorado.
It isn't a secret that Toyota Hilux is the undisputed king in its segment in Pakistan as well as in many other parts of the world. Wherever you see any sort of political unrest and armed conflicts, you would find Toyota Hilux with a machine gun mounted on top with a bunch of insurgents at the back of the vehicle. It is tough as nails and does the job without any excuses. You might have seen the famous video from Top Gear UK where they put a -used- Toyota Hilux through various daunting tests to test its reliability and stubbornness. So yes, the Hilux is one tough cookie, and VW will have a hard time competing with it in Pakistan.
But until that happens, and VW actually brings the new pickup to Pakistan, let's have a look at both vehicles side by side. Since we do not have exact specs of the Amarok (engine, transmission and interior features), I will be mentioning closest possible features Amarok offers internationally in other markets. Also, the new Amarok comes in both single cabin cars and double cable cars as well as with two wheel drive and 4 wheel drive platforms. We will be talking about only the double cab (Dual Cab) and 4WD Amarok model. Both are body-on-frame vehicles. Hilux Revo is being offered in three variants, those are:
Revo G M/T
Revo G A/T
Revo V A/T
Exterior: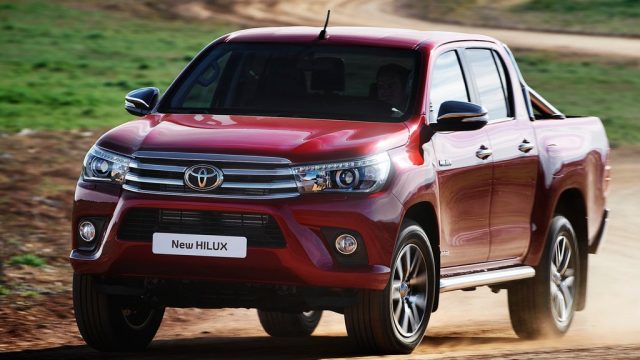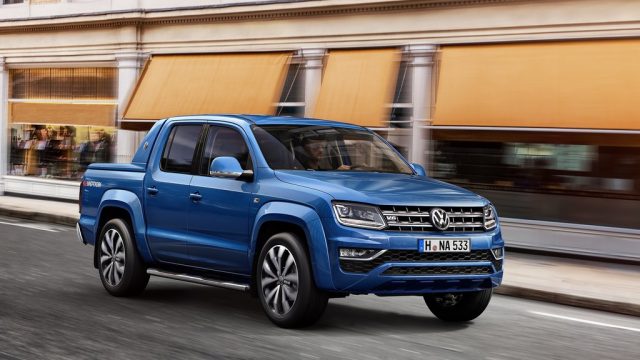 The new Hilux Revo Pakistan follows Toyota's new 'keen look' design philosophy. It was designed and developed in Thailand by Toyota Thailand and later made its way to different parts of the world, from Australia to Pakistan and all the way to European countries. Hilux Vigo, the predecessor of Hilux Revo, was as successful as a pickup truck can be. And considering the premium on black Hilux Revo pickups went up as high as five lac rupees in Pakistan at one point, you can only imagine how loved and sought after the new pickup truck is going to be.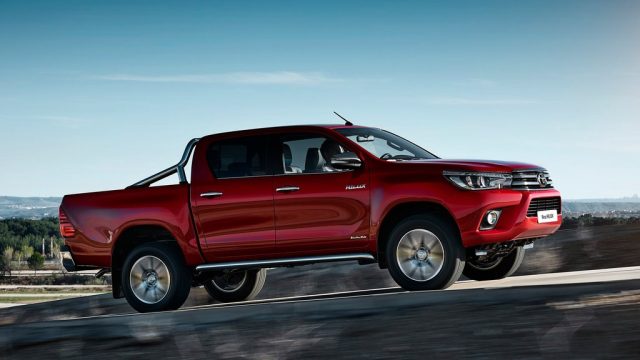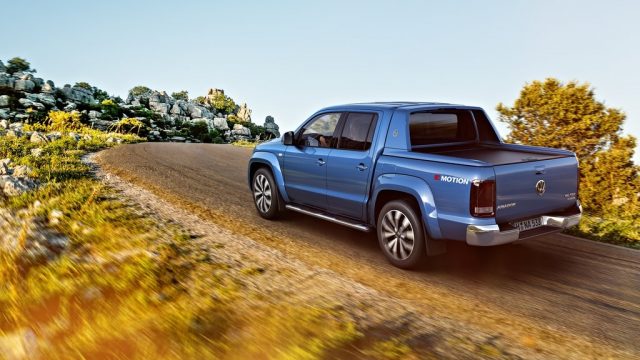 The Hilux Revo is 5335 mm in length, 1855 mm wide, and has the height of 1815 mm. The wheelbase is measured at 3090 mm. Compared to that, the VW Amarok is 5254 mm long, 1954 mm wide, and 1834 mm tall. You can see that the VW is shorter than the Hilux Revo but it is significantly wider and taller than the Toyota's pickup. The wheelbase of VW Amarok is slighter longer than the Revo at 3097 mm. As far the length and width of the rear loading area of both Amarok and Hilux Revo is concerned, the deck of Amarok is 1555 mm x 1620 mm (length x width) and the Hilux rear deck is measured at 1525 mm x 1540 mm (length x width). The Amarok has a bigger rear bed.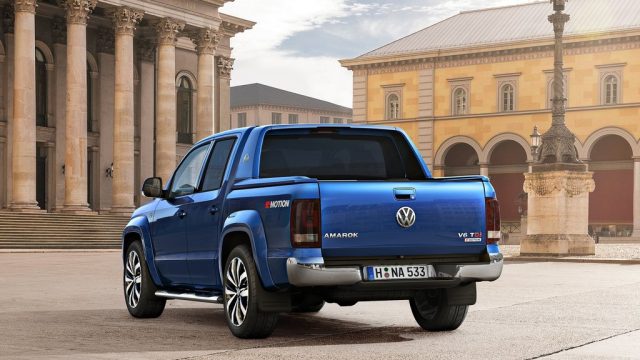 Toyota's ground clearance is 286 mm compared to Amarok's 192 mm ground clearance. Hilux Revo's approach angle is 31 degrees and departure angle is 26 degrees, whereas Amarok's approach angle is 28 degree and arguably has a fairly poor departure angle of 23.6 degrees.
There is no point talking about things like alloy wheels, LED headlights and chrome accents available in the Hilux Revo until we see what the new Amarok actually has to offer.
Interior: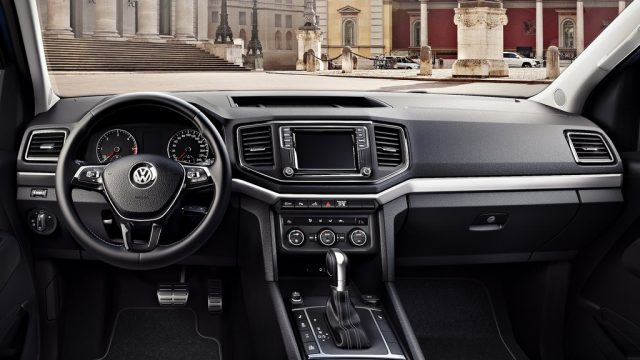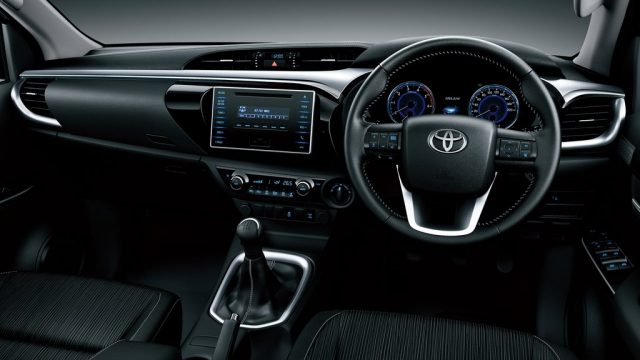 Like any other modern vehicle, you can expect the Amarok to offer all the latest comforts and luxuries present today. Where the previous Hilux Vigo was as practical and industrial as it was, the new Revo pickup is offered with all the new toys. The Revo comes with leather interior and comes with a 6-way power adjustable driver seat. You get nice multimedia head unit loaded with satellite navigation and is Bluetooth compatible. As for the safety is concerned, both the passenger and the driver get airbags as well as there is a knee area airbag for the driver. The new pickup comes with Toyota's ABS (anti-lock brake system), EBD (electronic brake distribution) system and BA (brake assist). You can fairly expect the new Amarok to cover the Hilux on all safety features but the quality of the interior and general features are of course unknown for now. But like any other European vehicle, you can expect the Amarok to offer top class features. Amarok available in international markets all come with various OEM features like climate control, leather interior, heated and powered seats, power steering, power windows, multimedia unit, and electronic control for its four-wheel drive system.
The new Hilux Revo now also comes with a cool box and cruise control among other things (only in Revo V A/T). The European model of Amarok is available with usual braking safety features along with hill descent feature, traction control, and hill hold.
Powertrain: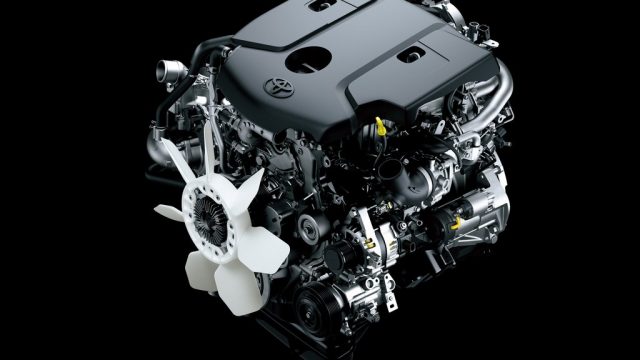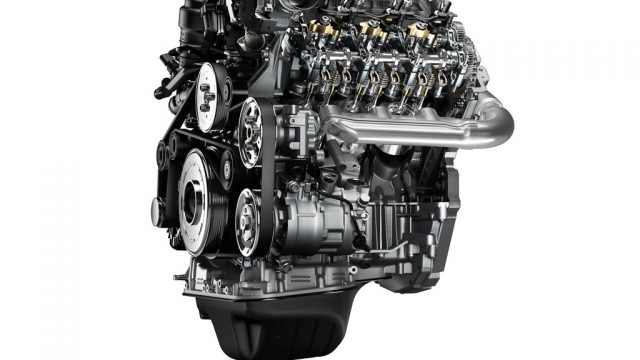 Talking about the engine, the Hilux Revo is being offered with a 3-liter in-line 4-cylinder turbocharged and inter-cooled 1KD-FTV common rail diesel engine that makes 161 BHP and 343 Nm of torque for manual Revo and 360 Nm of torque for the automatic Revo. As far the Amarok is concerned, it is available in foreign markets with a few engine options; from diesel to petrol, and in-line four cylinders to V6 engines. It is yet to be seen which engine will make it to Pakistani domestic market. The Volkswagen's inline four cylinders twin-turbocharged diesel engine makes very impressive 177 BHP and produces equally impressive 400 Nm of torque for the manual version and 420 Nm of torque for the automatic Amarok. The 3.0-liter V6 VW TDI is a beast of an engine and makes as much as 225 BHP and incredible 550 Nm of torque. And as much as we want that engine, it can safely be said that it is not going to happen and only the 4-cylinder engine will be offered in Pakistan which is much sensible. The VW Amarok clearly wins the power battle between the two pickups.
Talking about the transmission, the Amarok is available with a 6-speed manual and an eight-speed automatic transmission. Also, the Amarok is available with both selectable 4×4 as well the permanent 4×4 which is essentially all-wheel drive system.
The new Toyota Hilux Revo comes with a newly developed 6-speed manual transmission and a new to Hilux range, a 5-speed sequential automatic gearbox. Both new transmissions are supposed to improve fuel economy as well as reduce operational noise of the gearbox. Instead of a separate 4×4 selecting gear level that you had in previous models of Hilux, you get an electronic transfer switch to select between part time H2, H4, and L2. Both the Revo and Amarok has a fuel tank of 80 liters.
But now the question is how the German pickup truck will perform against the proven performance of the Japanese truck. On paper, the Amarok no doubt looks fantastic. It is more powerful, more modern, and is arguably going to be better equipped as well as better built. But the Toyota has proved itself over and over again in all sorts of conditions and in all parts of the world. The Hilux is one hell of a truck, and Amarok will have one hell of an uphill battle against the Toyota when it is launched in Pakistan.