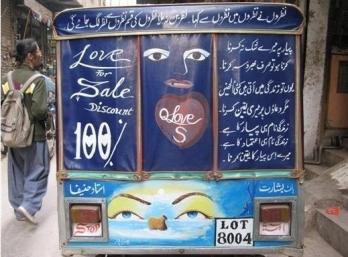 Auto rickshaw in Pakistan is one mode of public transport that I have used a lot. Yes, despite the fact that people would often murmur about the bad reputation of rickshaws and the women travelling in them. Okay without beating around the bush let me say clearly that many people would believe that usually harlots or cheap call girls travel by rickshaw to get to their customers. I have never tried to ascertain the truth of that. Because I don't care what people believe and what they don't!
Anyway, an auto rickshaw without the colorful art or poetry painted at the back is nothing. For years, it has entertained me. Like my first memory of noticing the cheesy line at the back of rickshaw was in early nineties. When I used to peep down from my window seat on the second storey classroom, I would often see one particular rickshaw passing by that had 'prem ki zanjeer' written in white paint at the back. I never understood what the heck that meant. Even today when I think of it, I really get the negative meaning of suffocating love. Sort of love that chains you. Huh!
The other famous line was 'maan ki dua, jannat ki hawa'. I don't know what rickshaw drivers fancy because the third famous line that I had grown up reading was 'Javed ki doli'. I mean I don't even know what 'doli' means! In Pushto 'dolay' means 'baraat' or 'wedding procession'. If that's what they meant?
As for the art, the most popular was the painting of female hands holding roses, or two roses in cross position and cupid's arrow. Some of the rickshaws would have legendry Pushto film actor Badar Munir painted at the back. While in late 90s I started seeing the paintings of certain Indian actors like Ajay Devgan and Shahrukh Khan. Shahrukh's rough and tough 'Koyla' (movie)look was popular than his lover boy look.
The meanest line I'd ever read was 'waqt nay mujhe phir se dulhan bana diya'. I have absolutely no idea what that meant. The other lines are:
'aisay na dekh warna apna bana loon ga'
'dekh magar pyar se'
'khushboo laga ke'
'kaajal ko jaane do'
In the wake of terrorist attacks most rickshaw drivers started displaying serious messages like 'dehshat gard mulk aur qom ke dushman hain' that is their way of condemnation given the fact that suicide bomber often travel by rickshaw before blowing themselves up.
What prompted me to write this post is the most ironical yet amazing line I had ever read in the times when I needed to be cheered up. I was once on saddar road, quite down and depressed on certain issue. Whenever I am sort of depresses there is that particular person who comes to my mind so I started thinking about 'us' and all the questions I was left with when a rickshaw zoomed past me. Its back read, 'zindagi ke udaas lamhon main bewafa doston ki buhat yaad aati hai',
زندگی کے اداس لمحوں میں
بیوفا دوستوں کی بہت یاد آتی ہے
And that literally brought an ear to ear grin on my face and I instantly forgot everything! Rickshaw humor I assure you despite being cheesy can be so entertaining and above all true to your situation.