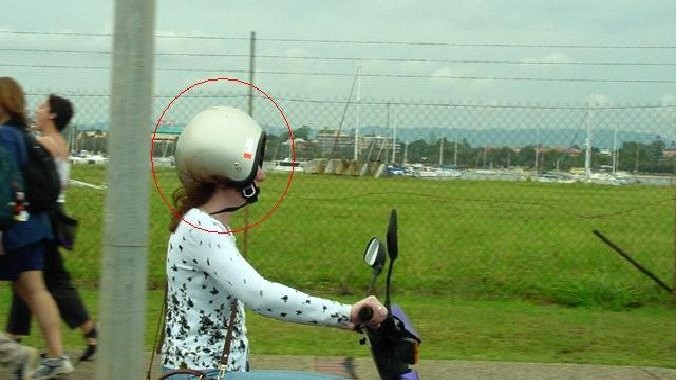 Motorbike riders and passengers seem to be breaking a lot of rules in our country, from having no rear view mirrors to not observing the etiquette of how to ride a bike on a road with cars, there is another extremely obvious ignored road safety rule too: almost no woman or rather, no passenger except the main rider wears a helmet – ever!
Wearing helmet on a motorcycle is one of the most common rules we have heard since we were kids and probably the most ignored one too. Helmets are worn as if they are part of a school uniform without much attention paid to who is supposed to wear it and why; we are so accustomed to seeing only the front rider of the bike wearing it that no one even bothers raising a question about it anymore. There is no excuse for the womenfolk and kids not wearing a helmet unless men purposely want their womenfolk to not wear a helmet so they can marry someone else in the case of a disastrous accident – that is of course if the man survives the impact too.
For women who worry about what the other people will think of them since riding a bike with a helmet on is the domain of men in Pakistan need to consider their own safety before anything. The 'log kiya kaheinge' mentality needs to be gotten over on a serious note. True, there are the rebels who now stand up against this illogical statement that has been claimed by the population of this subcontinent since the days of the Indus Valley Civilization but there still is a long way to go before we finally get rid of it. If it's the issue of hair getting messed up because of a helmet, it can be quite the opposite in fact. Helmets can protect your hair from the wind and (in case you are riding the bike during the day) protect your head from the sun's extremely harmful UV radiation.
Women are given leeway when it comes to road safety. Officers at times do not even fine them if they break speed limits or don't wear a seat belt. Helmets are hugely underestimated in their ability to protect the passengers. The energy absorbing qualities of a motorbike helmet absorb the energy that breaks the necks of the bikers in impacts. Helmeted motorcyclists suffer fewer neck injuries in the event of a crash compared to those who ride without one. Motorcycles on an average are less stable and less visible (especially at night time) and the riders lack the protection provided by enclosed vehicles. The federal government of the United States estimated that in 2013, the number of deaths on motorbikes was over 26 times more than the number in cars. According to a 1989 study published in the New England Journal of Medicine, riders who wear helmets have an 85% reduction in their risk of head injury and an 88% reduction in their risk of brain injury. Now that is an overwhelming number that is repeatedly backed up study after study. Almost every study of the hospital admission rates concludes that helmeted cyclists are far less likely to receive serious head and brain injuries.
Forgetting the difference that whether it is a man or a woman or child on a motorbike – let us just focus on the fact that it is equally important for all to wear a helmet because we are all human and that makes us equally vulnerable to head injuries and at times, even death.
This however is not only the responsibility of the individual citizen but the government in itself too. According to United States' Centers for Disease Control and Protection that analyzed the 2008-10 National Highway Traffic Safety Administration (NHTSA) data from the Fatality Analysis Reporting System (FARS), 12% of fatally injured motorcyclists were not wearing helmets in states with universal helmet laws, compared with 64% in partial helmet law states (laws that only required specific groups, usually young riders, to wear helmets) and 79% in states without a helmet law. Therefore this needs to be implemented on the state level too to force the ones who do not wear helmets to do so. The seat belt law has already been implemented, it is now high time that wearing helmets is made compulsory for all riders on a bike in Pakistan too.
As the saying goes, it is better to be safe than sorry therefore always ensure your family when you ride a bike with them are observing the recommended road safety measures, especially when it comes to wearing a helmet. Karachi Traffic Police started enforcing helmet regulation from June 8th, but exempted women passengers from the rule.