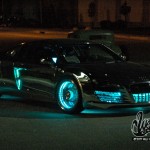 The mystery of glowing rims solved
There's a video of BMW spinning wheels that are glowing in the dark and everyone's curious to know how they are glowing. The BMW 7-series in the following video hasn't gone over the top, as instead it comes with subtle mascara on the eyes, a lowered suspension and large metal wheelss that glow in the dark.
But the BMW was definitely not the first to feature glowing wheels, Audi R8 which was customized by West Coast Customs of Pimp My Ride fame, featured glowing wheels inspired by the movie 'Tron: Legacy'.
Well, the wheels weren't the only thing that was inspired by Tron, the car features glowing vents, and the back seat is even glowing as well.
But since the BMW 7-series' owner and West Coats Customs aren't our reach nor they would tell us their formula of such glow on wheels, there's another slightly cheaper way to make you wheels glow in the dark.
It's called, 'Luminophore – a material that glows in the dark after being exposed to natural or artificial light. Luminophore is a fine-grained non-flammable powder, and it is completely safe and has a wide range of uses.
One use is in cars' wheels, the powder is applied on your car's wheels in a procedure which can be read at Luminophore's website and you'll have your illuminating rims.
http://luminophore.org
http://luminophore.org/9-74-auto-tuning.html