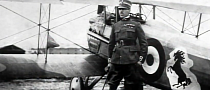 Ferrari explains how its logo came into being
Ferrari is every man's dream car even though the experience and technology from its F1 fame hasn't done much good to the newer 458 or the 599 GTO as both have been reported slower by few full seconds to the 2012 Nissan GT-R and the McLaren MP4-12C but the air of exclusivity you get in a 599 GTO can't be matched by most cars on the road.
The new 458 Spyder was unveiled at the Frankfurt Auto Show recently with a quite breathtakingly beautiful video – and with its hard-top on, the car looks like just like the coupe, but the track-focused heritage and history behind the brand becomes evident.
But where did that that equestrian logo come into the world? The latest video posted on their Youtube channel aims to answer that question.
Apparently, the horse was painted on the fuselage of the figter plane of Francesco Baracca, who was Italy's top fighter ace in World War I with 34 victories to his name.
In 23, Enzo was told to put the Prancing Horse on his cars for luck by the hero's mother. Ferrari added the yellow background to the logo, as this is the color of Modena.
The shield logo became a rectangle over time, but it's interesting to hear the story that Enzo only told once in his life.