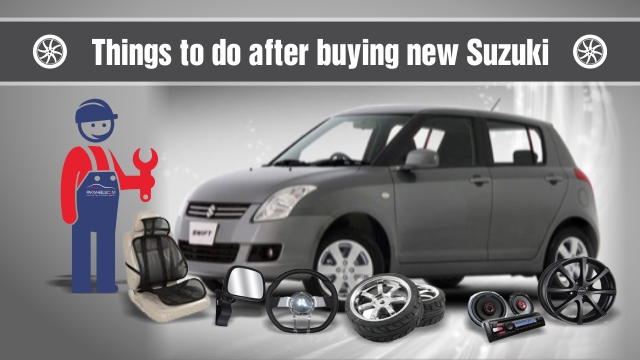 Things To Do When You Buy A Brand New Suzuki
In Pakistan, Pak Suzuki is notorious for their reputation of serving below quality equipment, and these are the few things that I think most of the people change, and should change after buying their new Suzuki.
Replace tyres: In Pakistan, though everyone has their own experience, a lot of people go on to replace the tyres on their vehicles, because Pak Suzuki and the rest of the companies, in the name of cost cutting, they install smaller size which than affects performance.
Replace mats: Replace the carpet mats with high quality plastic mats (Price range from Rs.600-800).
Replace Side Mirrors (Only for Mehran): Replace it with a convex mirror. You can find variety of designs which are compatible with Suzuki Mehran. This will increase your vision on the sides of your car.
Install Seat Covers: Use quality seat cover over the current clothe of your Suzuki so it is easier to clean and can be replaced in case of damage. Rexine seat covers are not preferred since they get hotter in the summers.
Get Insurance: Get your car insured that suits your requirement and is in budget on preference. Suzukis enjoy great interest from thieves.
 Other things to consider:

Install Keyless entry or a Central Locking System: Always use high quality locking system, avoid cheap systems which go bonkers soon and a good system may cost you more but eventually fend off thieves as your car may seem high work to them.
Install Head Rests: They prevents whiplash injuries so DO IT!
Replace Original Number Plates: Replace the computerized number plate issued by the Excise and Taxation Office. It often gets stolen, duplicate are not issued. Remember the new plates shall be in accordance with the law. Strictly avoid using fancy number plates.
Steering Wheel Cover: It gives a better grip, and protection to your hands against the cheap plastic and dust which accumulates on the steering wheel.
Rearview Mirror Decoration: In last, don't forget to decorate your rearview mirror. Kidding!