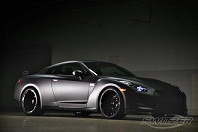 This is the 1000 HP Nissan GT-R made by Switzer performance
Switzer Performance is known for producing quite a lot of famous performance packages for the Nissan GT-R from 600 HP to 1,200 HP but they were all either a bit less to make it beat Veyrons or too much which sacrificed everyday driving pleasure in the ultimate pursuit of speed.
To bring its customers the ultimate combination of power and everyday driving, they've produced this Ultimate Street Edition GT-R package which packs 1000 HP but also gives 20 MPG while retaining all the comfortable aspects of the original Nissan GT-R.
According to proprietor, Tym Switzer, "For people who want a 1000+ horsepower car that they can drive comfortably every day, to the track or the office or the grocery store, on the highway or in bumper-to-bumper traffic, we've built this car." He continues, "This car idles smoothly. It shifts smoothly. There's no deafening exhaust or horrific gear whine. There is none of the harshness of most 'tuner specials', and we even managed to keep the highway mpg in the 20s."
The Ultimate Street Edition tuning program is comprehensive which sees Switzer-specific pistons, pins, rings, and connecting rods, as well as specially-ground camshafts chosen to optimize the drivability and idle characteristics. There's also a new pair of upgraded liquid-cooled turbochargers, Switzer's own intercoolers, transmission cooler and stainless-steel performance exhaust.
Regarding suspension and chassis, Switzer asserts, "Softer tires, adjustable shocks, and serious reductions in unsprung weight all come together in these cars. Once you factor in our 'nano-carbon' brake pads that improve bite and reduce fade, you have a package that's better than stock in every way, without punishing your kidneys from being super-stiff."