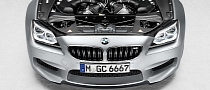 This is the new BMW M6 Gran Coupe which we all want
The problem with new car releases is that all of them are released on timings suited for the West so we always trail behind and are the last in the line to get a peek but nonetheless, for something as this beautiful, we can wait longer.
This is the new M6 Gran Coupe. Gran Coupe was pitched against Mercedes CLS and Porsche Panamera a year back at a Chinese auto show where it was, undoubtedly, one of the most beautiful BMWs ever seen and a breath of fresh air after Chris Bangle's hideous designs.
Once again these pictures were leaked instead of being released but we all know how that's a marketing gimmick, which is being played down as marketers exhaust it. Anyways, here is your 560 bhp four-door ride with all the power you will ever need.
So far, not a lot of information is available on this but who needs that, just enjoy the beauty as it is built by the M division of BMW so it will good, M cars are never bad.