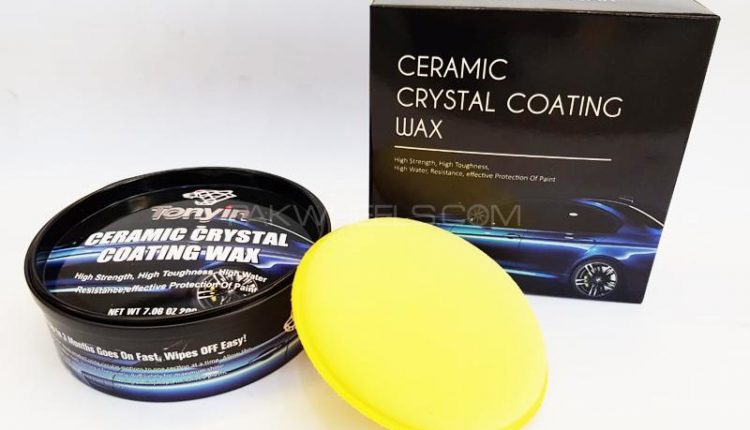 This Week's Top 5 Auto Products on PakWheels
PakWheels is bringing best products in market to clean, polish, shine and jumpstart your car in convenient way.
You can buy these products  from PakWheel auto store, while sitting in the comfort of your home without any hidden charges, or you can order by calling on  0316-7670125. 
Ceramic Crystal Coating Wax 
The first one is Total Crystal Ceramics Wax for you. You must have checked this product on our website and social media pages. Let us show you its 50/50 shot and how to use this wax on a car.
This wax comes with its own applicator pad. PakWheels is currently offering a deal in which its pad and complete ceramic bundle. You must take advantage of this offer and buy it through our online auto store.
We will apply this wax on a neglected black color car that does not have any base prep. To apply this product, we have divided the surface into two parts through a tape. We will use the wax on left-hand side while the right side will remain untreated.
After rubbing the wax on the car's body, we have cleaned it with a microfiber towel gently. And you can now see that there is a stark difference between two surfaces. The treated side is shiny, while the other part looks dusty, which means this wax works perfectly.
We have conducted another test to check the quality of this wax by throwing water on both surfaces. You will observe that on the untreated part, the water flow normally, while on the waxed side, it does not stay on surface rather quickly drips down without any mark.
As claimed by the company, this is definitely a crystal coating wax.
Click here to buy this product from PakWheels auto store. 
Watch Video: 
Microfiber Cleaning Kit:
The second item is excellent car care kit for you. This is a 9-piece microfiber cleaning kit. You can clean your car very efficiently in a very short time if you have this product in your vehicle. Let us give a brief introduction to this kit and products in it.
The kit comes with:
3 x applicator pads

3 x microfiber cloths

1 x 2-in-1 wash sponge

1 x microfiber wash mitt

1 x wheel brush
You can use applicator pads to shine your car's interior, apply wax, and for tire brushing or wax apply on the engine. The three microfiber cloths can be used to remove wax, clean glass, while water magnet cloth can be used to dry your car or clean your interior.
The microfiber glove is used to apply shampoo or wax on body of the car, and it comes in a perfect grippy pattern. The 2-in-1 sponge has dual-use. One side sucks water, and other one is for scrubbing, and this soft sponge will not affect the paint of your car.
Lastly, the fiber brush is excellent for cleaning chrome finish and alloys on your tires. Its fibers will not impact the alloy rim chrome.
Click here to buy this product from our store.
Watch Video:


High Power Multifunction Jump Starter with Air Compressor: 
The third product we are presenting today is a High Power Jumpstarter with a portable air compressor. This new and improved jump starter now comes with 20,000 MAH battery, four USB, one charging and one android port.
If you switch it on, it will show voltage display along with a compass for navigation during travel. On the other side, it has multiple lights. If you double-tap the product, its police flash will be switched on, which you can use in case of an emergency. Furthermore, if you keep the button pressed, your flashlight will switch on, and it will also give you SOS light mode.
The best feature of this starter is that you can charge it by cigarette lighter socket  of your car.
Meanwhile, the compressor is pretty simple to use as it comes with an air gauge, tire valve, and pins to change nozzle pattern. You can use this compressor very easily by connecting it with a jumpstarter. You can see the use of this compressor in the video given below.
To show you the use of this jumpstarter, you will remove car battery's negative terminal.  Then you will clamp our Red clip on the positive terminal of battery while clamping the black clip with the wiring terminal of the car. You have to push the button once, and it will jumpstart your car instantly.
Click here and order this product from PakWheels online store.
Watch Video:

Water Magnet Drying Microfiber Cleaning Cloth
If you want show-car finish for your vehicle, then this Water Magnet Drying Microfiber Cleaning Cloth is for you. The product cleans the surface of your car without a scratch, swirl, and wring-outs. The cloth will give a complete shining look to the exterior of your vehicle.
Easy to use, you just have to rub this cloth gently on a wet surface, and in no time it will be dry without any hassle.
This microfiber cloth absorbs two times more water as compared to traditional cleaning towels. This will leave spot-free finishing after cleaning. The product is reusable and machine washable, making it extremely user friendly.
Click here and get this product from our online store.
Car Top Covers
The last product PakWheels has brought for you is Car Top Covers Dextro. These covers are made with very lightweight and a microfiber cloth so that they will not leave any scratches on your car.
Furthermore, these cars are handy to keep your vehicle from dust and direct sunlight in summer. These two elements can damage the exterior of your car very quickly; hence, these covers are the best option for you.
These covers are easy to use and can be removed very conveniently. Due to fine cloth, they are effortless to handle and will easily adjust in the trunk of your car.
The covers come in different sizes and colors, and you can choose them as per your likeness and size of your car.
Click here and chose from large variety of car covers on our online store.