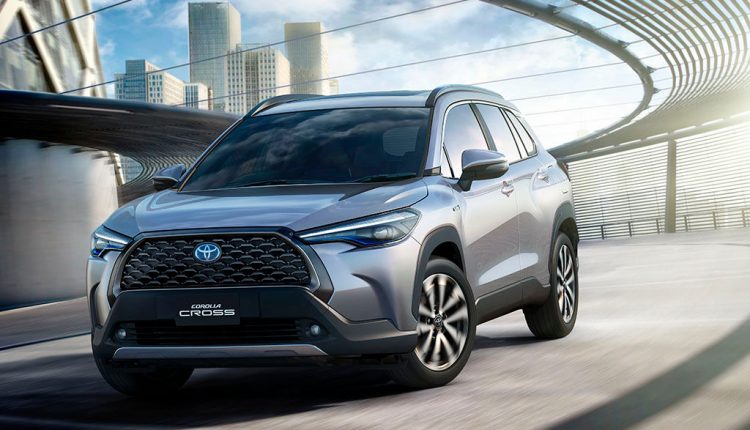 All New Corolla Cross; Another Utility Vehicle Joins The Club
The craze for the Crossover Utility Vehicles / CUV and Sports Utility Vehicles/ SUV is increasing day by day. Till a few years ago a Sports Utility Vehicle or simply SUV was associated with Land Cruisers, Land Rovers, Jeep Wrangler or Nissan Safaris.
SUV Craze: 
In last decade this segment of the automobile industry has gone on steroids. Every other manufacturer is bringing in their version of SUV or crossovers simply because there is a lot of demand. We never thought that someone like Porsche, a company known for their two-door sports cars, would bring one of the most wanted luxury SUVs in the form of Cayenne.
Jaguar has already releases their version in the shape of Jaguar F-Pace. So far and so even Bentley known for their super luxury sports cars and saloons revealed one such vehicle "Bentley Bentayga." SUV market trends have forced many car companies to jump into this segment. Performance-oriented companies like Lamborghini were not to be left behind in this SUV craze, and we recently saw it in the shape of Lamborghini Urus.
So far and so, ultra-luxury brand  Rolls Royce also offer a SUV now in shape of Cullinan while Ferrari is not far from introducing one in near future. Worldwide sales of SUV/crossovers increased 3 to 4 times within last ten years.
Globally conventional sedans sales are hit in negative and buyers are more towards anything which is riding high off ground . Brand like Toyota and Honda already have decent number of offerings in the CUV/ SUV range BUT there is always space for more and this is what is happening globally with every other brand.
We have been hearing for sometime about a new Utility vehicles from Toyota. Earlier  This year, Toyota revealed a Yaris Cross, a raised version of Yaris hatchback  while another offering was on the table . Toyota trade marked the name "Corolla Cross" in 2018 and it was just matter of time for its arrival.
At last the day is here and Toyota officially revealed the " Corolla Cross " and Thailand being its first stop.
All New Toyota Harrier Revealed For Japanese Market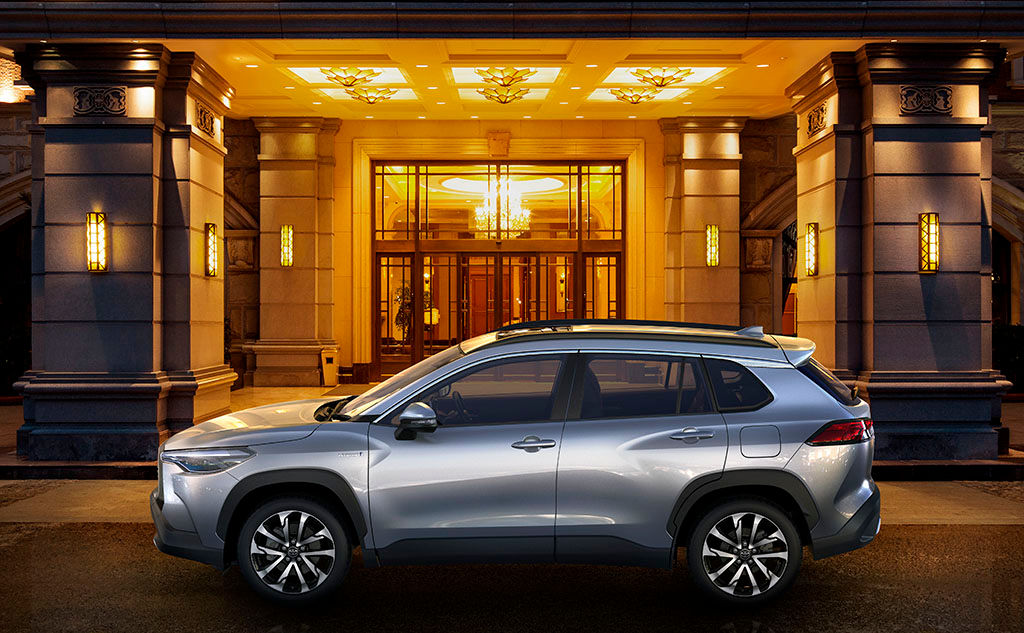 The Corolla Cross sits on top of TNGA-C [ Toyota New Global Architecture ] platform which is dedicated for compact vehicle class both front and AWD versions. This is the same platform it shares with the 12th generation Corolla as well the C-HR.
Dimensions: 
On measuring tape, Corolla Cross is 4460mm  long, 1825 wide while 1620mm tall. The wheel base measures 2640mm long. For reference sake , this make the Corolla Cross, 170mm short, 45mm wide , 165mm taller than 12th generation Corolla sedan while the wheel base of Corolla Cross is also shorter by 60mm comparing the 12th gen Corolla.
As another reference point, the Corolla Cross is 25mm shorter, 30 mm less wider and 15mm less taller than the Kia Sportage and the wheels base is also 30mm less than Sportage. Overall the Corolla cross has a smaller footprint comparing the Corolla sedan or the Kia Sportage BUT it is larger than the Toyota C-HR.
Exterior: 
On exterior of Corolla Cross , it follows  typical current Toyota model lineup styling of SUV'S and  although the name carry word "Corolla", it does not look like the Corolla sedan or Corolla hatchback as far as exterior. The wider front grill mimics the current generation of Rav4 while rear end also looks influenced  from the Rav4. Projector headlights with built-in slim DRL [ daytime running lights ] on front , black plastic cladding on wheel arches, slopping roof-line and black roof rails give overall a very sporty  looking rugged vehicle .
Interior: 
As soon as you jump into the interior, the things look similar to new 12th generation Corolla. The floating infotainment system, the digital cluster as well as digital HVAC controls and the dashboard itself is all taken from the Corolla. The vehicle is a 5 seater and that the only option .
Read > 12th Generation Corolla; Expectations & What We Know So Far.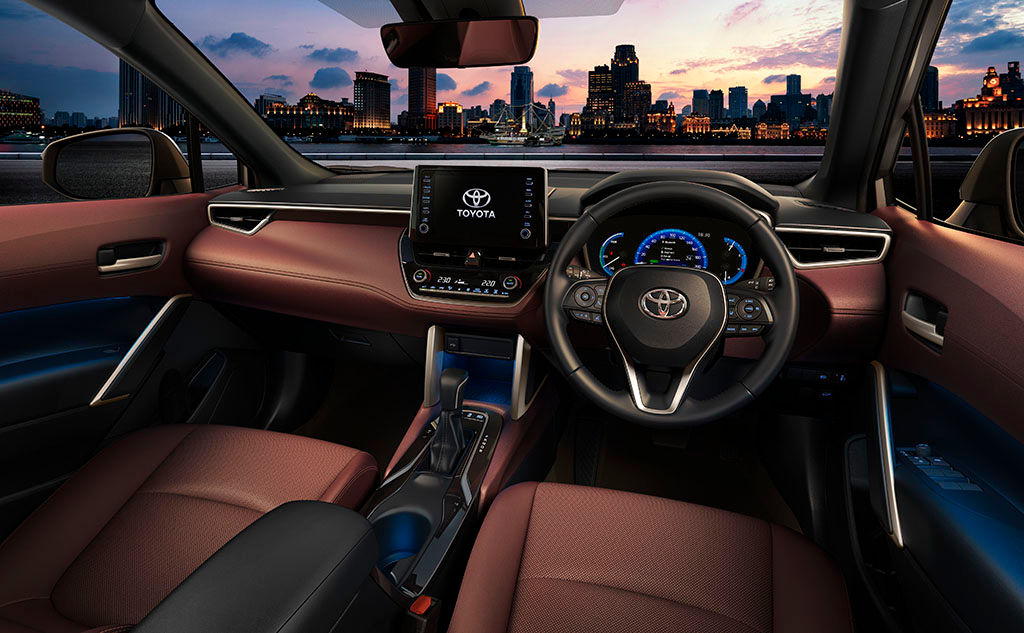 Engine Power: 
As of power plant, the Cross will be offered in two engine options in Thailand and its soul is similar to what is found in the 12th generation Corolla. A standard familiar  1.8L  2ZR-FBE with 140HPand 175 NM of torque. The standard transmission is the CVT.
Toyota offers also a hybrid variant for Cross and its again familiar. 1.8-liter 2ZR-FXE engine which makes 98hp and 142nm of torque. There is an electric motor with a 72HP with 163NM of torque which works in conjunction with the gasoline engine and while total system power is not yet known but we can expect to be around 121Hp as the setup is same as found in Corolla Hybrid or Prius .
The Hybrid version sends power to front wheels via Electronically controlled Continuously Variable Transmission (ECVT).   Although the Corolla Cross is a cross over utility vehicle and one can expect availability of an AWD/  All-wheel Drive , unfortunately that's not an option.
Electric power steering comes standard while MacPherson strut is found at front suspension, torsion-beam is fitted rear suspension. Again for reference, the Corolla sedan comes with an all-new multi-link rear setup.  
Both 17" and 18" alloy wheels are an option depending upon variant. Like its Corolla sibling, depending upon trim level, convenience features and options will be available.
Price: 
The pricing is not yet known for Thailand market but it is expected to start around 0.9 Million Baht [ $28,855] for the base 1.8L standard version while the the Hybrid variant can touch 1.2 Million Baht [ $38,473]
Overall, the Corolla Cross looks like a good addition for Toyota lineup  . As more and more people are preferring this body style over conventional  sedans, Toyota can cash on to the customer who are looking for something smaller than the Toyota Rav4 while bigger and roomier than the smaller C-HR. Briefly  like any other brand, anything as Crossover or Sports Utility vehicle will not go wrong and there is always an attraction for such models at least at this point of time.
Corolla Cross in Pakistan?
Toyota is planning to offer the Corolla Cross in number of Asian and European markets. We here in Pakistan have been hearing rumors about the a possible entry of a Crossover from Toyota Indus and it seems like Corolla Cross is strong contender especially after its exclusive global launch in Thailand.
Success of Kia Sportage in Pakistan is a good indicator  that our market is also moving towards the CUV trend and although Toyota Rav4 is an actual direct rival of Kia Sportage in overseas market,  arrival of Corolla Cross would be a great addition in the segment.
Technically,  the 12th generation Corolla sedan and this  Corolla Cross share many identical parts under their skin which includes the platform, engine while the interior is also almost copy paste. So, for Indus it is easier to develop two products at the same time and both can be launched from the same assembly line. It  now all depends on Toyota Indus priorities.
We will update our reader about it as soon as we hear more details.
Share your thoughts !