Till a few years ago a Sports Utility Vehicle or simply SUV was associated with Land Cruisers, Land Rovers, Jeep Wrangler or Nissan Safaris. In last decade this segment of the automobile industry has gone on steroids. Every other manufacturer is bringing in their version of SUV or crossovers due to a lot of demand. We never thought that someone like Porsche a company known for their two-door sports cars would bring one of the most wanted luxury SUVs in the form of Cayenne. Rolls Royce is already working on bringing their version of an SUV while Jaguar already releases their version in the shape of F-Pace. So far and so even Bentley known for their super luxury sports cars and saloons revealed one such vehicle "Bentley Bentayga." SUV market trends have forced many car companies to jump into this segment. World wide sales for SUV/crossovers increased 3 to 4 times within last ten years.
Lamborghini is known for their exclusive to paved roads sheer performance vehicles. In recent years names like Huracan and Aventador is something every other car enthusiast know and obviously dream of getting one. Lamborghini showcased a concept SUV around five years ago in 2012, and at that time most of the people thought that its more of concept study and there is very less possibility of one coming into production.  But in fact, Lamborghini already produced and sold an SUV with the name of Lamborghini LM002 which as per its design looked like more of a military pickup truck. The LM002 remained in production till 1993, for about seven years.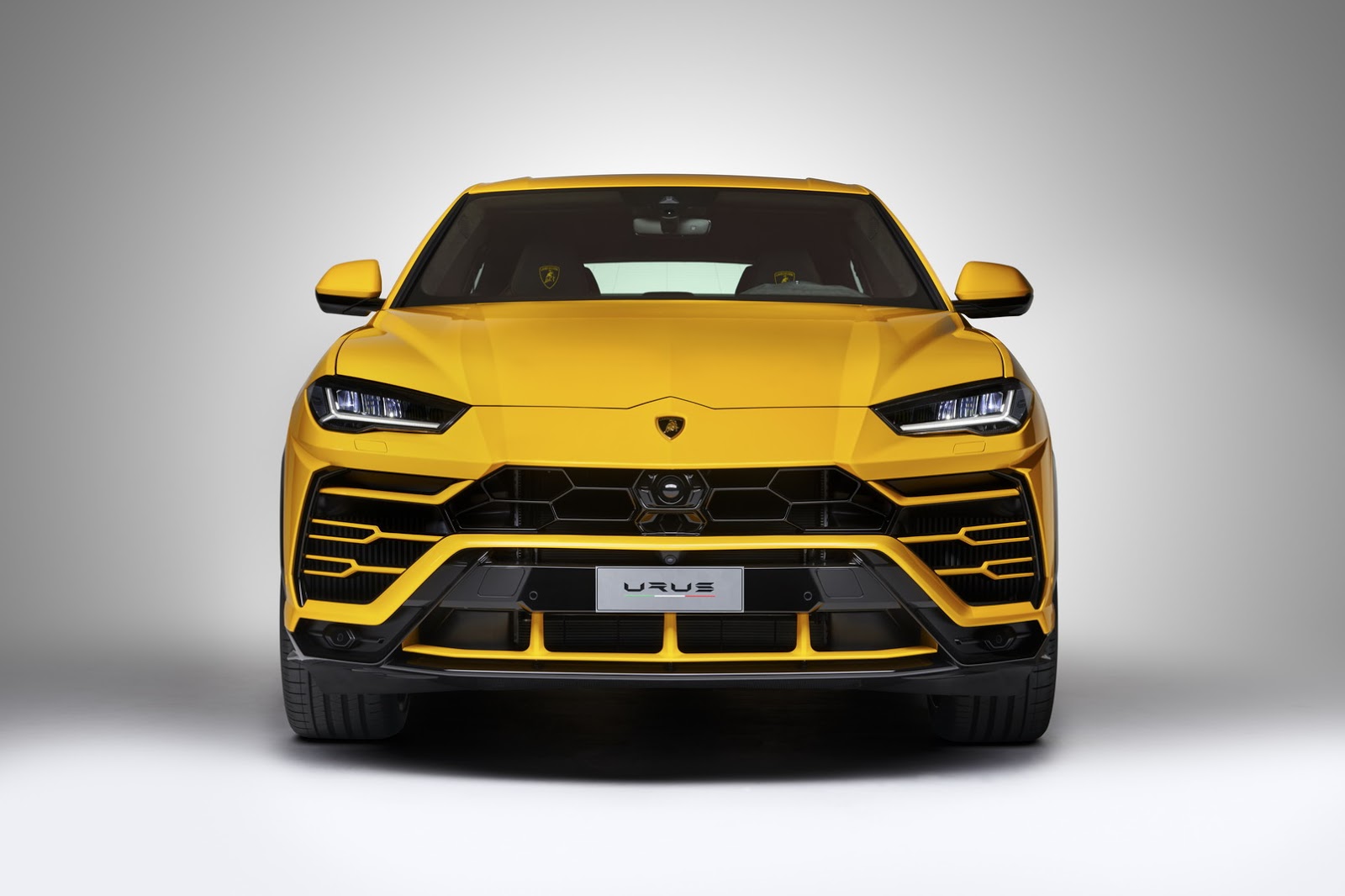 Lamborghini's thrust for producing an SUV got very serious when about two years ago the company announced the construction of a new factory for the purpose. Lamborghini recently not only completed the development of the all new state of the art factory but also started with production activity as well. After months of teaser images and video clips of camouflaged SUV, the entirely new Urus debuted today on 4th December 2017 in front of the public at the new factory. Although Urus exterior body will be made and pre-painted at VW factory in Bratislava, rest of all assembly will happen at the new building.
Like names of all of other Lamborghini brand models, Urus name is also based on a specie of a bull. Today as per schedule when Urus arrived on stage everyone could not say anything other than WOW.  The extensive, research development into production of Urus could not be denied. The exterior design takes clues not only from current Lamborghini models with diagonal lines and hexagonal body cuts and opening but also from older generations.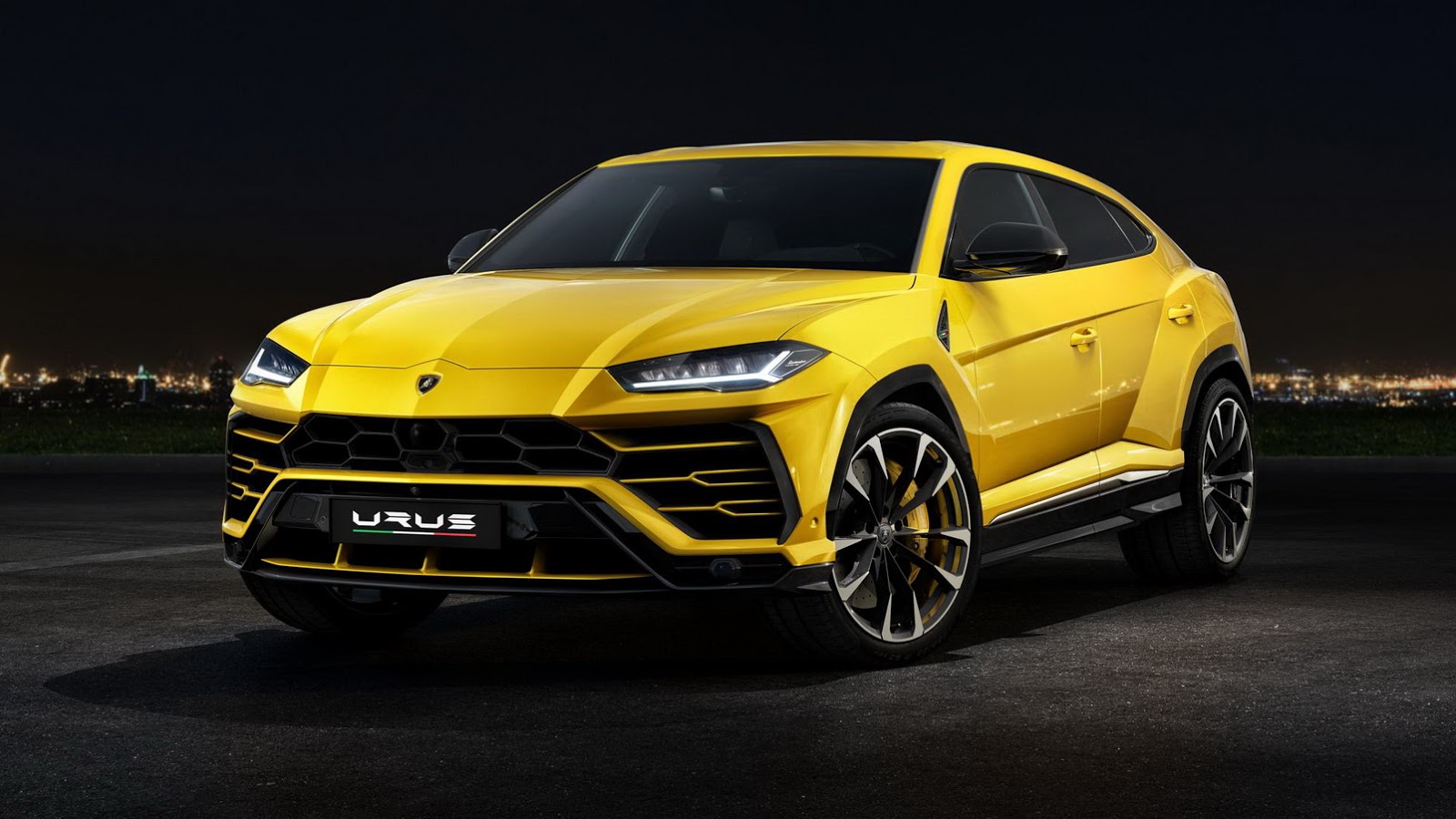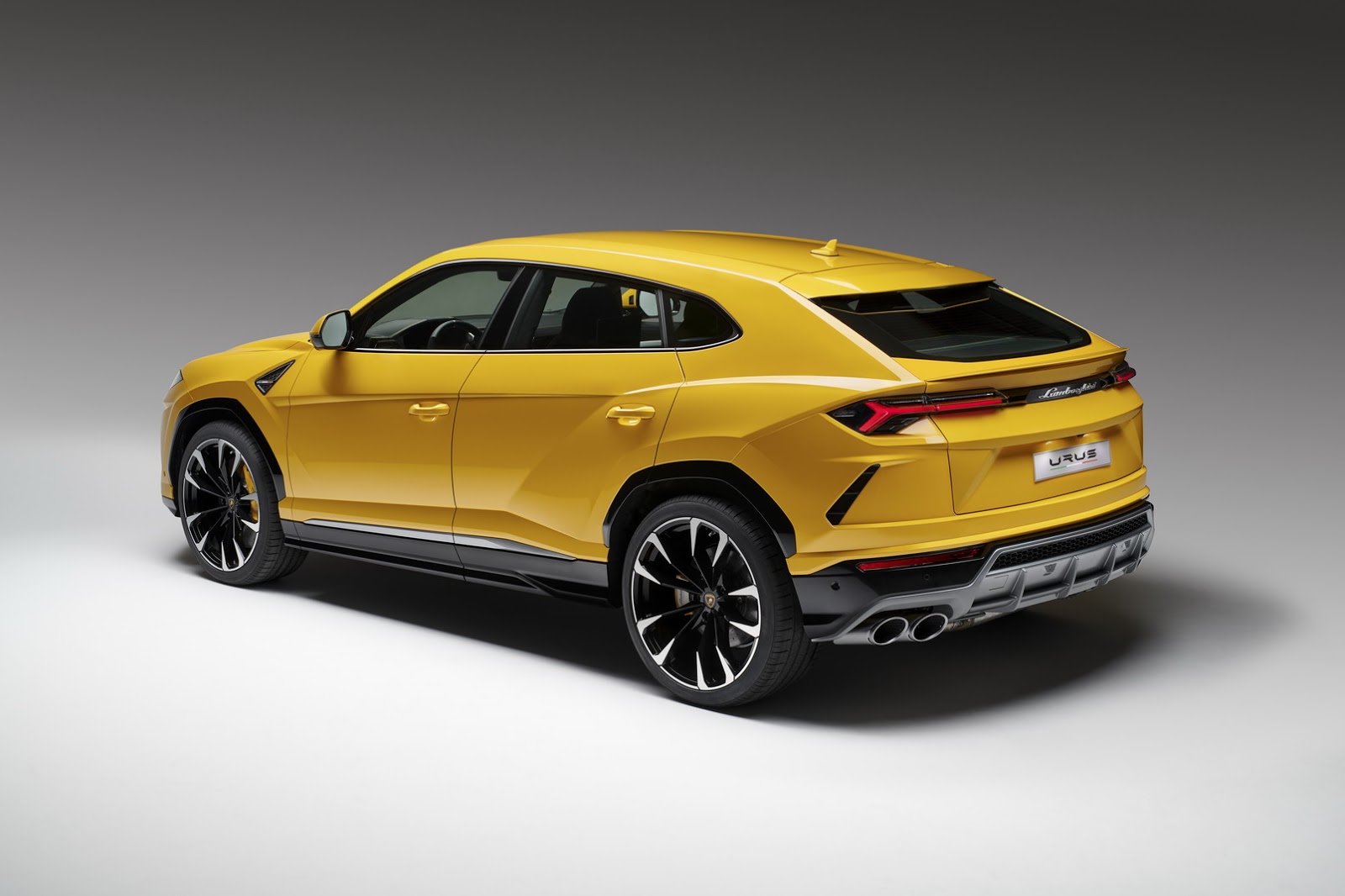 Lamborghini design chief mentioned that Lamborghini design philosophy must have extreme proportions and Urus have it, and no other vehicle on the road can match that. According to Lamborghini, Urus took its inspiration from the famous Lamborghini sports car the Countach as well the previous SUV the LM002. From Countach, Urus took low profile design, angle of side windows as well as diagonal lines on the bonnet when looked upon from front as well as diagonal lines on the rear. Urus inherited strong front fascia design, as well as wide wheel arches from LM002. There was a small triangle shaped opening for air venting on the LM002 on the fender. You can find a triangle on the Urus as well which is inspiration from LM002.
At front fascia of Urus, there are two huge air vents in bumper flange by newly designed headlights sitting higher than ground. The side profile of the SUV slops down at a greater angle after front two doors and converge towards the rear for improved aerodynamics and sporty looks. On the back there are new style tail lights, and if readers follow Lamborghini closely, they will guess it correctly that such design of LED tail lights was shown on a concept Lamborghini Asterion a few years ago. Widely arched wheel fenders and use of ground effects and quad exhausts make Urus very eye-catching. Overall the Urus looks more close to what it looked like as the concept but gets blended into the current model line up as far as exterior styling in concerned.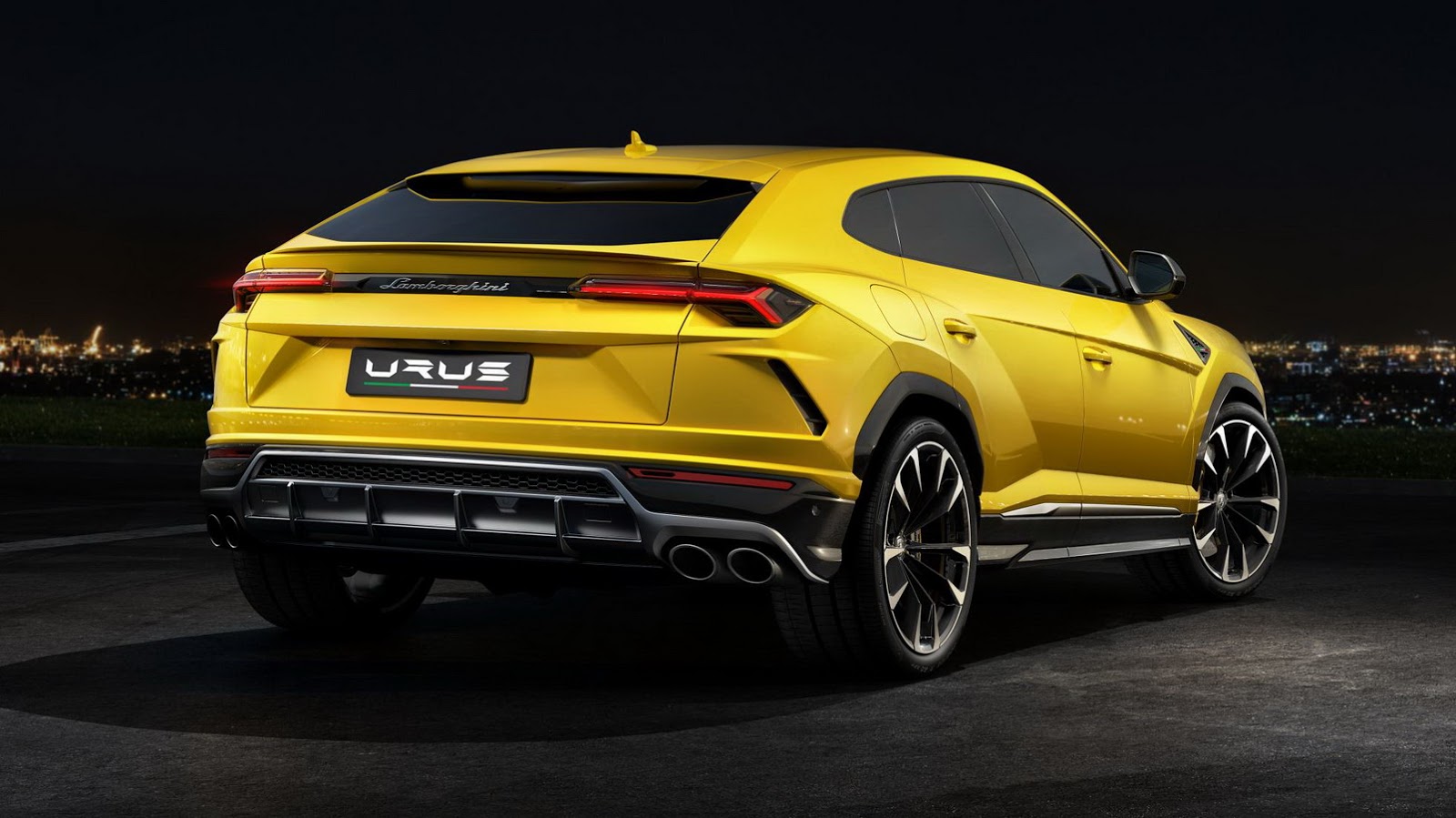 On the interior, the Urus screams performance as well luxury. Like the exterior, the interior matches with the current design language of the Lamborghini. Driver focused dashboard with hexagonal air vents immediately tells you its Lamborghini. Digital cluster as found in Huracan or Aventador also found a place here while there will be dual screen infotainment/ car control unit in the center stack somewhat identical to as seen in the new generation of Audi A8.  The three-spoke steering wheel has built in vibration dampening system so that if you are driving on rough terrain, the driver will not feel any uneven road.  Like other Lamborghini, the aircraft style engine ON/ OFF button is also available under a cover in the center console. The Urus driving modes selector can be found next to gear selector lever unlike in other Lamborghini's where driver can change it at the steering wheel.
There is extensive use of soft padded materials all around the dashboard and door panels. There are a 12-way driver and passenger heated, and vented seats are standard while a new infotainment system capable of Apple car play or Android auto is available. If you love music you can order a 1700 watt 3D Bang & Olufsen sound system an option while the base music system with eight speakers will not be a disappointment as well.
Urus is a 4 door 4 seat "2+2 configuration as standard but on customers request a 2+3 configuration can be ordered.  Urus offer generous trunk space of 616 liters while it can become 1596 liters if you fold down rear seats. Overall the interior of Urus have good leg and headroom both at front and rear despite the slopping roof design.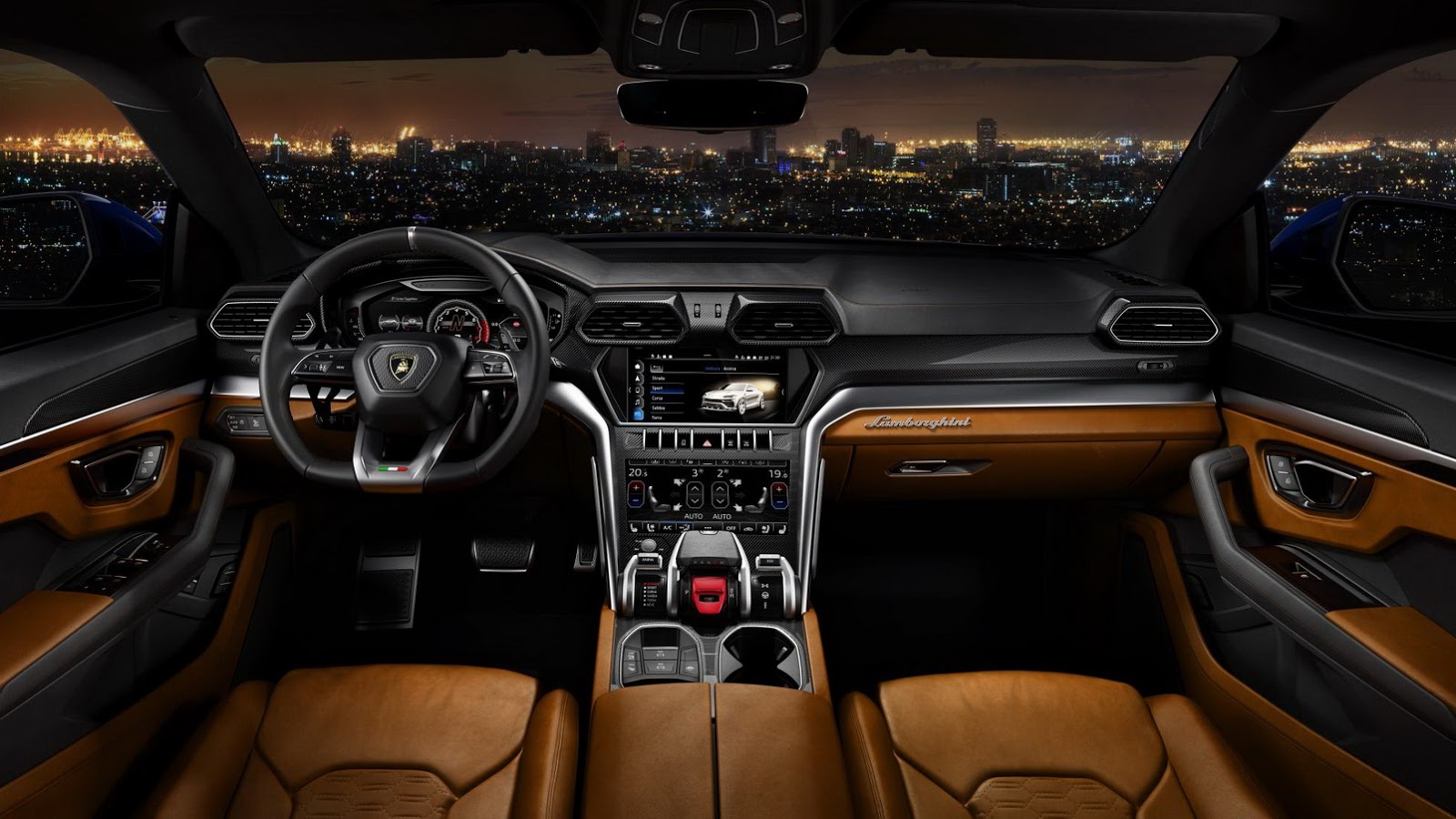 Urus uses VW's MLB-evo platform which it also shares currently with Porsche Cayenne, Audi Q7, Bentley Bentayga and upcoming Audi Q8. Unlike other current Lamborghini which uses carbon fiber tub/ carbon-fiber monocoque, Urus uses high strength steel and aluminium for its chassis. This not only reduces the curb weight to 2200Kg's but also provides high level of stiffness and lower power to weight ratio. According to Lamborghini Urus has lowest power to weight ratio for any SUV on the market.  Like any other SUV, which has high risk of roll over, Lamborghini has implemented an active roll-over detection and  control/ stabilization system, first ever for any Lamborghini.
Lets talk about what is under the hood. Well for the first time ever, Lamborghini will be using a turbocharged  V8 engine with a displacement of 4.0L.  Also as obvious its not tucked in the rear but is available under the hood at front. The 4.0L V8 engine is rated at 641hp with 850 Nm of torque @ 2200RPM while red line is @6800. The engine is loosely related to the same engine found under the hood of Bentley Continental GT, Audi RS6 or Porsche Panamera Turbo. Urus can touch 100 in 3.6 seconds , 200km/h in 12.8 seconds while it has a top speed of 305km/h. For reference Huracan touch 200km/h in 10.1 seconds , this shows how capable this 2 Ton SUV is.  Lamborghini mentioned that a plug-in Hybrid version is in works and might come in near future.
The 4.0L V8 is equipped with 8 speed automatic and it  powers all the four wheels with 40% front and 60% rear torque distribution. Under required conditions of the road, up to 87% torque can be pushed to the rear while it can send up to 70% to front wheels if needed. Urus is also equipped with a dynamic torque vectoring system in place.  The Urus engine is capable of Cylinder deactivation system which under normal city driving can shut off 4 cylinders, giving an improved fuel economy.
Like current Lamborghini's the Urus is equipped with driving modes. There are multiple driving modes and can be selected with a push of button available right next to gear shift lever The modes are named as Strada, Sport, Corsa same as you see on Huracan and Aventador and mostly used for regular roads while for off roading there is Terra  and if you want to enjoy driving on sands you can switch to Sabbia. For snow driving driver can switch to Neve.  The off road setting raise the vehicle while the road mode lowers the vehicle with the help of air suspension. Urus also inherited a rear wheel steering system from Aventador S which further improves on or off road handling and driving dynamics. Urus will use 21″ at front while 23″ wheel on the rear and will use specially designed Pirelli Corsa tires. For stopping power Urus is fitted with 440mm at front while 370mm in rear  carbon ceramic brakes.
Lamborghini CEO Mr. Stefano Domenicali said
 "The Urus fits perfectly within the Lamborghini family as a high-performance car. It is the culmination of intensive development and passionate skill to create a new brand of bull: a super-SUV that transcends the boundaries of expectations and opens the door to new possibilities, for both our brand and our customers." "It is the culmination of intensive development and passionate skill to create a new breed of bull," 
Overall Urus is not only luxury but full of performance no matter what type of roadway you go on. The Urus production has started and deliveries will start by March 2018 on first come first serve basis and is priced at US$ 200,000 for customers before any other options.
Urus has started a new breed of vehicle class with its performance and its only matter of time when we see something from all time arch rival Ferrari or Mclaren although both deny developing any such vehicle at this time.  We hope that auto enthusiast in Pakistan might also see Urus on our roads in times to come.
Lamborghini is promoting Urus with a tagline "We made it possible", and we can say that they really did so…