Toyota Corolla Fielder VS Honda Fit Shuttle – Battle of The Hybrid Wagons
Toyota Corolla Fielder and Honda Fit Shuttle go head to head
If you are into the market looking for a practical station wagon for your family, then you will come across some excellent JDM options. When compared to a sedan, station wagons offer extra practicality making them a great choice especially when you do long trips and carry a lot of stuff here and there. Today we will compare two JDM legends; the Toyota Corolla Fielder Hybrid and Honda Fit Shuttle Hybrid. And I hope this blog will help you decide which car should hold a place in your garage.
Exterior
In terms of exterior styling, arguably none of these cars are going to win any beauty contest. However, it is well understood when you are looking in this segment, both the Fit Shuttle and Fielder share a similar design language with decent exterior lines, unlike the Nissan AD Van or the Toyota Probox which in my opinion look very dull and boring. If you look closely Fit Shuttle has a very similar front fascia to the Civic X while rear looks a lot similar to the Toyota Fielder.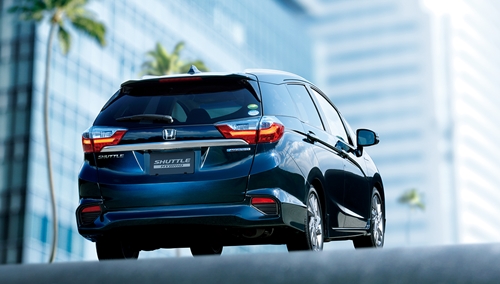 On the other hand Fielder's front headlights look quite similar to the Corolla facelift. The front bumper features a large piano black or chrome grill depending on the variant you buy. However, both cars come with DRL's and LED tail lights along with alloy rims to project a premium look. In my opinion, Fit Shuttle looks a bit more desirable due to its aggressive stylings throughout. The Fielder looks good too and sticks with a more traditional design. In terms of dimensions, there is no clear winner as both cars share very similar dimensions.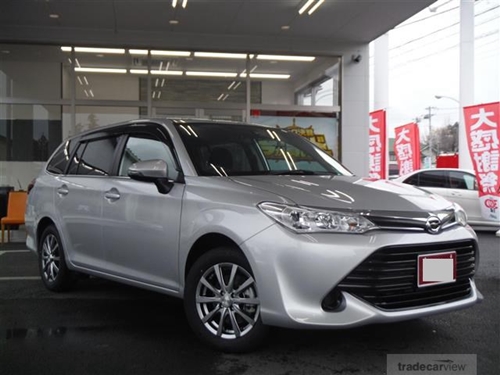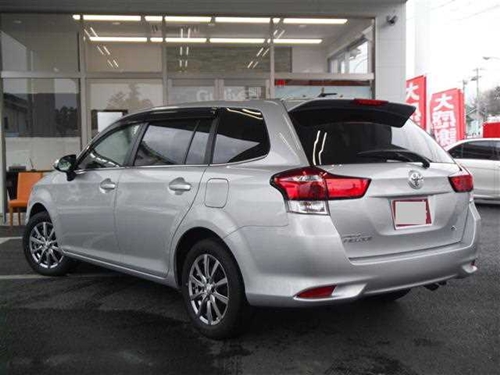 Interior, Features, and Practicality
Step inside both cars, and it's not hard to realize that the interior is not something you would call posh or premium. Although everything is logically laid out and easy to use, but nothing impressive as mostly you are greeted with plastics throughout the cabin. With only a few soft-touch materials on the side doors and the dashboard.
Moving on to the overall interior design you will find Fit Shuttle very similar to the regular Fit hatchback. They share the same multimedia steering wheel along with the instrument cluster with a huge speedometer and two small displays on each side for various information.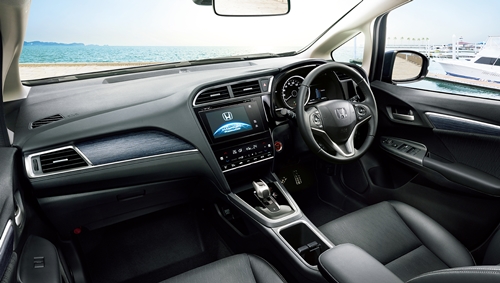 Moving on to the fielder's interior, it also has some similarities with its sibling. The overall dashboard design, the circular A/C vents, the center infotainment system looks quite similar to the one present in Toyota Corolla. It is also due to the fact that both cars share the same platform. So if you have sat in a Corolla before you will feel right at home in the Fielder.
If we talk about features, then both cars come with features such as:
Power Steering
ABS and VSC
Push Start and Key Less Go
Digital Climate Control
Rear Defroster
7 Airbags
Cruise Control
Lane Assist
Radar Braking
Parking Sensors
One slight advantage the Honda Fit Shuttle has over the Toyota Corolla Fielder is the "Electronic Parking Brake" which is missing in Toyota Fielder or any other Toyota in this segment.
When it comes to practicality, this is where both cars absolutely shine. Boasting a massive luggage space and rear folding seats which can further increase the load capacity. One slight advantage Fit shuttle has over fielder is its magic seats which makes loading taller items a breeze. Other than that in the five seat configuration both cars can accommodate a decent amount of luggage, and high roof means you can stack more items before running out of space.
Safety
Safety is no compromise for the JDM no matter what car you buy. Toyota Corolla Fielder and Fit Shuttle both score 5-star JNCAP safety ratings making both extremely safe to travel in thanks to advance safety kit and seven airbags. So it's a tie in terms of safety for both.
Performance and Efficiency
Talking about engine configuration, both cars come with a 1.5L engine mated to an electric motor and a CVT transmission. However, not all engines are created equal. While the 1.5L Toyota unit produces a combined output of 100HP but it's the Honda's Earth Dream 1.5L which takes the lead, with the combined output of 160HP. There is a 1339 cc version Fit Hybrid available as well.. The Fit is a lot more responsive and can do 0-100km/h in just 8 seconds whereas Fielder takes 10 seconds flat. So when overtaking Fit Shuttle is a lot easier due to its excess power. Now on the fuel economy side of things, Fit Shuttle has a company claimed the average of 32.4km/l whereas Fielder is rated at 33.4km/l. Making things clear company claimed fuel figures are usually hard to achieve. So in the most fuel-efficient way possible you can expect 23-28km/l. Which is still impressive for both cars.
Price and Conclusion
The average asking price for a Hybrid Toyota Corolla Fielder is PKR2-2.8 million while Honda Fit Shuttle is usually priced from PKR2.2-2.8 million. While the fielder is a much more widely available car unlike the Fit and spare parts can be found with relative ease. The Fit offers similar equipment but packs some extras as well, like the magic seats, and electronic parking brake. It also benefits from a better power output and performance. Meaning that it's the clear winner of this comparison.
What do you think? Which car would you buy? Let us know in the comment section below.