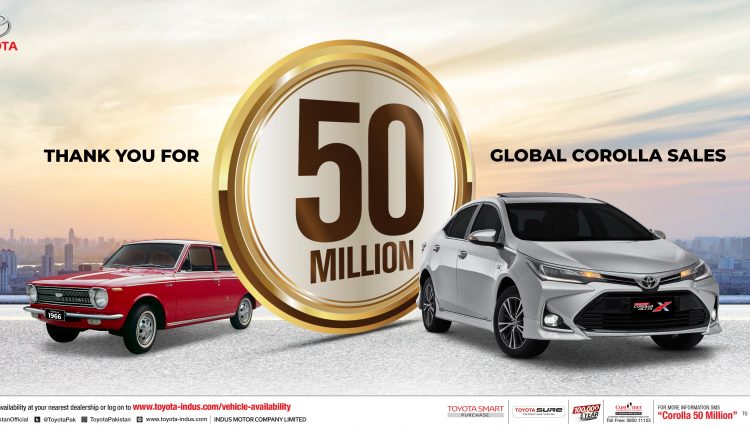 Toyota Corolla Sales Top 50 Million Across the Globe
Toyota Corolla has made history as one of the most famous Sedan of the world has just crossed 50 million global sales, with Toyota Pakistan also playing a key role. The Toyota Corolla made its debut in November 1966 in Japan as a 1-litre compact 5-seater sedan, and within two years, doubled its annual production from 480,000 to 1.1 million vehicles. The introduction of the Toyota Corolla was a catalyst for mass car ownership in Japan, and the rest of Asia.
There was no looking back, and its sales grew from strength to strength over the past 55 years. Today the Toyota Corolla celebrates a spectacular global sales milestone of 50 million cars. This milestone underscores the robust confidence and belief in the Corolla's build quality, reliability, safety and durability.
Toyota Corolla in Asia 
Hundreds of thousands of motorists in Asia have enjoyed and appreciated the Toyota Corolla from its early genesis. For many, the Corolla has been a centerpiece in the building of "treasured memories". A common sentiment from many Corolla owners, regardless of country or region, is that many choose to keep their Corolla, or replace it with another Corolla.  There are many stories of Corolla fans owning multiple generations of the model since its 1966 launch. One customer from Mardan, Pakistan, Mr Zeerak Khan owns various different generations of Corolla since 1967 and has been using it as a family car and also prefers to use it for work and long route travelling due to its reliability and comfort.
Towards Carbon Neutrality & Contributing to Sustainability
Toyota is very much committed to reduce the CO2 emissions. With this goal in mind Corolla Cross was launched. Now, in response to changing lifestyles, Toyota has introduced the first hybrid SUV in the Corolla line-up to seamlessly satisfy diverse customer needs, with a full menu of advanced features in safety, performance and comfort. The car has been exceptionally successful in the Pakistani market and performing well.
Based on the "Corolla Meets SUV" concept, the Corolla Cross signals the transition to a new era of changing consumer preferences. This new model was globally introduced in Thailand last year and Pakistan has also launched Corolla Cross in April 2021 which is the first and only hybrid crossover SUV, equipped with latest fourth-generation Hybrid Powertrain Technology.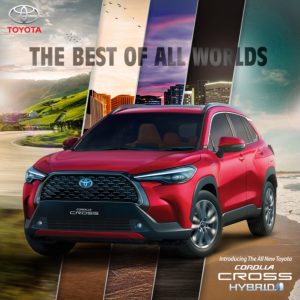 While it's rich heritage and history has kept the Corolla grounded with the same values that it was founded on, Toyota looks ahead to pursue constant "kaizen", or continuous improvement.
Do you have a Toyota Corolla story to share with us? Send a picture with your Corolla and a story to Toyota Pakistan official social media accounts.