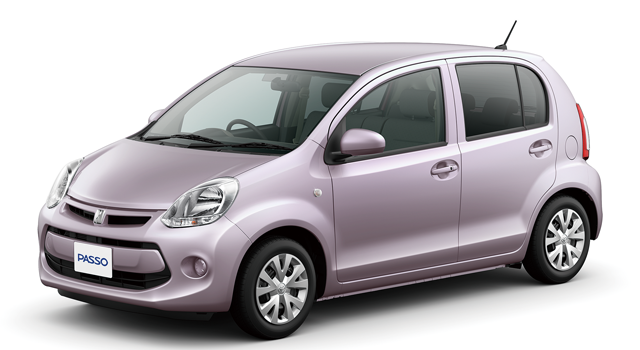 Introduction
Toyota Passo is 5-door subcompact hatchback that was first introduced in 2004. Passo is basically a rebranded Daihatsu Boon. Daihatsu launched the third generation of the car in 2016. The first generation of Passo/Boon lasted from 2004 to 2010. The second gen Passo was unveiled in Japan on February 15, 2010, and lasted till 2016. Toyota Passo was revealed in Japan on April 12, 2016.
Toyota Passo, in the past, has been launched with a 1.0 or a 1.3 liter engine. The engine is mated to a CVT gearbox and is available in both, front-wheel drive and 4-wheel drive layouts. Passo's sibling Boon, however, has been launched with a not only a conventional 4-speed automatic gearbox but also with a 5-speed manual gearbox. Like Passo, Boon has also been sold with a 4-wheel drive platform. Third gen Toyota Passo is only available with a 1.0-liter 3-cylinder 1KR-FE engine and in only front-wheel drive layout.
Passo car comes in loads of packages. And when I say loads, I do mean loads. Few of those packages are as follows:
X Package
X V Package
X L Package
G Package
Plus Hana Package
Plus Hana C Package
There are a few more to the list. The car we had for the test drive was a 2015 Toyota Passo X Package. It is a 2015 end, 4-grade model and was priced at PKR 1.43 million.
But before I start with the review, I must thank Haris Automobiles in G8 Markaz Islamabad who were generous enough to lend us this Passo for the test drive. If you are after a used Japanese car in twin cities, do pay them a visit.
Exterior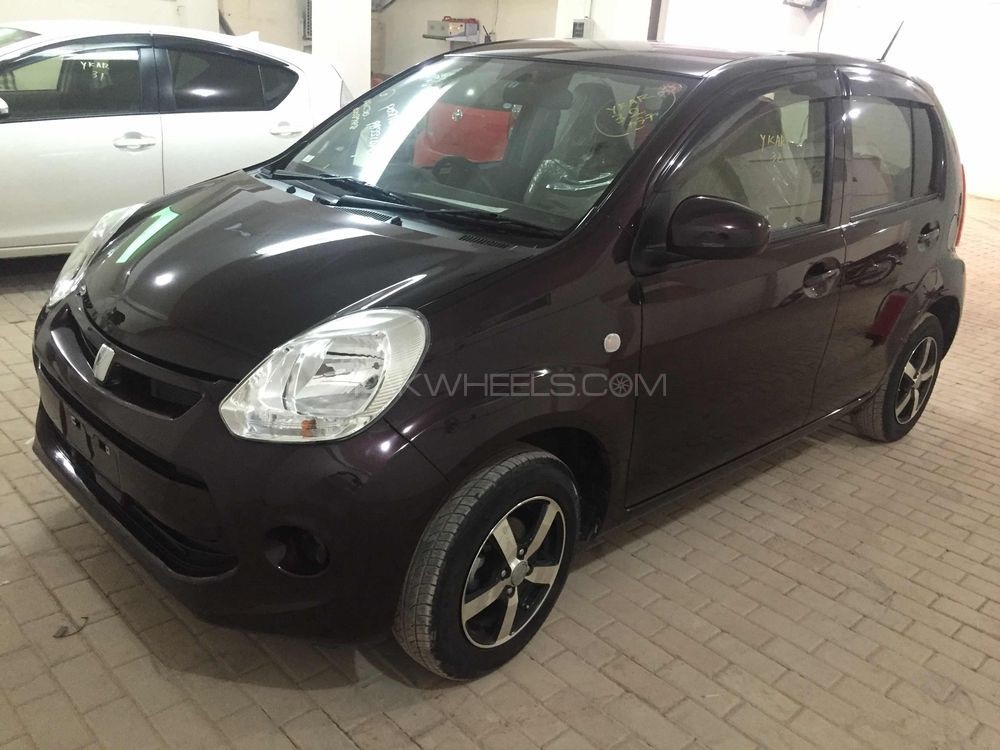 Passo and Boon are visually quite similar. Dimension-wise, Toyota Passo is 3650mm long, 1665mm wide and 1535mm tall. To give you a reference, the 2nd generation Toyota Vitz is 3785mm long, 1695mm wide and 1520mm in length. Passo has more height than the 2nd gen Vitz. Otherwise, it's smaller in length and width. Passo also has a shorter wheelbase than Vitz (2440mm against 2460mm).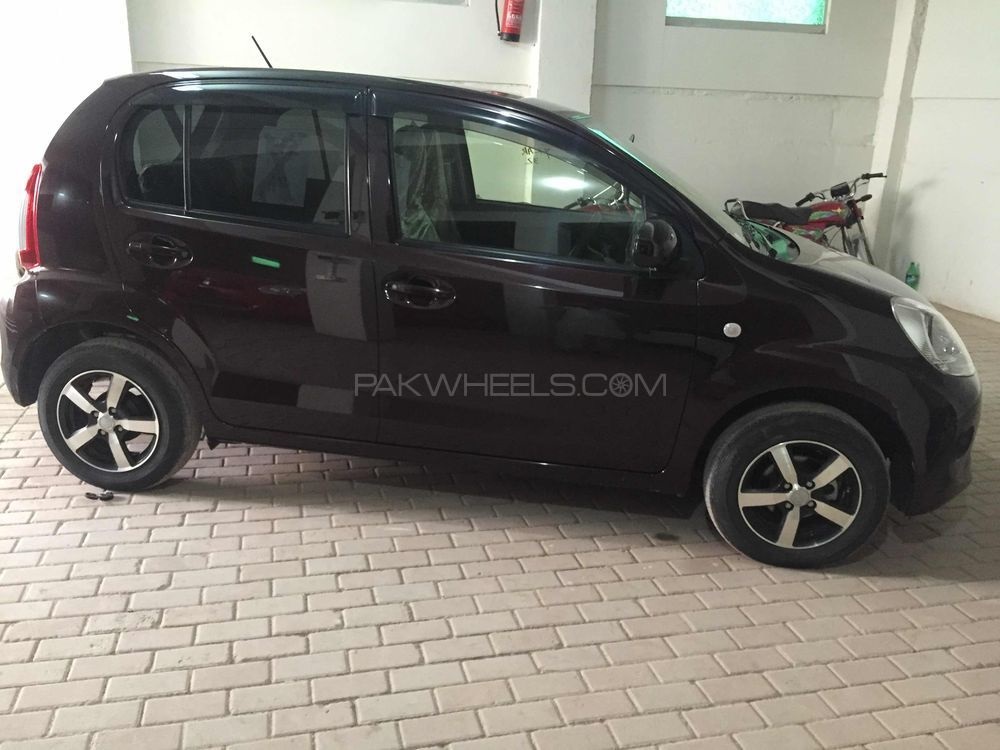 Toyota Passo 2015 is fairly modern looking. But I think it's a kind of a design which won't get old in a decade's time. From the front, the same is fairly simple yet pleasing. The good thing about the design of the car is that it isn't trying to achieve anything. Passo knows its place in the market and that's what it exactly is; a mini family hatchback. You don't get unnecessary cuts and edges. You get massive oval-ish headlights in the front. Like other modern cars, there is no big gaping mouth in the front. You get two slim slits between the headlights in the front bumper, divided by the Passo monogram in the center. And at the bottom, there is a piece of a long surface for mounting the front number plate under the monogram. Since it's an X package, it doesn't come with fog lights. But the front bumper comes with space for the fog lights if you want to go for aftermarket install. One thing that did strike me about the front of this car is that the bonnet and over front end of the car look quite raised. In simple words, the front end looks kind of fat.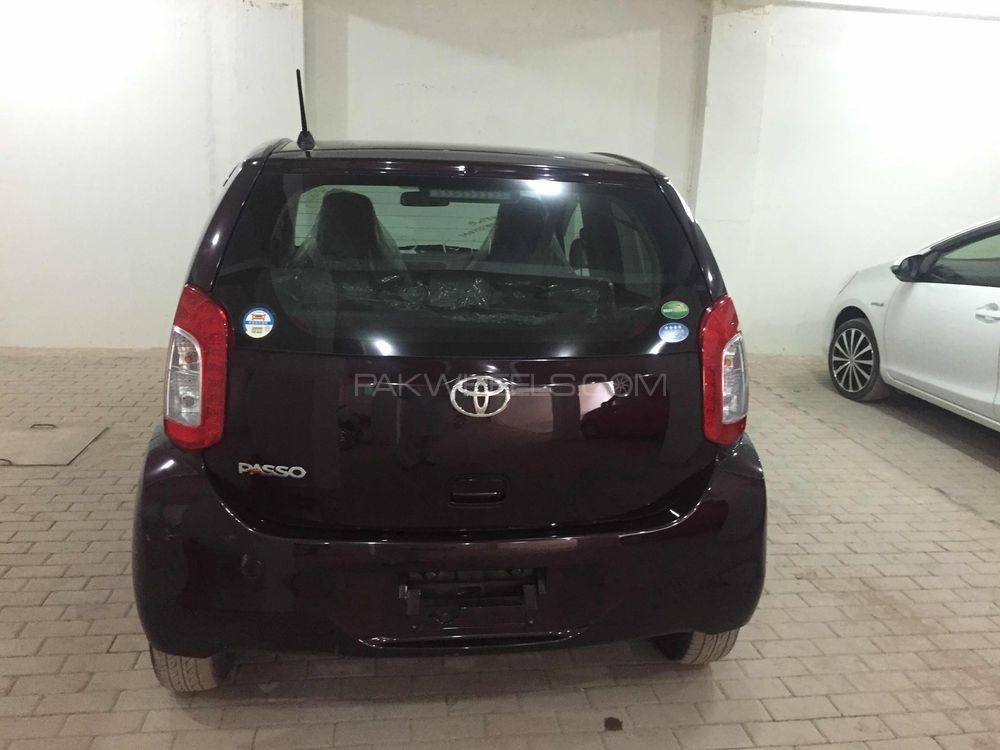 The sides of the car are fairly simple and straight. There are no unnecessary curves and cuts.  But one thing that immediately grabbed my attention were the flared wheel arches. The wheel arches are protruding quite a bit. And they make the car look wide. It looks like Toyota tried to make the footprint of the car wide as well. You get full-size doors that open wide for easy access.
The rear is once again simple and looks pretty decent. There are no unnecessary cuts and humps in the bumper. The rear bumper is nice and smooth, and it sits very well with the overall flow of the car. You get a nice and big rear windscreen for comfortable viewing. Under the Toyota monogram, there is a latch to open the rear boot lid of the car. The rear stop lights are also simple and look very purpose oriented.
Overall, the car strikes a balance between WagonR like boxy shape and Toyota Vitz like bubble shape.
Interior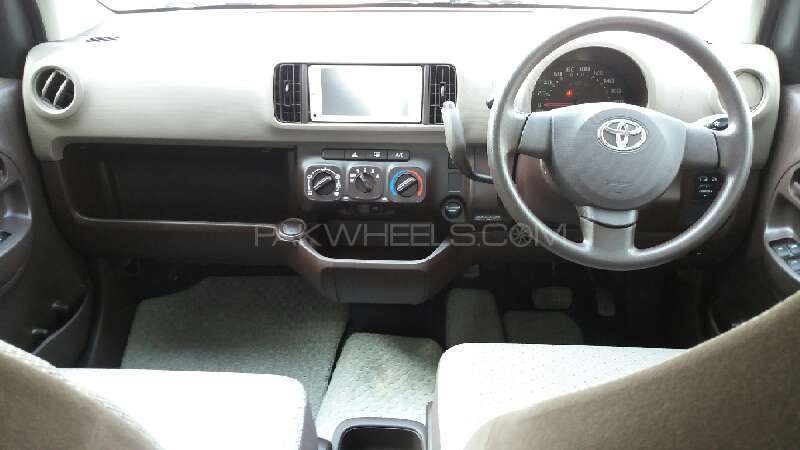 You get a few options, as far as the interior color is concerned. The car we were testing had a brown interior color that reminded me of older cars. It's two-tone of brown, and on seats, you get a lighter shade of fabric. The car comes with a wireless key. So you don't need a physical key to enter the car or start it.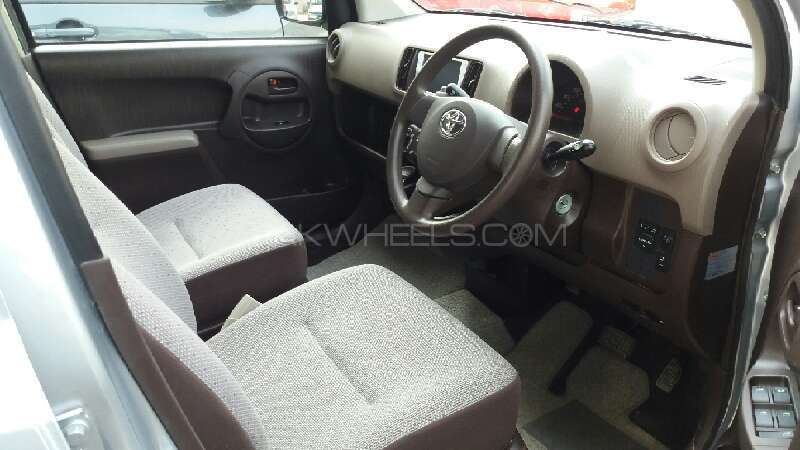 The dashboard is two-toned and looks contemporary yet simple. There isn't much going on there, but I personally like that. You get a simple layout with lots of storage places and basic operational buttons. On the passenger side of the dashboard, you just get an A/C vent, a glove compartment, and a pocket to store your things. The pocket carries all the way to the middle of the dashboard right under the A/C controls. In the middle, above the A/C controls, you get a head unit that is connected to two speakers. On the driver's side, you get a simple and basic instrument cluster. On the left of the steering wheel, you get the gear lever, and on the right side, you get switches for side mirrors, headlight adjustment, and eco idle button.
The quality of plastic inside the car is just okay. It is not bad but it is also not that great. But considering the price bracket this car falls in, I think the overall build quality of the car is fine. The seats are average as well, but they work with this type of the car. Seats are also two-toned. The overall upholstery of the car is decent, and you have to look hard to point out at the flaws.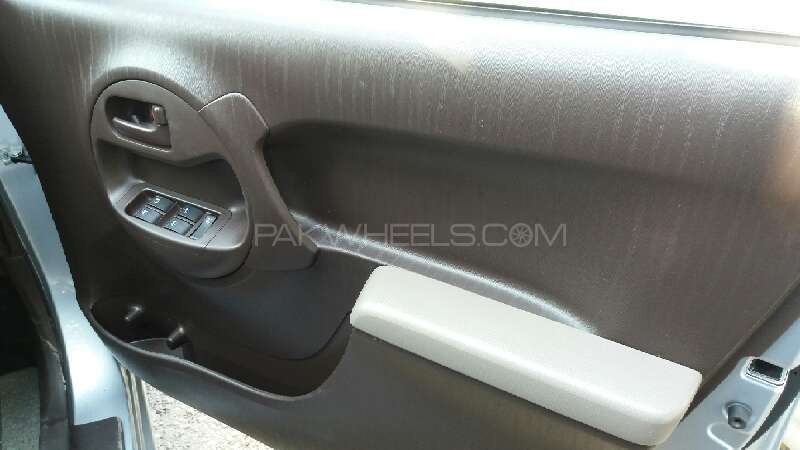 2015 Toyota Passo comes with electronic power steering. And on the left of you the steering wheel, you will find your gearshift. Mounting the gearshift there has helped Toyota make the front seats into one piece. Passo's parking brake is placed under the dashboard where your clutch usually is in a manual car. To engage it, press it once until the pedal stops. To disengage it, press it once and release it.
Performance
The Toyota Passo I was driving had a 1.0-liter 3-cylinder petrol engine. In the previous generation, Toyota provided 1330cc engine as well, but it was later discontinued. The 3-cylinder 1KR-FE engine in Passo makes 68 horsepower and 92 Nm of torque and only powers the front wheels. People who have driven a 1.0-liter Toyota Vitz are fully aware of the way this engine drives. It's the same engine. The gearbox is your simple Toyota CVT.
Talking about the power of the car, well its engine makes enough power to make the car move. The car weighs around 910 kilograms. So 68 HP is enough to drive the car. It's a mini hatchback that is supposed to be fuel efficient and ideal for city driving. Don't expect it to blaze lightening. Initially, when you throttle it hard, it makes a typical burble that a three-cylinder engine makes. If you have driven the Pakistani Suzuki WagonR, you would know what I mean. You can hear the engine struggling a bit and exerting force. That CVT gearbox doesn't help, to be honest. In WagonR, you get manual transmission so you can thrash it as you will. But since Passo, or even Vitz, come with a CVT, there is not so much you can do. I did find the initial struggle of the engine a bit annoying, to get speed. It felt slow and lazy. But considering Passo is basically a big sofa with wheels on it, I think the acceleration and torque are absolutely fine. It can do zero to 100 km/h in 15 seconds.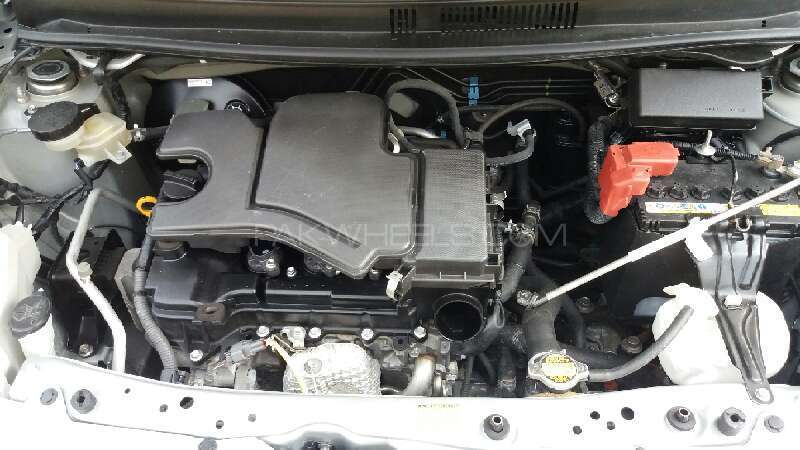 You press the accelerator and then wait for the car to do its thing, and in tiny yawns and lots of engine noise, the car finally picks some speed. Even though you might find the slow acceleration a bit frustrating, the car is lovely to cruise in. At 80 km/h to 110 km/h, I found the car to be effortless. It didn't feel for once that a tiny three-pot motor is powering this car. The engine was noiseless at that speed and interior was quiet.
Toyota claims that Passo 1.0 does at 27.6 km/l. It's the official number given by the company. Passo is considered as one of the most fuel efficient petrol-powered cars in Japan (not including hybrid vehicles). But considering we don't get good quality fuel in Pakistan, it is okay if you don't get that many kilometers in a liter. During our testing, Passo's instrument panel was showing 18 km/l. A new Passo customer who was at the scene told us his 2015 Passo delivers 19 km/l within mix city driving and A/C. A colleague of mine who bought a Passo from Lahore and brought the car to Islamabad via Motorway told us that his car did 16 km/l at 130 km/h. Also, 2015 Passo comes with Eco Idle (idle-stop system). Passo is, what is commonly known as, semi-hybrid. When turned on, the car cuts the power to the engine at a stop light if you press the brake pedal. And when you remove your foot from the brakes and press the throttle, the engine cranks itself on. There is a small battery pack in the rear to help keep the electronics of the car running. Needless to say, the 40-liter fuel tank will last you quite some time.
Brakes are ventilated discs in front, drums in the rear. I didn't find the brakes that impressive. You can feel that Toyota didn't sweat much on the design of the brakes. They are okay to make you stop in normal conditions, but not good enough to give you efficient stopping power in case of an emergency. Passo comes with ABS so that you won't end up in a tree, but still, the brake is an area where I was not impressed. The ABS engaged way too early than what I was expecting.
A/C was fantastic. Temperatures are very high these days, so any car that can lower the temperature of the inside of the car quickly gets top marks in my opinion. I had driven 1.5-liter Honda Fit Hybrid in similar outdoor temperatures, and it didn't impress me much with its A/C. Passo, on the other hand, is a 1000cc car, and its A/C was fantastic. For a 1-liter car, Passo's A/C unit performed well over what I was expecting.
Comfort & Handling
If you want a sofa with wheels, I would suggest you get a Passo. The interior dimensions of the Passo are 1830mm in length, 1420mm in width and 1280mm in height. To give you a comparison, 2nd gen Vitz interior dimensions are 1855×1390×1270mm (length-width-height). Passo although being slightly short, has wider and taller interior than the Vitz.
But what is nice about Passo is its sofa or bench seats. You get one nice bench in the front. Since the gear lever has been mounted on the dashboard next to the steering wheel, there is a lot of space in the middle. You can push the middle of the back support to make it an armrest, or push it back to make one large seat. The legroom in the rear isn't that great, but it isn't cramped in the rear as well. For someone with 6 feet height, you will be fairly comfortable in the back seat.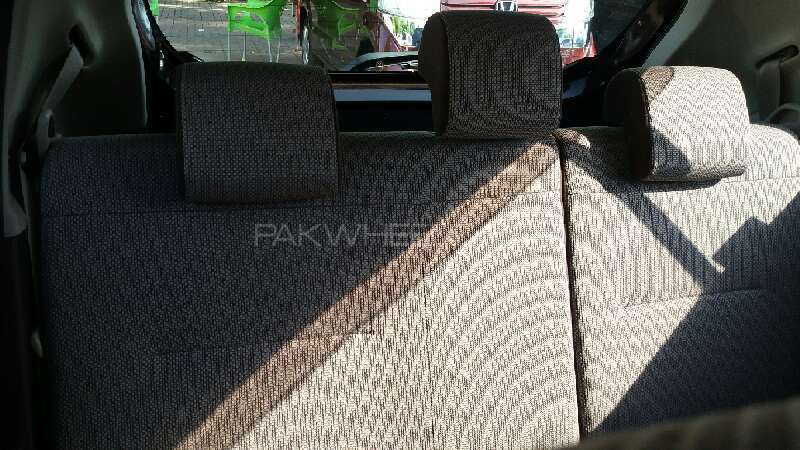 You can push the backs of the rear seats forward to make one flat loading bed, but you can also pull the seats forward to make one giant sitting area in the rear. I think that is a great feature. It gives you a lot of room in the rear, especially for the kids. Just convert the back area into a bed and let the kids have a nice time.
The suspension and ride quality is okayish. But you can't say it's bad in any way. The suspension setup is typical Toyota setup with MacPherson Strut in the front and a torsion beam in the rear. The car is overall not uncomfortable. I think calling it average would be fair. The rear can bounce a bit on bumps and humps. But it's not that bad. If you have someone sitting in the rear, the suspension starts to behave. The rear seats can easily accommodate three adults. Also, you can adjust a kid in the middle on the front bench seat.
Toyota has designed the car to fit a lot of stuff in the car but making sure it doesn't rub its belly on the speed breakers. The ground clearance of Toyota Passo measures at a little more than 6 inches. You can safely say that you won't hit your Passo on even slightly bigger speed breakers with everyone in the car. The rear doesn't slouch under load and remains relatively higher, which is quite impressive in my opinion.
As I have said it a couple of times above, it's a sofa on wheels. So expecting it to corner like a sports car is idiotic. I have a typical body roll and sway of a slightly taller car. But I assure you it isn't something you need to worry about. First of all, you should not be driving this car at dangerously high speed in corners. It is not a sports hatch that can corner well. Secondly, the car does enough to make sure you don't end up in a chicane. And if you do, it's your fault, and not the car's. At 80 km/h, I swerved the car here and there, and the body roll was very evident. But as I said before, it didn't feel dangerous doing that. It felt like a big joy ride that throws you around but brings you back safe to the ground every time. So there is enough road grip to bring you home safely at normal speeds every day. Just don't try to pull a stunt in the car.
And what I really liked about this car was how comfortable and relaxing it was at high cursing speeds. At 100 to 110 km/h, it was calm and poised. The car would just glide over the road surface. I think its ability to run like that at highway speeds is one of its best characteristics.
I didn't like the feel of Passo's EPS, however. It feels dead and erratic. At low speeds in city driving, the EPS kept changing its behavior, and it was kind of irregular. You don't feel comfortable with the overall handling of the car if its steering wheel behaves like that. You immediately get the feeling that Toyota was not much worried about the over feel and driving pleasure of the car. I would say the EPS is kind of annoying at most. The turning radius, however, is the only 4.7m. To give you a comparison, 2nd gen Vitz turning radius is 4.4m and 3rd gen Vitz turns at 4.5m.
Safety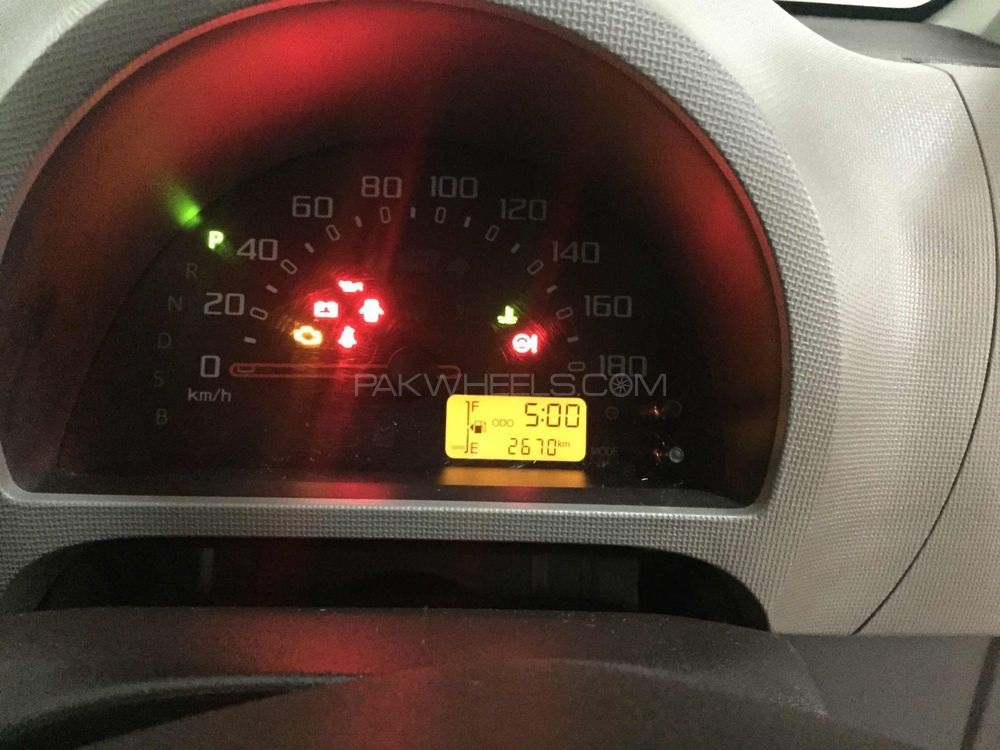 You get crumple zones in both, front and rear of Toyota Passo. Besides that, Passo comes with an ABS. The ABS kicked in way early than what I was expecting. It has to do with the conditions of the tyres but also the overall suspension setup of a car. The car comes with seatbelts for all seats, and then two airbags for the front passengers.
Verdict
It is a fantastic car for a small family of 2+2 (parents and two kids). Even if you have more people, this car is big enough to accommodate you. You get loads of space and seating is not bad either. I personally think it's better than 2nd gen Toyota Vitz 1.0 and also the Pakistani 1.3L Suzuki Swift. As mentioned above, this 2015 model Passo is priced at Rs 1,430,000, but you can get a couple of years older model for Rs. 1.2 million. So if you are after a car in this budget, and your priorities are space, fuel economy and comfort, do check Passo before buying anything else.
It's just a 1000cc car, and that too with a CVT gearbox. So expecting it to rip the roads off is bit unfair. Passo does what it was made to do wonderfully. It is what is it; a small car with a big heart.
You can join this PakWheels Forum  thread to get more details on the Toyota Passo.