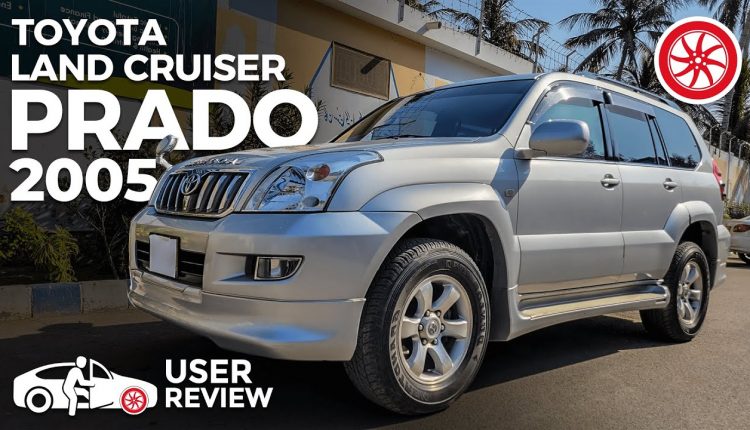 "Toyota Prado Has All the Features of New SUVs" – Owner's Review
Today, we present an owner's review of the Toyota Prado 2005. The 3rd generation Prado, also known as the 120 series, came in 4 main variants and 4 engine options. This particular car is the top-of-the-line TZG variant with a 3.4 liter 5vz-FE engine producing 190 horsepower and 294Nm of torque paired with a 5-speed automatic transmission.
Purchase Decision
The owner previously had a Toyota Surf and was looking for an SUV in good condition. He also considered other cars like Lexus RX 450 but opted for the Prado as it was very well kept and was in genuine condition. He bought this car back in 2017 for Rs. 4.8 million.
Salient features
According to the owner," It has all the new SUVs' features." These include Dual-zone climate control, an infotainment system with a rearview camera, electric seats, and cruise control. This particular variant also comes with air suspension to control the height. Meanwhile, off-road features include downhill assist, differential lock, and a 4-wheel drive system.
Comfort in Toyota Prado
Toyota Prado's comfort is impressive," It has leather seats and cushioning is very soft," stated the owner. Front seats also have lumbar support and heating function, which can be effective in winters. Headroom and legroom is pretty good in the front and second row, and passengers can travel very comfortably, but third-row space is compromised and not suitable for accommodating adults.
Handling and Suspension
As per the owner, low and high-speed handling is good; the car stays stable at high speeds with no sign of vibration or rattling. The car's suspension response is impressive, as it has AIRMATIC suspension, which is very soft on rough roads and provides a comfortable ride within the city.
Storage Spaces in Toyota Prado 
The storage spaces are sufficient in the interior; there are cup holders, a sunglasses holder, a decent-sized glovebox, and center armrest, which also serves as a cool box. Boot space is also good, but it is compromised if the third row is occupied; however, the tailgate has compartments for decent storage.
AC Performance
The car comes with dual-zone climate control, and according to the owner, AC performance is very good even in the scorching weather of Karachi. The vehicle also has AC vents for rear passengers and a dual compressor that provides optimal cooling throughout the interior.
Fuel Average
This particular car has a 3.4-liter v6 engine, and it is pretty heavy on fuel. The owner gets a fuel average of 5.5 km/l within the city and around 7 km/l on the highway.
Known Issues in Toyota Prado 
The owner mentioned two known problems that Prado has, including the cracking dashboard; this often happens with Prado due to heat and exposure to sunlight. The second problem is the AIRMATIC suspension failure, as it has a lifetime of around 200,000 kilometers and often breaks down after that.
Maintenance and Spare parts
The owner changes the car's oil at an interval of 4000kms, and the price is nominal. Spare parts are also readily available, even in different qualities and prices vary depending on the quality of parts. Used parts are also available in local markets, indicating that maintenance of the Toyota Prado is not an issue.
Watch Video