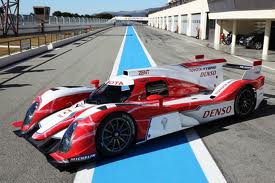 Toyota shows us the sound of racing in the future
We've all seen Star Wars and have admired the whole series but once you have seen the video of a Toyota LMP1 race car exiting the pits, you will be spellbound at the sheer accuracy that these movies have predicted some years ago.
It took alot of instruments to create the sound of the vehicles used in Star Wars but here, F1 has already begun to use Hybrid system also known as KERS (KERS or Kinetic Energy Recovery System) whose main goal is to save up the huge amount of energy that's dissipated during braking, which is then released in a boost of electric power coming out of the turns for both Toyota and F1 racing.
This clips shows us the sound of the Hybrid motor when the Toyota TS030 LMP1 race car starts it crawl out of the pits and once it has exited it, the mighty V8 kicks in and the thunderous sound takes over the Hybrid system.
The whole idea behind Hybrid cars which every automaker is running fast to create is better fuel consumption therefore, race organizers have pushed teams to develop these systems for race cars to use in the pits as race cars have to crawl in and out of the pit wasting fuel.
After watching and listening to this video for a lot of times, if Hybrid cars can sound like this than there is no reason for the development of Electric vehicles and most of the auto-enthusiasts will endorse this aural pleasure and look forward to have in the cars of today.
Toyota with this TS030 Hybrid challenger, has marked its return to endurance racing events of FIA and will race at Spa Francorchamps on May 6, 2012 as its debut race.