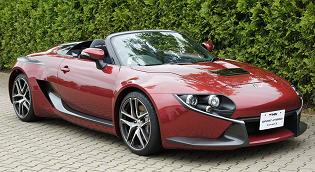 Toyota to unveil GRMN Hybrid concept II at Nurburgring 24
LF-A was built by Toyota's luxury division, Lexus and we all thought that Toyota is done with Sports cars as the rumored FT-86 concept was also revealed under the Scion badge. But Toyota's chief designer did say that they are working back to put back the fun in their cars like Supra had. Obviously, with fun car you have lower expenses as the fans fight for its name.
Perhaps, Toyota's GRMN Hybrid concept, which is co-developed by Gazoo Racing, is the step towards putting the fun in Toyota's back again. But with a hybrid, I seriously doubt that it is going to work.
Toyota is set to pull the sheets back on a new convertible sports hybrid at this year's Nurburgring 24-Hour endurance race. The GRMN Hybrid concept II is a slightly updated version of the concept previewed at the 2010 Tokyo Auto Salon.
With its gasoline engine mounted mid-ship and a hybrid all-wheel-drive system, the GRMN should deliver drivers plenty of grip and excellent balance as well. Total combined output sits at 295 horsepower, with 245 ponies coming from the gasoline V6 and another 50 arriving via an electric motor. That motor supplies power to the two front wheels only.
Press Release:
TOYOTA TO UNVEIL NEW GRMN HYBRID CONCEPT AT NÜRBURGRING
Toyota Motor Corporation (TMC) will show the "GRMN (GAZOO Racing1 tuned by MN2) SPORTS HYBRID Concept II", a convertible mid-engined petrol-electric hybrid concept, at the 39th Nürburgring 24-hour endurance race taking place this weekend.
The GRMN SPORTS HYBRID Concept II is an updated version of a petrol-electric sports concept shown at Tokyo Auto Salon in 2010. The vehicle features advanced styling and an improved sports-hybrid AWD system with the main power unit (petrol engine, rear-wheel drive motors and transmission) mid-mounted in conjunction with a front-wheel drive motor. Positioned this way it improves manoeuvrability, increases driving enjoyment and provides enhanced stability.
Toyota launched the world's first mass-produced petrol-electric vehicle, the Prius, in 1997, and has long conducted active research on applying hybrid technologies to racing and sports cars. The GRMN SPORTS HYBRID Concept II is the next step in the evolution of these efforts.
GRMN SPORTS HYBRID Concept II
Engine
Type
Petrol V6
Displacement (cc)
3,456
Maximum output (bhp)
245
System Maximum output (bhp)
295
Body Length (mm)
4,350
Width (mm)
1,890
Height (mm)
1,200
Wheelbase (mm)
2,575
Weight (kg)
1,500 or less
Vehicle layout
Mid-engined with front electric motor
Tyres
Front
225/40R19
Rear
255/35R19
24 Hours Nürburgring Race Outline
Name
39th ADAC Zurich 24h-Race 2011
Dates
June 23-26, 2011 (main competition runs from June 25 and 26)
Venue
Nürburgring (Nürburg, Ahrweiler, State of Rhineland-Palatinate, Germany)
1 A vehicle-development and motor-sports support program created by GAZOO, which also operates the GAZOO.com customer-participation portal site launched in 1998, "GAZOO mura" driving events and the "Drive Kingdom" large-scale test-drive events for the general public.
2 Stands for "Meister of Nürburgring", referring to Hiromu Naruse (1944-2010), a TMC test driver and chief of the GAZOO Racing team.