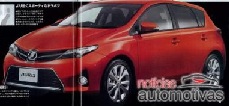 Toyota will build eight new cars for emerging markets and pictures of 2013 Toyota Auris leaked
The pictures of the all-new Toyota Auris have leaked on to the internet before it's planned unveil in 2013. Auris displays a complete change of design language for Toyota and also is the first car to have a diesel engine from BMW after both Toyota and BMW signed a partnership agreement earlier this year.
The vehicle now has more personality, with the front fascia borrowing a few hints from the Lexus CT200h.
We also get a slopping roofline, while the rear fascia uses a black element at the center that mimics a diffuser. The vehicle has also reportedly changed its proportions, as it is expected to be 30 mm (inches) longer and 55 mm (inches) lower.
As for the interior, this has also come a long way from the outgoing generation, with both the design and the materials being upgraded. In the power department, the Auris should offer a 1.5-liter and a 1.8-liter petrol engine, as well as 1.6- and 2.0-liter diesels coming from BMW. Toyota is expected to officially release the 2013 Auris in July.
Click on the thumbs to view in full size:
Toyota's Executive Vice President announced that they will be launching eight new cars for emerging markets which include China, Indonesia and Brazil. After the success of Toyota Etios in India, Japan's biggest automaker said it would make eight new cars at plants in Thailand, Indonesia, India and Brazil, priced at "about 1.0 million yen ($12,500) or more."
Although Pakistan was never mentioned by the EVP of Toyota but the Toyota's brand include Toyota, Lexus, Daihatsu and Hino and sold 7.35 million vehicles globally in the year to March. And since production of Daihatsu Coure has ceased and Indus Motors had announced that they are working on a viable alternative, it is still not clear what car will arrive in Pakistan as a replacement for Coure.
Funo offered few details about the new Toyota models, but said they will have an "excitement" factor.
"Cars need to have a factor of excitement — when a father buys a car, he must draw respect from his family who should say 'Daddy, well done,' and the family should enjoy going on a picnic on a weekend in that car," he said.