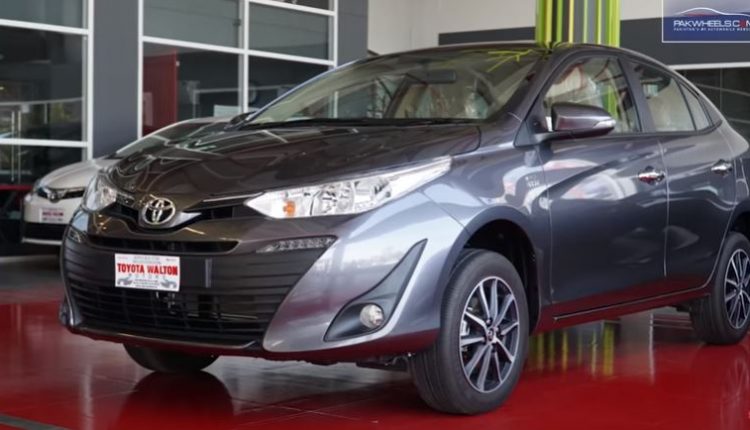 Toyota Yaris ATIV X CVT 1.5: An Owner's Review 
We are here with another owner's review of Toyota Yaris ATIV X CVT 1.5. Toyota Indus Motors (IMC) has launched several variants of Yaris in March. Without any further delay, let us start the review of this vehicle.

Purchase Decision, Price: 
The owner told PakWheels, he booked this car in May and got it in September. "When I booked this car, the dealership gave me a tentative date of August, but when I submitted Pay Order, they changed the date to September," he said.
The owner bought this car in 29 lacs, 93 thousand rupees.
Talking about his purchase decision, the owner said he had 1.6L Toyota Altis and the top variant of Honda City as other choices in this budget. "I had driven City for four years, and Yaris has more features than Altis; hence, I bought this car," he explained.
Furthermore, the owner wanted to buy a new car, so he didn't buy imported used vehicle.
Key Features of Toyota Yaris ATIV X CVT 1.5: 
The Toyota Yaris ATIV X CVT 1.5 comes with smart entry, alarm, immobilizer, and push start button. Furthermore, the company has installed digital climate control, multi-information system, and Toyota Connect for the mobile. "Toyota has also installed acoustic laminated windshield for soundproofing," the owner told us.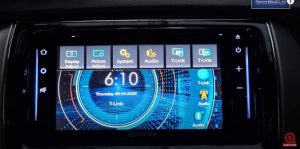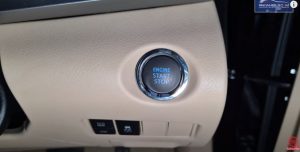 This variant also has three drive modes, i.e., Normal, Eco and Sports.  
Safety: 
The car has ABS and dual airbags, making it a relatively safe car for travel.

Why Toyota Yaris ATIV X CVT 1.5?: 
Sharing the reason for buying 1.5L, the owner said that this one has the most features. "Its powerful engine and fuel average is best among other variants," he said. 
Fuel Average of Toyota Yaris ATIV X CVT 1.5: 
According to the owner, its intracity fuel average is 9-10 kilometers/liter, while on a long route, its average is 18-19 kilometers/liter.
Speedometer: 
The speedometer or information display details speed, outside temperature, fuel average, and drive time. "If you enter the fuel price and enter a threshold, it will give you detail about the fuel-saving," he said.

AC Performance: 
The owner is completely satisfied with AC's performance, as he has taken this car on the long route, and it hasn't created any issues.
Infotainment System in Toyota Yaris ATIV X CVT 1.5: 
The infotainment unit has a Bluetooth system with excellent connectivity, and you can easily talk on the phone call. "It's volume enhance system is quite complicated because its option is not much practical," he said. Talking about the sound quality, the owner said it is not better than Honda City.  
Furthermore, it does not have Apple CarPlay or Android Auto and preloaded Google maps.
The Whole Outlook: 
The owner agrees that its whole outlook seems incomplete. "Apparently Toyota wanted to save money; hence, they haven't installed mud flaps in this car," the owner said, adding that this car is already lifted and without flaps, it looks even higher.
Meanwhile, it looks like that the wheels of the car are pushed inside from the rest of the body.
Parts Availability of Toyota Yaris ATIV X CVT 1.5: 
The owner said he went on a road trip right after buying this car, so he does not know much about the availability of the price of this car's spare parts. "My rim broke during the trip, and I think it costs Rs12-13,000 for the new one," he said.
Registration and Token Tax: 
According to the owner, he registered this car in Islamabad at Rs74,000, while the rate of its annual token is Rs4,000.
Is It a Value-to-Money Car? 
As per the owner, if you look at the price range and options in this car, you will find it is undoubtedly a value-to-money car.
Known Fault in Toyota Yaris ATIV X CVT 1.5:  
Although the seating space on the front seats is perfect, but the back seats do not have much leg or headspace, especially for tall people. He further said that it is ideal for four people on a long route.

Trunk Space: 
The owner is satisfied with the boot space, saying it is equal to GLi and Altis.
Resale Value of Toyota Yaris ATIV X CVT 1.5: 
The car has not much resale value at the moment because the Toyota customer is confused between this car and Altis.
Missing Features: 
The car does not have cruise control and retractable side mirrors. "The company did tell me that they will install motors in the mirrors at the cost of Rs43,000, but they were not practical," he said.
Riding Comfort: 
The owner said that its riding comfort is very good, and he is satisfied with it. "Its suspension is very soft, and its pick is also excellent as it produces 140nm on 4200RPM," he said.
If you compare it with Honda City, it is way better in pick and engine power.
Final Verdict: 
According to the owner, if cabin space is not a deal-breaker, then he will give it 4/4.5 numbers out of 5. "But if cabin space is the main concern for you, then you have to rethink before buying it," he said.
Watch Video Here: